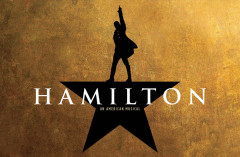 With the imminent transfer of Broadway mega-hit musical HAMILTON to the West End if feels like we're gearing up to something extraordinary.
Co-producer Cameron Macintosh has even kicked long-running hit BILLY ELLIOT out of the Victoria Palace Theatre and virtually rebuilt it to house the show and this week the press was full of stories about how hard or difficult it is to book tickets, depending on the experience of the writer.
As reported here, I can tell you from first-hand experience that it's virtually impossible to buy a ticket in New York, it's completely sold out for the foreseeable future, people pay a fortune on the black market and huge, and I mean huge traffic-stopping crowds gather outside the theatre everyday for the chance of winning seats in a lottery.
I'm not sure things will be quite so frantic in London, musicals aren't quite in our D.N.A as they are in New York but you can certainly expect there to be a clamour to see it for the first year or so. Although producers must be chastened by what happened to the musical RENT when it moved to London amidst a similar circus in the nineties. What was expected to be a long, long running sell-out success ran out of steam at the box-office relatively quickly. They must be hoping to replicate the success of the recent HARRY POTTER stage show although of course that has a multi, multi million pound book and movie franchise behind it.
So what is HAMILTON and why has it been so popular and won such devotion in the states?
On paper it sounds like an unlikely hit. A retelling of an obscure corner of U.S History, it dramatises the scrabble for power amidst key figures surrounding George Washington's presidency, in 1776. And it does so using hip-hop music!
It's the brainchild of Lin Manuel Miranda who picked up a biography of the central character, Alexander Hamilton, after the success of his first hit musical, IN THE HEIGHTS.
Enthusiasm began to be generated by a try-out of the material as part of a White House Poetry jam, powering a sell out critically acclaimed premiere Off Broadway for which it became impossible to get a ticket. By the time it reached Broadway and swept the boards at the Tony awards it was firmly established in the minds of American Theatre goers as a must-see.
The vocal support of celebrity fans including President Obama has ensured it remains constantly in the news and when the cast addressed in-coming vice-president Mike Pence from the stage asking for compassion, respect and fairness in government, themes of the show, it made headline news all over the world, all over again; especially when Donald Trump posted one of his angry tweets in relation to the incident. When was the last time a stage musical dominated an international news cycle?
Anyway, grab yourself tickets, even if they're for twelve months in advance, and be part of theatrical history.