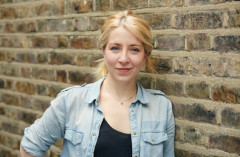 This week, West End Editor Josephine Balfour-Oatts goes on a wild ride across North and Central London with Director Hannah Price.
Hannah Price is the Co-Artistic Director and Founder of Theatre Uncut, one of the world's leading political theatre companies. Their lastest project, a film version of the highly anticipated and technically ground-breaking Bubble is due to be streamed on Theatre Uncut's Facebook page from the 23rd March-23rd April 2020 in association with The Space. The script is also avalaible to download until the 23rd of April.
Do you have a favourite theatre in the West End? If so, why?
I've been loving Trafalgar Studios recently. They're programming brilliant pieces that need a longer life like Misty and Nine Night, as well as showing that huge big name cast shows like A Day In The Death Of Joe Egg can also be inclusive in its casting. The Donmar Warehouse is where I trained and I loved working there with Josie Rourke. I also think Mike Longhurst's programming is extraordinary, so that's definitely a go-to.
Which are your preferred spots for a pre-show meal?
I'm not a pre-show meal kind of person. All my friends and colleagues will tell you I'm an 'arrive-in-a-rush-from-something-else kind of person.' I also hate eating early. So I appreciate a theatre with a good crisp selection!
Where is your post-show drinks haunt?
I love a theatre bar after a show, especially if it's one frequented by actors. Their post-show buzz is infectious, so with that in mind, The Cut Bar at the Young Vic comes top of my list.
Which of Theatreland's upcoming/ current productions are you most looking forward to?
I can't wait to see Cush Jumbo in Hamlet at the Young Vic. I worked with Cush on Julius Caesar when I was Resident Assistant Director at the Donmar. Seeing her perform Shakespeare is thrilling. She's amazing. The Young Vic has been so supportive of Theatre Uncut too - I love that building and those people.
Top show to see right now?
I'm heading to see Endgame at the Old Vic, as we speak - can't wait. And I want to see Poet in Da Corner at The Royal Court ASAP.
Expenses aside, what would be your ideal day out in London?
I'd bring my mum, for a start. Kick off with a big brunch (possibly bottomless). I've never tried Duck and Waffle (see expense aside!) but my mum is happiest high off the ground, so I'd start there. An ideal day means London in high summer, so I'd get a river boat down the Thames – probably to Trinity Buoy Wharf (which I love) and then walk to the cable car.
Back up north, I'd drop in at Camden Arts Centre, before a swim in the Hampstead Ladies Ponds (where a heron would fly over my head). Then I'd see something at the theatre. Hampstead Theatre is always brilliant, I think Artistic Director Roxana Silbert is fantastic. Finally I'd have dinner in the garden of the Spaniards Inn, which would magically be open until whatever time I needed, and would be filled with my amazing friends, my wonderful husband, and my partner in crime: Co-Artistic Director of Theatre Uncut, Emma Callander.
In your opinion, what is London's best-kept secret?
I don't think London has any secrets, which is part of its joyous nature. Possibly I'm just not cool enough to know them, but the city is so fast moving, and so brilliantly creative that it's always moving forward. Add the internet, and every time London has a secret spot, it becomes public knowledge pretty fast. Saying that, there's an amazing shop on Kentish Town Road called B&S DIY Homecare. It's a warren of anything you will ever need. Run by a man with a photographic memory, he magically knows where to find even the most obscure screw. I love it.
On your days off, where are you most likely to be found?
Probably B&S DIY Homecare. Saving that, at a matinee.
What is your fondest memory of the London theatre scene?
It might be seeing Rosie Day's face after she came off stage for the first time in Again, a show I directed her in two years ago now. I don't think she'd done any theatre – certainly not a lot. She was so nervous, and she was amazing. She was bouncing off the walls, just exuding light. It was a wonderful moment. She's a fantastic actor and writer. Her brilliant self-penned one woman show Instructions for a Teenage Armageddon is at the Old Red Lion until the 29th of February.
Where in London are you most happy?
I love going to the theatre on my own. Especially a big West End theatre, on a weekday matinee if I have a day off. There's something magical about those spaces, their history, the lavish curtains. I didn't grow up with theatre – I saw my first professional show on a school trip when I was 17 – and I still get that thrill when the lights go down.
What's next on your agenda?
Theatre Uncut is in the middle of creating and online film of Bubble. We've done something we think is really exciting. Written by multi award winning playwright Kieran Hurley, Bubble tracks the snowball of events following the moment a male lecturer calls a female student a slut. We're supported by The Space, and that support has allowed us to create Bubble as online film with real students. One student from each partner university performs one of the characters in the film.
Other universities and groups can download and perform the script, as well as dial in and join in with a live debate as we stream the film online. Its aim is to create a global theatrical debate, connecting live and online audiences to discuss freedom of speech in the university community as well as the nature of discussion online. We've also got the Theatre Uncut Political Playwriting Award winning show, Two Palestinians Go Dogging by the extraordinary Sami Ibrahim, coming up at The Royal Court which is amazing.
Personally, I'm also working on a large scale immersive-tech crossover which is still under an NDA so I can't talk about it yet; but for me tech and theatre working together is where it's at, and has hugely inspired the creation of Bubble.