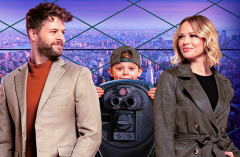 Shut-eye feels nigh on impossible when such exciting shows as Sleepless: A Musical Romance are coming to the London stage. Is this a dream? Someone pinch us, quick.
A brand-new musical is coming to the recently opened Troubadour Wembley Park Theatre. Based on the 1993 film Sleepless In Seattle, Sleepless: A Musical Romance sees Nora Ephron's iconic screenplay translated onto the stage.
Originally played by Tom Hanks and Meg Ryan, the principal characters of Sam and Annie are now something of a cultural phenomenon. After Sam loses his wife to cancer, both he and his young son Jonah move to Seattle for a fresh start. Then, on Christmas Eve nearly two years later, Jonah decides to call into a radio talk-show in an attempt to find his father a partner. The rest is history – a legendary story garnering both critical and commercial success, the film received two Academy Award nominations, and three ahead of the 1994 Golden Globes.
Although the romantic comedy might not have won much in the way of accolades, it certainly claimed the hearts of its audiences. Directed by Morgan Young (whose credits include Elf and Big, also starring Hanks) Sleepless is set to star Jay McGuiness, Kimberley Walsh and Daniel Casey as Sam, Annie and Walter respectively. McGuiness, who rose to fame as part of boyband The Wanted and for winning Strictly Come Dancing in 2015, has recently starred in BIG The Musical, which ran at London's Dominion Theatre in 2019. Walsh – of Girls Aloud – also played a key role in BIG, her West End credits touting other such successes as Shrek The Musical and Elf The Musical.
Joined by Harriet Thorpe as Eleanor, Tania Mathurin as Becky and Jake Sharp as Rob, other company members include: Charlie Bull, Colin Burnicle, Christie-Lee Crosson, Laura Darton, Leanne Garretty, Matt Holland, Ross McLaren, Gary Murphy, Dominique Planter, Annie Wensak and Benjamin Wong. The role of Jonah will be shared by Theo Collis, Mikey Colville and Jack Reynolds.
With a book by Michael Burdette and music and lyrics by British writers Rob Scott and Brendan Cull, the production will also feature a 12-piece jazz orchestra. The sheer scale of the Troubadour combined with the legacy of Sleepless in Seattle means that Sleepless looks set to be one of this year's big theatrical hitters. The production is due to play from the 24th March-3rd May 2020, with tickets to be released soon. Make sure to secure your spot in the stalls – you won't want to miss this.