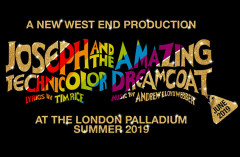 Not enough credit is given to casting directors who assemble the stars for any new West End production in collaboration with the producer. The choice of actors sends a clear message to ticket buyers about what to expect.
Let's consider the rather brilliant choices the team behind the forthcoming revival of Andrew Lloyd Webber's JOSEPH & THE AMAZING TECHNICOLOR DREAMCOAT at the London Palladium have made, and what they're telling us with their leading actors.
Sheridan Smith will play the narrator. The Joseph brand has been slightly tarnished by regular cheep and cheerful regional tours, often starring ex X Factor contestants. In casting the highly respected West End performer, Smith, the producers are telling us that theirs will be a quality product. It also ensures that there's a strong female name associated with the show, which is otherwise about men, at a time when the public is eager for more women to be centre stage. Smith must have been offered a huge fee to take on this undemanding, uninteresting role but it's money well spent.
Jason Donovan will play the Pharaoh. As a young man Donovan starred in the last, much loved, Palladium production and including him in this new cast gives it a strong nostalgia appeal to women who swooned over him back then and who will now want to bring their children and grandchildren to enjoy it too. It's a one scene, one number role (an Elvis pastiche) but it always drives the audience wild and makes a huge impression. Never-the-less Donovan is also likely to be on a huge wage for the impact he'll have on ticket sales.
The unknown Jak Yarrow will play Joseph. Having spent most of your casting budget on securing Smith and Donovan, which star do you then hire for the lead role who won't eclipse them but who isn't going to feel like anti-climax when announced? The rather brilliant solution is that you don't cast a star at all. You make a big point of casting a mysterious unknown straight from drama school ensuring the production is regarded as benevolent, forward thinking and bang up to date and creating a buzz about how superb this kid must be to have won the role. It's a ploy recently used by Cameron Macintosh when he cast the unknown Charlie Stemp as the lead in HALF A SIXPENCE and who, as a result, has now become a respected West End and Broadway leading man (We'll see him again soon as Bert in the forthcoming revival of MARY POPPINS) And it's so much cheaper to create a new star than employ an existing one.
So well done to the canny JOSEPH producer, Michael Harrison, and his casting directors. If the rest of the show gets as much attention to detail it should be very special indeed.