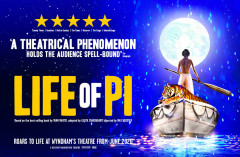 There are certain shows that you know will sell out fast either because of the title or the creative team and stars. In a series of 6 articles we report on the likely box-office smashes of the forth coming year so you can book in advance and not miss out. Use our search engine at the top of the page to find the perfect performance to suit you and get booking!
Now here's a forthcoming production that doesn't need star name to grab out attention. It's a transfer from The Crucible Theatre in Sheffield of their stage version of the Man Booker Prize winning novel LIFE OF PI.
To say this was critically acclaimed in Sheffield is an understatement. Critics were falling over themselves to find new superlatives to describe it. The Times reviewer summed it all up by saying "Long after the curtain falls, Life of Pi will make you believe in the power of theatre". Sounds good to me.
The show will be presented in a specially re-configured Wyndham's Theatre to allow for the full impact of the projections and the piece also feeds into the recent renaissance in British puppetry and puppeteering which began with WAR HORSE (a co-pro with an Australian company) and continues right now with THE OCEAN AT THE END OF THE LANE at the National Theatre and the exquisite creations in the gorgeous musical AMELIE at the Other Palace in which the baby girl puppet is so expressive you'd swear you were watching a real child.
So expect stunning and life-like puppets representing the animals in this story of a sixteen year-old boy named Pi who shares a life boat with a hyena, a zebra, an orangutan, and a ferocious Royal Bengal tiger. But which one of them will survive and who'll end up as tiger food?
The original book has sold over fifteen million copies worldwide so expect it to be very popular and to sell out fast.
We have some great ticket deals HERE so book now and don't miss the boat!