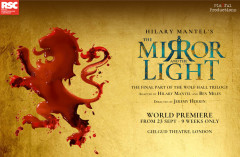 Did you fall hook, line and sinker for the first two parts of Dame Hilary Mantel's work of genius, the Wolf Hall Trilogy? Now it's time for the third and final part, and the world premiere will run at the Gielgud Theatre from 23rd September 2021. It's on for a strictly limited season until 28th November, and the Opening Night is 6th October. The full cast has been announced and there are some remarkable photos to enjoy as well as a brand new trailer.
Who's involved in The Mirror And The Light?
The play has been adapted to perfection for the West End stage by Dame Hilary Mantel herself along with the brilliant Ben Miles. Jeremy Herrin directs once more, nominated for an Olivier Award, nominated for a Tony, and winning the Evening Standard Award for the first two productions. Seven members of this dazzling cast are making their West End debut, and this is tipped to be an awe-inspiringly good production. Here's who's involved.
Ben Miles plays Cromwell
Nathaniel Parker is King Henry VIII
Nicholas Boulton plays the Duke of Suffolk
Matt Pidgeon is Stephen Gardiner
Giles Taylor plays Archbishop Cranmer
New to the trilogy are:
Rosanna Adams as Anne of Cleves
Paul Adeyefa as Christophe
Aurora Burghart as Elizabeth Seymour
Terique Jarrett as Gregory Cromwell
Jordan Kouamé plays Rafe Sadler
Geoffrey Lumb plays Thomas Wriothesley
Olivia Marcus plays Jane Seymour
Tony Turner is Kingston
Leo Wan plays Richard Riche
Nicholas Woodeson is the Duke of Norfolk
The new cast members are:
Melissa Allan as Princess Mary
Ian Drysdale is the French Ambassador
Jo Herbert is Lady Rochford
Umi Myers plays Helen Sadler / Dorothea Wolsey
Liam Smith plays Walter Cromwell)
The Ensemble members are: Andrew Hodges, Niamh James, Samuel Awoyo and Nicholas Tizzard
Buy The Mirror And The Light Tickets
Book The Mirror And The Light tickets online with us and choose the best seats using our Gielgud Theatre seating plan. We'll send E-tickets to your email address for you to show at the door on the day.
About the Gielgud Theatre
The Gielgud Theatre is one of many designed at the time by W.G.R Sprague, an era when many new theatres were springing up across the West End of London. In 1995 the theatre's famous cat, Beerbohm, died, and was given a front page obituary in The Stage magazine. He was a mighty fine cat! Past shows at the Gielgud Theatre include Imperium, Jez Butterworth's The Ferryman, The Upstart Crow, and To Kill A Mockingbird.