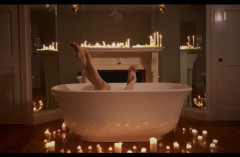 How cool and sexy and brilliant and generally all-round scrummy is this?! I love it!
As part of the Arts Council England and BBC Arts CULTRE IN QUARANTINE programme they commissioned choreographer Corey Baker to work with what they describe as "27 elite ballet dancers from renowned dance companies across the globe"
From their own homes, during lock down, they performed "a modern-day Swan Lake from their own home (filled) baths"
Turn up the volume. Blast some Tchaikovsky into your life and Enjoy!