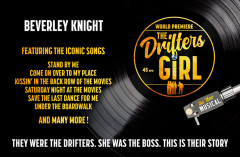 There are two types of jukebox musicals, the term given to shows which stitch together existing hits to tell a story. Some have an original plot, such as WE WILL ROCK YOU, MAMMA MIA and MOULIN ROUGE but equally successful are productions which tell the story of the artists who first recorded the material eg. BEAUTIFUL-THE CAROL KING MUSICAL, JERSEY BOYS and TINA.
The joy of these biographical shows is that you're not only guaranteed an evening of your favourite numbers by a favourite band but you'll also learn new facts about them.
It sounds like that'll certainly be the case with THE DRIFTERS GIRL, a new musical announced this morning, starring Beverly Knight with music by The Drifters, which moves into the Garrick theatre for twenty weeks next October 1st after premiering at Theatre Royal Newcastle from 25 Sept.
You may be wondering which of the band members Knight is going to play, or even thinking that the current trend for casting women in men's roles has gone too far.
In fact she won't be appearing in the group's line up. Instead she plays their manager, Faye Treadwell, the central figure in this musical, who sounds like a fascinating and pioneering woman.
What we know from the press release is that "alongside her husband, she fought for three decades to turn Atlantic Records' hottest vocal group into a global phenomenon. From the highs of hit records and sell out tours to the lows of legal battles and personal tragedy, THE DRIFTERS GIRL charts the trailblazing efforts of the world's first African American, female music manager and how she refused to ever give up on the group she loved".
What's more we're promised "an unbelievable soundtrack of some of the most iconic songs in history, including SAVE THE LAST DANCE FOR ME, UNDER THE BOARDWALK, KISSIN' IN THE BACK ROW OF THE MOVIES, STAND BY ME, COME ON OVER TO MY PLACE and SATURDAY NIGHT AT THE MOVIES."
Who better to belt these epic era defining songs than Beverley Knight? Our very own queen of soul.
An internet search reminds us that Beverley Knight, MBE (born Beverley Anne Smith; 22 March 1973) "is an English recording artist and musical theatre actress who released her debut album, THE B-FUNK, in 1995. Heavily influenced by American soul music icons such as Sam Cooke and Aretha Franklin, Knight has released eight studio albums to date. Widely labeled as one of Britain's greatest soul singers. Knight is best known for her hit singles "GREATEST DAY", "GET UP!", "SHOULDA WOULDA COULDA" and "COME AS YOU ARE".
But her career isn't all about being a pop star and TV personality. She's also an experienced theatre leading lady. In September 2013 she took over the starring role of Rachel Marron in THE BODYGUARD and this was so successful that the next year she was invited to create the lead role of Felicia in the musical MEMPHIS.
So… great music, an interesting story, and an experienced star. It sounds like we're in for a treat. Expect to hear a lot more about this promising new show over the next 12 months.