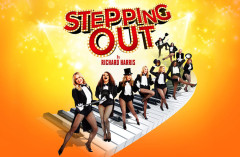 The remake of classic western THE MAGNIFICENT SEVEN has just hit cinemas so it feels apt that two new shows have been announced that utilise the same story structure.
Let me explain. The movie itself is adapted from THE SEVEN SAMURAI which is thought to be the first significant time a plot has been used in which a maverick leader assembles a team comprising off conflicted and conflicting members who then work together to conquer a challenge.
In the Wild West they're outlaws who save a town, in the West End they're middle class ladies who win a dance competition (in the Theatre Royal Bath's London bound production of STEPPING OUT) or create a charity calendar (in THE GIRLS, the forthcoming musical of the hit film and play CALENDAR GIRLS)
This team format means there are plenty of great roles.
The cast of THE GIRLS consists of Sophie-Louise Dann, the saving grace of recent new musicals, MADE IN DAGENHAM and BEND IT LIKE BECHAM, taking on the role of Celia. Debbie Chazen will play Ruth, Debbie is also a very funny writer and I recently enjoyed helping her develop a new show about the history of London, Claire Moore will play Chris, a West End stalwart who first came to prominence as the alternate Christine to Sarah Brightman in the original cast of PHANTOM OF THE OPERA and has been a formidable Madame Thenardier in LES MISERABLES and Joanna Riding will be Annie who was so good in the recent final cast of BILLY ELLIOT.
Michele Dotrice will play Jessie, Claire Machin will play Cora and he rest of the cast will be Joe Caffrey as Rod, Jeremy Clyde as Denis, John Davitt as Doctor, Soo Drouet as Brenda, James Gaddas as John, Jenny Gayner as Miss Wilson, Steve Giles as Lawrence, Maxwell Hutcheon as Colin, Shirley Jameson as Miss Wilson, Marian McLoughlin as Marie, Judith Street as Lady Cravenshire and Jane Lambert, Rebecca Lewis, Victoria Blackburn and Frazer Hadfield. Josh Benson will play Tommo, Ben Hunter will play Danny and Chloe May Jackson will play Jenny.
The current cast of STEPPING OUT is led by Amanda Holden as dance teacher, Vera. Best known for her appearances as a judge in TV's BRITAIN'S GOT TALENT Holden has also been a celebrated leading lad for some time now; she was Princess Fiona in SHREK and received an Olivier Award nomination in 2004 for her leading role in THOROUGHLY MODERN MILLIE.
She leads a team of amateur tap dancers to victory which includes women played by Angela Griffin (Fiona Middleton in CORONATION STREET) Tracy-Ann Oberman (Chrissie Watts on EASTENDERS) and Tamzin Outhwaite (Melanie Healy in EASTENDERS) all three of whom also have impressive theatre CV's.
This classic comedy is Richard Harris who it was my privilege to work with recently when I directed the premiere of his latest comedy LIZA, LIZA, LIZA for producer Bill Kenwright. He has enjoyed a long and glittering career as a stage and TV writer and his triumphs have included episodes of A TOUCH OF FROST, SHOESTRING, THE DARLING BUDS OF MAY, THE LAST DETECTIVE, and the stage and TV comedy OUTSIDE EDGE, which won the Writer's Guild Best Comedy Award, the British Comedy Award for Comedy Drama Series and the Television and Radio Industries Club Award for Best Comedy.