Olivier Theatre (National Theatre)
South Bank, London, SE1 9PX GB
Now showing at
the Olivier Theatre (National Theatre)
Olivier Theatre (National Theatre)
Tickets from £76.00
Everything you know about witches is wrong. Forget the pointy hats and broomsticks: they're the most dangerous creatures on earth.
Booking until: Saturday, 27 January 2024
Running time: 2hr 30mins (incl. interval)
The Witches tickets
Olivier Theatre (National Theatre) Facilities
Air conditioned
Bar
Disabled toilets
Infrared hearing loop
Restaurant
Toilets
Wheelchair/scooter access
Olivier Theatre (National Theatre) Location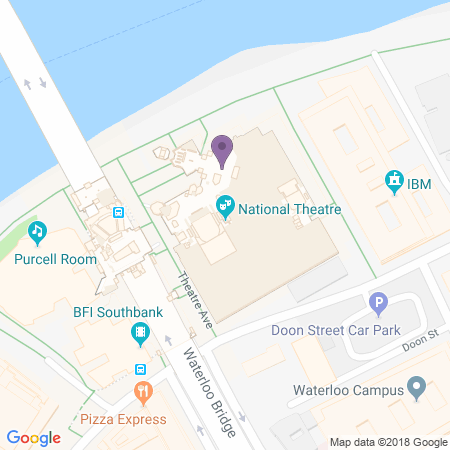 Directions
Travel Information
Nearest Tube station
Nearest Rail Station
Tube lines
Bakerloo
Northern
Circle
District
Jubilee
Waterloo & City
Day buses
(Waterloo Road) 1, 4, 26, 59, 68, 76, 139, 168, 171, 172, 176, 188, 243, 341, 521, RV1, X68
Night buses
(Waterloo Road) 139, 176, 188, 243, 341, N1, N68, N76, N171, N343
Olivier Theatre (National Theatre) history
From the outside
The Olivier theatre is part of the massive 1970s National Theatre complex on the Thames' South Bank, an impressive modern concrete behemoth. Inside there's a fantastic fan-shaped auditorium modelled on the theatres of ancient Greece, with a huge semi-circle of a stage and suspended lighting. Expect excellent views and outstanding acoustics!
Olivier Theatre architecture and history
The Olivier, the National Theatre's main auditorium, is based on the ancient Greek Epidaurus theatre, almost two and a half thousand years old but a triumph of practicality, superb uninterrupted views and really good acoustics. They knew a thing or two about theatre, those ancient Greeks!
Below the stage there's another innovation, a machine that allows the stage to revolve plus the famous 'sky hook' which means stage sets and heavy equipment can be brought in and moved around amazingly quickly.
Designed by architects Sir Denys Lasdun and Peter Softley, Laurence Olivier gives the theatre its name, as artistic director of the National for a decade between 1963 and 1973. A National Theatre was first proposed for Britain way back in the 1840s, when the artistic community was keen to win greater creative freedom. The movement developed over the years, campaigning for a national London-based theatre for Shakespeare plays and pioneering actors, dedicated to setting a good example both at home and abroad.
Campaigning continued on and off for a hundred years until, finally, the British government came up with a site and provided financial support. After another long wait, thirty years later the National Theatre finally opened its doors in 1976.
The National's newest innovation, the National Theatre Live, has revolutionised theatre by providing live screenings of plays and musicals to cinemas right across the UK and abroad, bringing London's theatreland to millions of people across the globe via the big screen.
These days the scenic riverside forecourt is used for open-air performances throughout the summer, and the National's terraces and foyers are also used now and again for one-off experimental performances.
As well as the Olivier Theatre the National complex includes a huge theatrical bookshop, several restaurants and bars plus exhibition spaces. There's even live music daily in the foyer.
Past shows at the Olivier Theatre
The Olivier Theatre, one of three in the National building and the largest, opened to rave reviews in 1976 with the outstanding classic by Christopher Marlowe, Tamburlaine the Great. The Olivier Theatre also hosted the huge 1982 stage hit Guys and Dolls, which led to a successful UK tour and West End run. The Olivier has also shown St Matthew Passion and The Kitchen, a play by Arnold Wesker that originally premiered at the Royal Court in 1959. Emperor and Gallilean, The Cherry Orchard by Chekov, Frankenstein, Hamlet, Danton's Death, Welcome to Thebes and many more.
Olivier Theatre access
Like all the National's three theatres, the Olivier provides audio-described performances for visually impaired people as well as captioned performances and sign language interpreted performances.
Olivier Theatre tickets
We're a trusted destination for a wide variety of seat types and prices, with excellent availability on the full range of Olivier Theatre tickets.