2 Queen Caroline Street, London, W6 9QH GB
Quick Facts
Largest Ticket Inventory
in the West End
Real time
seat availability
Choose
your seats
Your booking is processed directly into the box office reservation system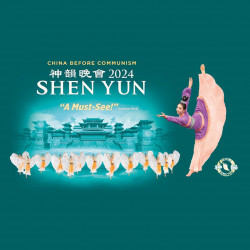 Shen Yun
Tickets
3.6/5
-

based on

40

reviews

from

40

verified reviews
Opens: Friday, 26 January 2024
Booking until: Sunday, 4 February 2024
Tickets from £80.50
Tickets refunded if your event is cancelled
Real time seat availability
Largest ticket inventory in the West End
Secure online booking
Information
Cheap Tickets
Reviews
About Shen Yun Tickets
Shen Yun description
Experience China before communism
The moment the curtain opens, you enter a wondrous dream.
Shen Yun takes you on an extraordinary journey through China's 5,000 years of divinely inspired culture.
Exquisite beauty from the heavens, profound wisdom from dynasties past, timeless legends and ethnic traditions all spring to life through classical Chinese dance, enchanting live orchestral music, authentic costumes, and patented interactive backdrops. Revisit a time when scholars and artists sought harmony with the Tao, or the "Way" of the universe, and when divine beings walked upon the earth to inspire humanity.
Join us for a night filled with beauty and wisdom, courage and hope... it's the experience of a lifetime! See Shen Yun—live on stage.
Useful Information
Opens:


Friday, 26 January 2024

Booking until:


Sunday, 4 February 2024

Age restrictions


No under 5s permitted. 14s and under will need to be accompanied by an adult.
Performance Times
Next Performances for Shen Yun at the Eventim Apollo
Friday
26th Jan 2024
7:00pm
Saturday
27th Jan 2024
2:00pm
Saturday
27th Jan 2024
7:00pm
Sunday
28th Jan 2024
1:00pm
Wednesday
31st Jan 2024
2:00pm
Thursday
1st Feb 2024
7:00pm
Shen Yun cheap tickets
We have a great selection of cheap Shen Yun tickets. We can help you save up to 70% on Shen Yun tickets! If you're looking for discount theatre tickets have a look below for our latest offers for Shen Yun at the Eventim Apollo.
-16%
No Booking Fee
Valid for selected performances
Shen Yun reviews
3.6 out of 5
based on

40

reviews
What to expect:
Acting
Music
Costumes
Story
Lighting
Latest customer reviews
Wonderful costumes and amazing dancing
I realised the show was based on their culture but didn't realise their religion would play such a bit part. However, it was such a colourful spectacle that I really enjoyed it.
Reviewed on 21 April 2023 by Jeanne, Shaftesbury, United Kingdom
Amazing performance
Great authentic performance, good mix of history and modern and culture and very entertaining Chinese:English translators. Atmosphere was surreal I felt like o was taken back in time. Pristine costumes and timing of everything was great. Nothing out of step. Synched perfectly. Cannot wait until next year.
Reviewed on 21 April 2023 by Felicia, Enfield, United Kingdom
I loved it !
If you love Chinese dancing, original colourful dress wear and beautiful traditional Chinese music thousands of years ago also all the history that goes with it then it's a show you must see !
Reviewed on 16 April 2023 by Andrew, London, United Kingdom
fantastic
Stunning beautiful wonderful
Reviewed on 16 April 2023 by Fleur, London, United Kingdom
Reviewed on 16 April 2023 by Sandra, Northampton, Uk, United Kingdom
Too long and all the same thing over and over
Reviewed on 11 March 2022 by Sam, Edgware, United Kingdom
Brilliant Entertainment
Loved the show; the professionalism of the dancing & timing; the co-ordination with the backlighting. So different & awe-inspiring.
Reviewed on 05 March 2022 by Geoff, Shepperton, United Kingdom
Show is too long and boring also dance is similar and too much. Nothing exciting for so disappointed.
Reviewed on 03 March 2022 by Saychon, Uxbridge, United Kingdom
Coloutful
Brilliant. Loved the music and the dancing
Reviewed on 01 March 2022 by Norma, Bishops Stortford, United Kingdom
Colourful
Reviewed on 28 February 2022 by Susan, London, United Kingdom
A must see
The dancing was superb,a good mix of modern and old , very enjoyable
Reviewed on 27 January 2020 by Beverly, Bristol, United Kingdom
Different
A nice show if you like chinese dance/ Choreography was excellent,however it became repetitive and boring. Wouldnt want too see it again. And wasnt value for money.
Reviewed on 26 January 2020 by Dean, Eastleigh, United Kingdom
Disappointing
The show was 19 set pieces, I found it all to be quite the same, some of the dancing was quite good but soon got bored by the repetition. I found it rather preachy in parts and not what I was expecting. I was hoping to see a more diverse, entertaining show. At the price I was charged per ticket ( I bought 3) I found not worth the price.
Reviewed on 20 January 2020 by Stephen, Middlesbrough, United Kingdom
AMAZING...!!!
So beautiful and privilege and honour to have seen this and a great 50th birthday treat from my husband. The breadth and depth of the emotions from the show were vast... from awe to raw emotion and crying to joy and laughter all in one show... loved it! Definitely recommend and look forward to seeing them again! Thank you!
Reviewed on 09 March 2018 by Rowena, Ilford, United Kingdom
I would not recommend this show.
Overall disappointed, the impact of the on line videos wasn't achieved as smaller stage, fewer dancers. Thought its shame that the backdrop projected onto the cast when they were on the steps at the back of the stage.
Reviewed on 02 March 2018 by Cheryl, Welling, United Kingdom
What a disappointment!
We were hoping for a spectacular performance. It appeared to be a show about poor choreography and coloured costumes. No performances by individuals stood out. We also hoped for authentic music with traditional instruments. We left the show during the interval because we anticipated the second half would be very similar.
Reviewed on 01 March 2018 by Rita, Ivybridge, United Kingdom
Wonderful, scenic, brilliantly performed Shen Yun!
For me, it was a simply beautiful production: the very accomplished performers seamlessly interacting with the digital screen gave a breath-taking 4th dimension to the wonderful experience. The simple combinations of the subtle colours of the costumes were delightful. The only thing that grated was the male Master of Ceremonies: the western lounge suit was out of keeping with the Chinese theme. My companion thought the Masters of Ceremonies should have costumes to match the items that they were introducing. We both thoroughly enjoyed the spectacular experience. Thank you all.
Reviewed on 27 February 2018 by Elizabeth, East Grinstead, United Kingdom
Music poor. Not Chinese. Dancing good but very repetetive. Annoying comperes. Good backdrops. Political comment (chinese police) inadvisable. In all a disappointment. More American than Chinese.
Reviewed on 26 February 2018 by Joy, Colchester, United Kingdom
I couldn't see a thing as there was to two very tall person in front of me. When ask if I could have 2 high chair . The man replied they ran out .
Reviewed on 25 February 2018 by Y, London, United Kingdom
Colourful ans enjoyable but a tad boring. Could have been a lot more diverse.
If you enjoy dance then it was a great show. However the dancing was so similar across the show that we would have enjoyed more variations. Still worth seeing though.
Reviewed on 25 February 2018 by Balraj, Ilford, United Kingdom
Spectacular
Great music and dancing. Didnt flow because of curtain down and narration between each scene. Great mixture of screen an live action. I was expecting to see more acrobatics and other chinese culture that I have seen in China but it is mainly just classical dancing
Reviewed on 25 February 2018 by Harry, London, United Kingdom
Once seen is enough at that price !
The American compare, Jerry, was irritating at best and came across like a corny high school drama teacher at the end of year production. Unnecessary as the individual scenes were very self explanatory and needed no introduction nor smarmy fake smile. Some scenes were great and lived up to the expectation but others sadly fell short. We were waiting for the once in a lifetime spectacular as described in the publicity. Sorry guys, just fell so far short
Reviewed on 23 February 2018 by Frank, London, United Kingdom
Disappointed
We expected a spectacular but it was boring and repetitive. Would not recommend.
Reviewed on 23 February 2018 by Lyndon, Woking, United Kingdom
a visual extraverganza
a visual and audio spectacular with very clever interaction between the stage and the background screen.The costumes are stunning as are the dance routines.
Reviewed on 22 February 2018 by Peter, Colchester, United Kingdom
Deceitful: It's not Chinese music and dance but political propaganda
Having paid £90 per person, I feel cheated and insulted to be confronted with a political rally by a religious sect. They are welcome to advertise if they wish but they should not make us pay under false pretences of presenting Chinese culture. Most of what we saw had little to do with real Chinese culture, including a wedding march which plagiarised Wagner! An absolute disgrace from beginning to end should be banned under the trades description act!
Reviewed on 22 February 2018 by Andre, Richmond, United Kingdom
not as advertised
Don't bother.
Reviewed on 20 February 2018 by Jeremy, Barnet, United Kingdom
Disappointing...not like the press reviews
Whilst the standard of the show & performance was generally good the theme, lack of connected story line was monotonous & disjointed. The reviews that that have been marketing the show is misleading. Really upset considering the cost of the tickets.
Reviewed on 20 February 2018 by Sonia, Harrow, United Kingdom
Costumes and colors are stunning. I really loved the flowing dresses of the ladies.
Really wonderful performance and I enjoyed it in all respects. I would have preferred to see politics out of this entertaining spectacular show. It is inappropriate to misrepresent Communist China's resistance to Falun Dafa,I believe the reasons were not based on spiritual practices but due to financial and economic reasons. I am also In any event China and the world have moved on and we have a new China a global giant in ever respects. I hope Shen Yun will soon be able to perform its beautiful dances in the very country where they originated. Wo Ey Shen Yun.
Reviewed on 19 February 2018 by Dhanapala, Farnborough, United Kingdom
Masterful choreography and performance - out of this world
Reviewed on 18 February 2018 by Terrance, Thorpe Morveux, United Kingdom
Started well but disappointing.
As a group of three, we all thoroughly enjoyed the first two scenes. However, it lacked a continuing storyline, the political and religious overtures dampened the dance. China has far more to offer with its scenic beauty and with well disciplined dance routines, it lacked that 'magic' that makes an audience show huge appreciation. The audience too was somewhat lacklustre. For the price paid for the tickets I would have preferred seeing something else.
Reviewed on 18 February 2018 by Margaret, Raynes Park, United Kingdom
Fabulous show would highly recommend
Reviewed on 18 February 2018 by Joy, Blindley Heath, United Kingdom
Good show. Not as exciting as the advertizing preview. I believe a purchased seats in the stalls 11th row and I received seats in the circle 11th row. Not good for your eyes to sit so far. For this reason very disappointing. Not worth the £83.30 ticket price.
Reviewed on 18 February 2018 by M, London, United Kingdom
Mystical specticle ideal for people who enjoy ancient cultures.
Reviewed on 17 February 2018 by Gwen, London, United Kingdom