Quick Facts
Largest Ticket Inventory
in the West End
Real time
seat availability
Choose
your seats
Your booking is processed directly into the box office reservation system
This show is now closed.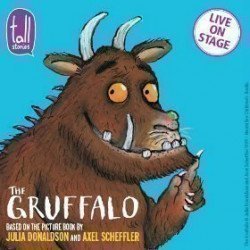 The Gruffalo
Tickets
4.4/5
-

based on

33

reviews
About The Gruffalo
Performance Times
The Gruffalo description
Join Mouse on her remarkable journey through the wood where the Gruffalo lives... or does he? Mouse starts off on an expedition to find delicious hazelnuts, nut map in hand, but things soon get a whole lot more interesting. She meets the sneaky Fox, the eccentric Owl and the party animal Snake, and she manages to outwit the lot of them with her amazing stories about the legendary Gruffalo.
This show is packed with music, laughter, physical theatre and scary bits that are fun... but not scary enough to disturb a child. The result is a charming family show for anyone who wants a child-centred Christmas theatrical treat. The story is, of course, based on Julia Donaldson and Axel Schefflers' magical picture book, and it has thrilled audiences the world over. Interestingly, the plot is inspired by a Chinese folk tale involving a fox that uses stories about a fierce tiger to keep his enemies at bay. The author, who couldn't think of a suitably monstrous name that rhymed with 'tiger', invented 'gruffalo' instead. And a legend was born.
The Gruffalo plays at the Lyric Theatre in London until the end of the first week in January. The book has sold more than 13 million copies, printed in 18 editions since it hit the bookshops in 1999. It has won a host of coveted prizes for children's literature, and has been adapted for the stage in the West End and on Broadway. The play premièred in 2001. The Times newspaper called it, "irresistibly charming". Now's your chance to experience the magic for yourself. Your children will adore it!
The Gruffalo reviews
4.4 out of 5
based on

33

reviews
What to expect:
Acting
Music
Costumes
Story
Lighting
Recommended for:
Anyone (21%)
Families (91%)
Teenagers (24%)
Couples (21%)
Theatregoers (27%)
Latest customer reviews

Excellent show
My 4year old grandson was enthralled and enraptured.... we were up in the gods and he was shouting with the best of them.....
Reviewed on 16 August 2019 by Liberté, Woodford Green, United Kingdom

Definitely a show for 3+ year olds as advised. I took my 2 year old and it was too much for her particularly as we had to travel a long while and on public transport etc. She was tired and fed up with sitting before the show began. Perhaps if you live close by, the 55 minute show might be easier for 2 year olds to engage with.
Reviewed on 04 August 2019 by Tarryn, High Wycombe, United Kingdom

Theatre experience for young audience
Great show for families with young children (about 4 to 8). Excellent acting and the story beautifully told and acted. Entertaining dance, singing and music, including some humour for the adults in the audience. One hour show is just about right for young audience.
Reviewed on 02 August 2019 by Joanna, Epsom, United Kingdom

Our 4 & 7 year old found it a little hard to stay engaged. Unfortunately found they were a bit board.
Come see this if your children are toddlers Nothing is scary Short and sweet Nice theater Good seats
Reviewed on 01 August 2019 by Jennifer, Kapaa, United Kingdom

great show for children!
this was my 2.5 year old daughters first experience at the theatre and she loved it, very entertaining show and interactive, which was great for the kids.
Reviewed on 29 July 2019 by Dilhan, London, United Kingdom

Great fun- kids loved it!
Went to the show with my 4 year old nephew, sister-in-law and mother-in-law and we all loved it! Great fun for all ages. Very impressed with the standard of acting and singing and interactivity- getting the kids involved in shouting out and joining in with he story. Would recommend.
Reviewed on 19 July 2019 by Elizabeth, Belfast, United Kingdom

Fun for the whole family
Reviewed on 14 July 2019 by Mihaela, Swanley, United Kingdom

Burst of colour and fun
My daughter loved the show and did not stop talking about it.
Reviewed on 28 December 2016 by Clare, London, United Kingdom

Family fun for all
Really enjoyed watching the Gruffalo. Brilliantly done and great humour for children and adults. Highly recommend.
Reviewed on 04 September 2016 by Priya, Watford, United Kingdom

Really creative and fun, perfect for children and adults alike
The performance is fairly loyal to the book, however the characters are not wearing furry costumes which may turn children off. On the other hand, it may not be suitable to under 3 year olds since the audience is asked to scare the Gruffalo off, resulting in quite a loud reaction. I had a fun time with my 7-yr-old, and I definitely recommend it.
Reviewed on 27 August 2016 by Stefania, New York, United States

Clever and funny!
Kids burst with laughter many times throughout the show. It was cute, cheeky, funny, clever, musical... really entertaining. Even my 16month old couldn't take his eyes off the stage. I loved it. Bought the CD and look forward to the kids signing the songs in the car. Will look for other productions by this company.
Reviewed on 11 August 2016 by Angela, Barnes, United Kingdom

kids loved it, some wit for adults
Fantastic show, tricky to thrash out a short children's book into an hour-long show but very entertaining. My 5yo shouted the house down when audience responses were needed.
Reviewed on 08 August 2016 by Leah, Amsterdam, Netherlands

Fan flippin tastic
A fantastic show performed by energetic and enthusiastic actors. Laugh a minute and an easy to follow story. Great audience participation. A must show for all
Reviewed on 01 August 2016 by Stuart, Arlecdon, United Kingdom

Fabulous for kids. Big and small
This show was fantastic. They encouraged the children to join in singing and shouting. Our 4 and 6 yr old thoroughly enjoyed their first trip to the theatre. Show was about an hour long. Just long enough for them.
Reviewed on 30 July 2016 by Carrie, Braintree, United Kingdom

Excellent adaptation of The Gruffalo
Was a little sceptical about how the story would be put over as my daughter loves the Gruffalo and is very protective of the story when we read it at home, but the show was fantastic. Funny, captivating and wonderfully acted out. My daughter loved every second of it and has really got the theatre bug because of it. She wants to come back again as soon as possible. We were a party of 2 2-4 year olds and 3 adults and all of us were drawn into the story and laughed out loud during the show. Well done on making an amazing story just a little bit better.
Reviewed on 22 July 2016 by Colin, Trimley St Mary, United Kingdom

Fun at the Theater
Great entertainment for little one's and family to all join in..
Reviewed on 01 January 2016 by Kim, West Drayton, United Kingdom

OK
It was ok, no more or less than expected.
Reviewed on 31 December 2015 by James, Caversham, United Kingdom

Daughter loved it and good interaction between the actors and audience.
Reviewed on 01 September 2015 by Robert, Southwater, United Kingdom

Funny and entertaining
Great show. It was the right length for my 5 year old. I thought the actors were brilliant. It was witty for grown ups and engaging for children.
Reviewed on 25 August 2015 by Joanna, Lincoln, United Kingdom

very entertaining
Great show. Was my childrens first trip to the theatre and they throughly enjoyed the experience. My 3yr old was a bit too small to see show from her seat (dress circle) so had to sit on my lap. So pls consider this when booking your seats
Reviewed on 25 August 2015 by Michelle, Shadwell, United Kingdom

Perfect as a theatre introduction
My 3 year old grand-daughter was transfixed and loved every minute of the show, although she grew a bit restless during the rather overlong songs and was just really interested in the progression of the storyline.
Reviewed on 18 August 2015 by Nicky, London, United Kingdom

Great for kids
A good show for families and little ones - the actors were good and engaged with the kids in a positive way - they made the gruffalo look a lot less scary than its mean to be and that takes away te essence of the story but understand they may have done this not to scare the tots attending te show
Reviewed on 06 August 2015 by Laura, Kingston Upon Thames, United Kingdom

Great for the little ones
A must for the younger ones and all fans of Julia Donaldson. Really well done and cleverly acted out
Reviewed on 04 August 2015 by Brian, Tetney, United Kingdom

sadly awful
this was without doubt the worst show we have ever seen. flimsy set, recorded music and cheap costumes. lasted one hour terrible value for money and a complete disappointment do not even think about booking !
Reviewed on 04 August 2015 by Lorraine, Dartford, United Kingdom

Good fun
Reviewed on 19 July 2015 by Ioannis, Frankfurt, Germany

What lurks in the dark wood?
Really cheery and cheeky production. My son laughed most of the way through. The actors and actress were fantastic, moving very smoothly between roles - particularly liked the fox and snake parts - very funny. Good songs and really moves along to keep even a four year old happy and engrossed. Some good pantomime bits (there could have been a few more). It's a difficult balance but the Gruffalo entrance could have been a bit more scary (I think my son more wanted to cuddle him!) but for anyone with kids 3-83 this is really recommended, just remember to get the CD for the car on the way home.....
Reviewed on 06 July 2015 by Matthew, Leeds, United Kingdom