Quick Facts
Largest Ticket Inventory
in the West End
Real time
seat availability
Choose
your seats
Your booking is processed directly into the box office reservation system
This show is now closed.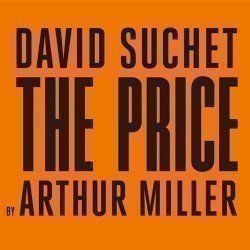 The Price
Tickets
4.6/5
-

based on

51

reviews
Starring: Brendan Coyle, David Suchet
About The Price
Performance Times
Starring:
Brendan Coyle, David Suchet
The Price description
The Price – Arthur Miller's classic play
Welcome to Jonathan Church's 50th anniversary production of Arthur Miller's The Price. The play enjoyed a sell-out run in Bath in early summer 2018 and now it's set to transfer to the West End, starring David Suchet and Brendan Coyle.
The story? Meet two alienated brothers, Victor and Walter Franz. Victor is a policeman on the verge of retirement. Walter is a successful surgeon. It is almost twenty years since they last hooked up. Now their dad has died and they're meeting to sell off some family furniture. After the Great Depression, Victor had given up going to university to support his father. His wife Esther and brother Walter, plus the wily antique dealer Gregory Solomon, all have their own agenda when the brothers meet again. But it's time for Victor to face the sacrifice he made all those years ago, and deal with his feelings about it.
In 1971 The Price was adapted for TV, from a script by Miller. Broadcast as part of the NBC Hallmark Hall of Fame series in the USA, David Burns played Mr. Solomon, Colleen Dewhurst played Mrs. Franz, George C. Scott played Victor Franz, and Barry Sullivan played Walter Franz.
The smash hit TV show was nominated for four Emmies including Outstanding Single Performance by an Actor in a Leading Role for Scott, and Outstanding Performance by an Actor in a Supporting Role in Drama for Burns, Outstanding Directorial Achievement in Drama - A Single Program, for the director Fielder Cook, and Outstanding Single Program - Drama or Comedy for David Susskind, the producer. Scott and Cook each won their nominated Emmies.
Your venue is the magnificent Wyndham's Theatre and the show plays from 5th February to 27th April 2019. Suchet and Coyle are joined by Adrian Lukis and Sara Stewart, both of whom also reprise their roles from the Bath production. And set designer Simon Higlett has created the most remarkable attic setting stuffed with dangling period furniture, the ultimate in claustrophobia. This really is a classic you won't want to miss, an extremely clever play written by an extremely clever man, played by a collection of extremely talented actors.
Who is this show for?
Arthur Miller wrote adult plays with adult themes. This wonderful play isn't suitable for children.
The Price reviews
4.6 out of 5
based on

51

reviews
What to expect:
Acting
Music
Costumes
Story
Lighting
Recommended for:
Anyone (47%)
Families (51%)
Teenagers (53%)
Couples (73%)
Theatregoers (98%)
Latest customer reviews

The Price Was Excellent
I booked The Price to see David Suchet live on stage and I was very impressed with the play. A fantastic way to spend my Saturday night. Mr Suchet was superb.
Reviewed on 30 April 2019 by Wendy, London, United Kingdom

Deep, meaningful and powerful!
Reviewed on 22 April 2019 by Liv, London, United Kingdom

brilliant show
The Price was an amazing story acted brilliantly by the cast. It gripped you from the outset. The actors were all superb and conveyed the change of moods well. Thoroughly recommend this,
Reviewed on 21 April 2019 by Joan, Bournemouth, United Kingdom

Must see
Reviewed on 18 April 2019 by Roy, Felpham, United Kingdom

A key into the deceptively difficult family relationships
Reviewed on 17 April 2019 by Maria Antonietta, Rome, Italy

Fantastic!!!!
Reviewed on 12 April 2019 by Kiran, Oxford, United Kingdom

A virtuoso performance.
Terrific show - amazing acting.
Reviewed on 11 April 2019 by Philip, London, United Kingdom

Worth going just for David Suchet
Arthur Miller is good value. The twists and turns of the two brothers' backstory in the second act became a little drawn-out, especially with the wife of one brother still on stage having little to say or do except emote. But it's still a good play. The stage always lit up when David Suchet came in and I would recommend going just for him alone, but he was just the best of a good cast, including the excellent stand-in at the performance I saw.
Reviewed on 11 April 2019 by Stephen, Reading, United Kingdom

A good play with excellent performances from the cast of four. Naturally David was outstanding. Difficult to rate music 🎵 when it wasn't a musical.
Reviewed on 11 April 2019 by Paula, London, United Kingdom

A thoughtful and provoking storyline. Wonderful performances from all of the cast . A delight from start to end .
Reviewed on 10 April 2019 by Sally, Oroungton, United Kingdom

Fascinating
This brilliant play dissects family relationships is surprising and chilling ways. It's brilliantly constructed and written, and Miller really gets under the skin of the two main protagonists. All the acting is superb but I must say that for vocal production David Suchet give a masterclass. I was in the balcony and have a slight hearing impairment, and yet I could hear every syllable he uttered. His wonderful vocal range and superb characterisation add real quality and delight to this serious play.
Reviewed on 07 April 2019 by Camilla, Rochester, United Kingdom

Sion Lloyd, the understudy for Brendan Coyle was absolutely outstanding...! Played the role with the confidence and nuance of a true professional.
Reviewed on 06 April 2019 by Jamie, San Jose, United States Of America

One of Arthur Miller's best plays.
Reviewed on 31 March 2019 by Linda, Ilford, United Kingdom

Reviewed on 25 March 2019 by Marta, Paris, France

Twist in the tale
Sterling performance from all the actors with a mix of comedy and soul searching
Reviewed on 24 March 2019 by Barbara, Edinburgh, United Kingdom

A classic play, brilliantly well done
Reviewed on 24 March 2019 by David, Bury St Edmunds, United Kingdom

Entertaining and thought provoking
Reviewed on 23 March 2019 by Christian, London, United Kingdom

David Suchet excels
Very good, would have been excellent had it been twenty minutes shorter.
Reviewed on 22 March 2019 by Keith, Carshalton, United Kingdom

A wonderful play by a great playwright. It shows how family relationships and resentments are fostered by protagonists' subjective memories, interpretations and self justification. Great acting.
Reviewed on 17 March 2019 by Simon, Warrington, United Kingdom

enjoyable
Reviewed on 13 March 2019 by Margaret, Llandrindod Wells, United Kingdom

Brilkiant and moving
Just mesmerising theatre! Suchet and the cast embrace Arthur Miller's wonderful play about lost dreams, family feuds and human decency with terrific performances. It has always been one of the great American plays but this cast serves it extraordinarily well. A must see.
Reviewed on 13 March 2019 by Nina, London, United Kingdom

The Price
Simply SUPERB! The whole left me speechless, acting out of this world, just AMAZING!!
Reviewed on 12 March 2019 by Joyce, Scunthorpe, United Kingdom

Less is sometimes more
David Suchet was excellent. Every time he walked on the scene, the play became vivid. There were passages which were unnecessary long. If the play was 15-25 minutes shorter, it would be just fine.
Reviewed on 12 March 2019 by Mario, Jaklovce, Slovakia

A seldom-performed Arthur Miller, brilliantly done
Reviewed on 12 March 2019 by Sally, London, United Kingdom

Fantastic show , thought provoking
Definitely worth the 6 hour round trip to see! I left the theatre reflecting on desisions I had taken in my own life and the assumptions they may have been based on. So definitely a thought provoking afternoon. The acting was great. Brendon Cole particularly, as his performance was nuanced and held the audience.Adrian Lukis was a little too shouty for me and his character seem less believable as a result. David Suchet was of course fantastic!
Reviewed on 10 March 2019 by Lindsay, Witney, United Kingdom

Exelent acting
Reviewed on 10 March 2019 by Herulf, Oslo, Norway

True gem
Reviewed on 08 March 2019 by Pawel, Worcester Park, United Kingdom

Poignant
David Suchet was excellent - each time he came on, the level of acting was raised!
Reviewed on 01 March 2019 by Siobain, London, United Kingdom

Stunning production , magnificent actors , an incredible evening that you can't stop thinking about long after! There are times when you just can't breathe! David Suchet is sublime and can play any role! The public are so lucky to see such fine acting by this brilliant Quartet! Run, don't walk before these precious weeks are over! Bravo to one and all!
Reviewed on 28 February 2019 by Dottie, Raleigh, United States Of America

wonderful acting
Reviewed on 28 February 2019 by Ludmila, Orpington, United Kingdom

amazing actors
Reviewed on 26 February 2019 by Neil, Shrewsbury, United Kingdom

Wonderful acting
Reviewed on 24 February 2019 by L, Bickenbach, Germany

Davis Suchet is excellent. As a whole it is not Arthur Millers best work but it caused quite a bit of after show discussion which is always a good sign!
Reviewed on 23 February 2019 by Mark, Beaminster, United Kingdom

An absorbing play
Very interesting play with the relationships between the 4 actors evolving as the play progressed
Reviewed on 20 February 2019 by Michael, Farnham, United Kingdom

David Suchet on the stage. He is amazing!
Reviewed on 14 February 2019 by Vojtěch, Brno, Czech Republic

David Suchet is awesome!
Booked the show because David Suchet was in it. However the complete cast were amazing. Really glad I went to see it. Mr Suchet really makes it though.
Reviewed on 13 February 2019 by John, Netheravon, United Kingdom

Boring
Reviewed on 09 February 2019 by Isabel, London, United Kingdom

A reflection on the complexities of sibling relationships and family inheritance.
Excellent acting and wonderful script so relevant to many modern families
Reviewed on 06 February 2019 by Sheila, London, United Kingdom

preferably for older people
I went wth my daughter and i think it is for an older audience. the play was very well acted, Vic was extremely good. David Suchet played the part extremely well.
Reviewed on 06 February 2019 by Clair, Reading, United Kingdom