Quick Facts
Largest Ticket Inventory
in the West End
Real time
seat availability
Choose
your seats
Your booking is processed directly into the box office reservation system
This show is now closed.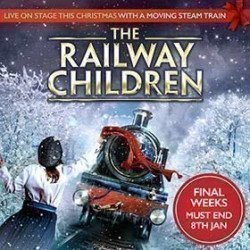 The Railway Children
Tickets
4.6/5
-

based on

106

reviews
Information
Cheap Tickets
Reviews
News
About The Railway Children
Performance Times
The Railway Children description
It's your last chance to see this stunning adaptation of E. Nesbit's classic novel The Railway Children at LONDON'S KING'S CROSS THEATRE!
Set in a purpose built 1,000 seat venue with a vintage foyer, this breath-taking show features a stage built around a real train track and a glistening 60-tonne locomotive that will steam into the theatre throughout the Christmas holiday period! 
Steeped in nostalgia and charm, treat your family to the adventure of a lifetime, and join Bobbie, Peter and Phyllis as they tell the story of how they became The Railway Children! 
Don't miss your chance to see 'One of London Theatre's all time classics' (Metro) before the final farewell on 8th January 2017.
BOOK NOW FOR CHRISTMAS!
Directed by Damian Cruden, the Artistic Director of York Theatre Royal, with design by Joanna Scotcher, lighting by Richard G. Jones, music by Christopher Madin and sound by Craig Vear, Mike Kenny's adaptation of The Railway Children was first produced by York Theatre Royal at the National Railway Museum, York, where it enjoyed two sell-out and critically acclaimed seasons in 2008 and 2009.  The production then opened at Waterloo Station in the former Eurostar terminal in July 2010, where it again played two critically acclaimed sell-out seasons and won the 2011 Olivier Award for Best Entertainment, before opening in Toronto in 2011 in a temporary theatre built at the base of CN Tower in Roundhouse Park.
The Railway Children tells the story of Bobbie, Peter and Phyllis, three children whose lives change dramatically when their father is mysteriously taken away.  They move from London to a cottage in rural Yorkshire with their mother, where they befriend the local railway porter, Perks, and embark on a magical journey of discovery, friendship and adventure.  But the mystery remains – where is Father, and is he ever coming back?
2016 marks the 110th anniversary of the publication of Edith Nesbit's much loved classic children's book The Railway Children, which has subsequently been adapted for the stage and screen, most famously in the 1970 film version directed by Lionel Jeffries and starring Jenny Agutter, Bernard Cribbins, Dinah Sheridan and Sally Thomsett.
The production is presented in London by Tristan Baker & Charlie Parsons for Runaway Entertainment, Oliver Royds for BOS Productions and Sue Scott Davison, in association with York Theatre Royal and the National Railway Museum. 
The Railway Children cheap tickets
We have a great selection of cheap The Railway Children tickets. We can help you save up to 70% on The Railway Children tickets! If you're looking for discount theatre tickets have a look below for our latest offers for The Railway Children at King's Cross Theatre.
-30%
Was £85.00
Now £59.50
Valid on all performances from 21 - 26 December, 30 December 2016 and 2 - 4 January 2017.
-28%
Was £90.00
Now £65.00
Valid on all performances on 28 - 29 December, 31 December 2016, 1 January, and 7 - 8 January 2017.
The Railway Children reviews
4.6 out of 5
based on

106

reviews
What to expect:
Acting
Music
Costumes
Story
Lighting
Recommended for:
Anyone (59%)
Families (99%)
Teenagers (59%)
Couples (62%)
Theatregoers (69%)
Latest customer reviews

Amazing from start to finish
The show was amazing each and every one that put the show together..but loved Phyllis she was adorable ... my 14 year old daughter who is taking drama ... enjoyed it I always thought she like musical .. but now I realized she is moving towards plays.. from now one we two will be going to the theatre more often.. lovely day out for mother and daughter x
Reviewed on 11 December 2016 by Claudette, Greenford, United Kingdom

Theatre Night with a Difference
8 of us pre-booked, excellent seats 3 rows back, clear views, easy access with my Mum who cannot walk well. Bar/Snacks area very authentic and quick service. Show was so close to us, so visible and brilliant Actor interaction with Audience. Amazing when the Steam Train comes in, brilliant. No dislikes, shame there were several empty seats.
Reviewed on 01 December 2016 by Liz, High Wych, United Kingdom

Great for the family
An amazing experience, don't want to give too much away, but the way the stages move and some of the effects, such as the tunnel were simple but very effective. In all a great family experience, one we would highly recommend.
Reviewed on 21 November 2016 by Christopher, Kettering, United Kingdom

A good memory
For those of us brought up on the film this was a nostalgic throwback
Reviewed on 14 November 2016 by P, London, United Kingdom

Excelent family fun with the odd bit of adult humour
Reviewed on 29 October 2016 by Ian, Bicester, United Kingdom

Engaging escapism
Lovely story, engaging acting.
Reviewed on 18 October 2016 by Richard, London, United Kingdom

show with a big surprise.
Great show, the train made it extra special.
Reviewed on 18 October 2016 by D, Lesmahagow, United Kingdom

Enjoyable afternoon at the railways
The Railway children is a very sweet show with very good main actors. It has an endearing story line and I could not help but shed a few tears. You get so drawn into the story
Reviewed on 09 October 2016 by Karin, Farnham, United Kingdom

good play all in all
good play all in all, nice atmosphere, well done special effects and the steam train a real masterpiece! Peaty that there were no songs at all in this show, as we were expecting a musical.... but we were wrongly advised in this respect. The plot is good for kids up to max 12, beyond that age the novel's 19th century moral and romantic stereotypes of the Brit society is too predictable and possibly boring. But this is due to the novel, not to the show's direction. Actors were all excellent, especially the young ones. Peaty that real kids were not given a more prominent role. Last but not least, the show booklet at 3£ is too expensive for what it offers - only CVs and publicity, not even a summary of the plot....
Reviewed on 12 September 2016 by Arianna, Brussels, Belgium

Railway Children - Full Steam Ahead
This is not your average theatre, but a converted railway station of sorts however; this is in no way a negative aspect as you get a superb view of the performance from each and every seat. Central to the performance is the railway line which accommodates a full size steam locomotive. The sets are ingeniously delivered and the lighting and sound provides a unique vision of this beloved classic. This is a must see show for adults and children alike.
Reviewed on 12 September 2016 by Scott, Sheffield, United Kingdom

Transported to a simpler time, just wonderful!
Loved the film version as a child and the show did not disappoint! Excellent yet simple set changes really evoked the feeling of being next to a railway or in the family's home, with just a few props. Great acting, lots of laughs as well as emotionally moving. Loved it.
Reviewed on 12 September 2016 by Jo, Chichester, United Kingdom

Engaging, innovative, humorous
Great show; superbly produced; innovative set and adaptation. A thoroughly enjoyable afternoon's entertainment.
Reviewed on 05 September 2016 by Alan, Bedlington, United Kingdom

Great well acted, well produced show for the family
Reviewed on 04 September 2016 by Darren, St Neots, United Kingdom

Faithful to the book, spectacular steam train
Great family show. The acting was lively and convincing. Venue super and atmospheric.
Reviewed on 25 August 2016 by Nicholas, Worthing, United Kingdom

An intimate spectacle and great fun
Reviewed on 22 August 2016 by Emma, Malmesbury, United Kingdom

Magical
A real treat, heart warming and magical
Reviewed on 19 August 2016 by Jane, Colchester, United Kingdom

FAMILY ENTERTAINMENT
Reviewed on 08 August 2016 by Sarabjit, London, United Kingdom

Travelling Mercies
Wonderful journey with the railway children. It was if I too was on the journey.
Reviewed on 05 August 2016 by Louise, Newtownards, United Kingdom

Brilliant a work of art
This is so good i have so far seen it twice and plan to go again . It still makes me cry when Bobbie sees her Daddy .
Reviewed on 01 August 2016 by Willam, Chichester, United Kingdom

Excellent
Reviewed on 28 July 2016 by Kelly, Falkirk, United Kingdom

Delightful way to spend the afternoon!
While visiting London I had a few hours to fill on a Thursday afternoon while my husband was in meetings. Since I'm a fan of children's literature and nostalgia I thought The Railway Children would be fun. It was delightful! The production is geared to engage children but it is not just a kiddie production, the audience was of all ages and everyone seemed to enjoy the show. And the staging is especially unique! It is built on an actual railway track and was very creatively done. It gave to performance a lot of movement for a small space.
Reviewed on 22 July 2016 by Jennifer, San Francisco, United States

Fun, accessible and energetic performance of the Railway Children
Reviewed on 19 July 2016 by Simon, Horley, United Kingdom

Brilliant
The show was great fantatic how the stage is laid out and the really train that came on
Reviewed on 10 July 2016 by Emma, Portsmouth, United Kingdom

Must see for family with kids
Reviewed on 18 June 2016 by Michelle, Singapore, Singapore

Brilliant
My husband took our son for a birthday treat he said it was absolutely fantastic
Reviewed on 06 June 2016 by Mehmet, Kirkby In Ashfield, United Kingdom

Lovely show with lots to keep you interested!
I went to see the show with my husband and neither of us knew the story. It was easy to follow with something to always keep our attention. The actors were great and participated with the audience nicely.
Reviewed on 06 June 2016 by Sian, Hemel Hempstead, United Kingdom

beautifully captivating
Reviewed on 06 June 2016 by Jayne, New Malden, United Kingdom

A delight
The whole show was delightful. The set was so cleverly designed, special effects amazing and acting superb; a real treat for all ages as the youngest in our party was 10 and the oldest 83 years old.
Reviewed on 02 June 2016 by Sue, Collingham, United Kingdom

Interactive family show
A great show for all the family. Lots going on across the entire length of the platform, but smaller kids struggle to see what's going on if at the far end. The steam engine is a winner!
Reviewed on 02 June 2016 by Sarah, Beaconsfield, United Kingdom

Enjoyable
Reviewed on 31 May 2016 by Lisa, Crewe, United Kingdom

Creative
Good for younger children who love trains
Reviewed on 31 May 2016 by Zdena, Chatham, United Kingdom

Great to experience this classic film on stage
What a great show! A must see if you've ever seen the classic film. Fabulous how the set moves. Lovely interaction from the cast before the show starts - keep your popcorn hidden, or they'll be into it! We were sat on platform 1 in the centre - I'd say there were great seats... think they were probably better than platform 2 as at one point, platform 2's view of a small part of the show, might have been hidden... then platform 2 might say the same, as something might have been going off on the other side that we didn't notice. All in all - fabulous!
Reviewed on 31 May 2016 by Susan, Sheffield, United Kingdom

Great show
This was a very nice show. The reason I marked it down in was because there was no music. The story line was fantastic. I went by myself but there were many that had brought their children. Everyone seem to enjoy it.
Reviewed on 30 May 2016 by Jessica, Apo, United States

Railway Children. Worth a visit!
Really enjoyed show yesterday. Took my 24yr old autistic stepson who loved it.
Reviewed on 29 May 2016 by Debra, Basildon, United Kingdom

well presented by an excellent cast
Reviewed on 26 May 2016 by Michael, Sheffield, United Kingdom

Fantastic fun filled family show
A fantastic show for all ages. Actors very interactive throughout. Set was amazing and cleverly done. Can't recommend highly enough. One of the best shows ive seen and I've seen a great deal of shows.
Reviewed on 14 April 2016 by Jennifer, Kilmarnock, United Kingdom

delightful
My ratings describe what we thought of the show - excellent production, excellent acting & so pleased to have seen it
Reviewed on 08 April 2016 by Sheila, Rugby, United Kingdom

Good version of the original classic
Excellent acting and enjoyable show. Note this isn't a musical it's a play, there's no singing or music, but very engaging actors and a few famous faces behind the makeup. We were in row D platform 1 seats 27-30, excellent central view of everything on stage, awesome when life size train comes in!!
Reviewed on 07 April 2016 by Graham, Dunfermline, United Kingdom

must see show.
Reviewed on 07 April 2016 by Howard, Steeple Ashton, United Kingdom

Must see show.
Very good acting and story. Stage props were excellently done - especially the real Steam engine and carriages.
Reviewed on 05 April 2016 by Margaret, Sutton, United Kingdom

Slow start, but picks up in second half
Nice story but hard for a 4 year old to follow
Reviewed on 04 April 2016 by Julie, London, United Kingdom

Exciting and lots of surprises on the way
This is a great family show. It is exciting with lots of surprises on the way- the arrival of a real steam engine on set is a real show stopper. The whole set is so cleverly done and the acting is just brilliant. Lots of interaction with the audience too, which my little girl loved. I can't say enough good things about this show,
Reviewed on 04 April 2016 by Kate, Bath, United Kingdom

Absolutely wonderful. Full of smiles! A must see!
Wonderful show! An absolute must see!
Reviewed on 31 March 2016 by Gary, Crick, United Kingdom

Good family entertainment
Reviewed on 27 March 2016 by Gillian, Bury St Edmunds, United Kingdom

Gobsmacking!
The surprise just before the interval was fabulous!
Reviewed on 17 February 2016 by Pam, Altrincham, United Kingdom

fantastic
The stage setting is magical - they have managed to create reality with an imaginative use of props and settings. The steam train and the use of existing tracks to create scene changes was masterful. We were enthralled. We especially loved how the actors engaged with the audience at the start of the show. Overall, a unique production for all!
Reviewed on 15 February 2016 by Peter, Stafford, United Kingdom

okay
It is a great story but I felt the acting was average and did not manage to fully draw in the audience.
Reviewed on 14 February 2016 by Sigi, London, United Kingdom

Fantastic
Excellent, a must see show for all the family
Reviewed on 11 February 2016 by Sylvia, Eastleigh, United Kingdom

Absolutely fantastic!
Reviewed on 11 February 2016 by Hanne, London, United Kingdom

excellent!
Reviewed on 17 January 2016 by Gill, Presteigne, United Kingdom

Entertaining
Reviewed on 06 January 2016 by Kim, Chelmsford, United Kingdom

Great production
Such a great show in a great venue. Loved the fact that the platform was the stage so the view was great from wherever you sat. I was worried it might be cold but there was plenty of heating on. Nice to see a theatre show in a different way.
Reviewed on 31 December 2015 by Paula, Wymondham, United Kingdom

Living through the years of Steam Railways
Whilst the theatre is very difficult to locate, you will soon appreciate the requirement for a suitable railway siding very near Kings Cross Station. The entire theatre has been comfortably constructed across two platforms. If like ourselves, you grew up in the romantic age of Steam travel, you will delight in the innocence of the storyline, told through the memories of the children. It hasn't lost its magic down through the years. A wonderful and creative production, with the amazing entrance of a steam engine on the line. The theatre staff and cast alike made everyone welcome and thoroughly entertained. A must for family entertainment of all ages.
Reviewed on 28 December 2015 by Derek, Hythe, United Kingdom

Awesome way to spend the afternoon
Totally enchanted and hooked on from the second you enter the theatre, totally unique experience very well done to all involved.
Reviewed on 23 December 2015 by Sara, Reading, United Kingdom

Beautifully performed
Reviewed on 30 November 2015 by Carol, Romsey, United Kingdom

Steamingly cool!
Staging was inventive and creative! Enjoyed the performance perhaps a little more audience participation would work for the younger kids!
Reviewed on 28 November 2015 by Evon, Singapore, Singapore

Youthfulness
Too young for our two teenage boys but generally good and enjoyable.
Reviewed on 26 November 2015 by Lisa, San Mateo, United States

Great family fun
Good story,brilliant when train came through,really enjoyable
Reviewed on 18 October 2015 by Michelle, Isleworth, United Kingdom

Great story with lots of heart string emotions !
Unique moving stage, in the middle of the audience on the two platforms. You are very close to the actors so you see all their emotions and acting first hand Great for all the family children and adults laughing together.
Reviewed on 27 August 2015 by Karen, Tittensor, United Kingdom

I found it difficult to hear the words on some occasions
Reviewed on 24 August 2015 by Veronica, Crowborough, United Kingdom

Must see.
Reviewed on 13 August 2015 by Jonathan, Woodbridge, United Kingdom

Wonderful
Fantastic show, very close to kings cross stRion and easy to find.
Reviewed on 06 August 2015 by Clare, Huntingdon, United Kingdom

Different
Great show very different with a real train involved which brought it all to life
Reviewed on 20 July 2015 by Hayley, Seaford, United Kingdom

brill
Reviewed on 15 July 2015 by David, Grimsby, United Kingdom

Great show for all the family.
Reviewed on 07 July 2015 by Jo, St Martin, United Kingdom

cancelled on the night very disappointing
Reviewed on 15 June 2015 by Anonymous

A Step Back in Time
Reviewed on 11 June 2015 by Anonymous

Enchanting and Engaging, family entertainment
A beautifully staged and wonderfully told story, which was as magical and breathtaking as I had heard. Great value, which for London theatre is a rare thing. I loved every moment as did my 10 year old daughter and didn't want it to end.
Reviewed on 24 May 2015 by Anonymous

it was cancled
Reviewed on 13 May 2015 by Anonymous

Absolutely superb show
brilliant cast and stage production..well done I would recommend this show to anyone visiting London
Reviewed on 25 April 2015 by Anonymous

Fabulous performance
Spectacular show in a truly unique setting - attention to detail from the moment you enter the waiting room.
Reviewed on 22 April 2015 by Anonymous

Emotional moments created in a fantastic setting
Step back in time and enjoy the whole experience but have a coat just in case it is not a heated theatre.
Reviewed on 19 April 2015 by Anonymous

grand daughter visit
Reviewed on 01 April 2015 by Anonymous

Happy and sad.
I saw the film years ago so knew the storyline. Theatre was laid out as a train station from that era which added interest. Set was very well arranged.
Reviewed on 01 April 2015 by Anonymous

The Railway Children
A very different production of a loved family sorry
Reviewed on 27 March 2015 by Anonymous

Wonderful
A must to go and see My family really enjoyed it the steam train was spectacular ,
Reviewed on 21 February 2015 by Anonymous

All steam ahead for a great show!!
Unique setting resulting in an atmosphere you couldn't create in a theatre, add to that a classic story, great performances & a real steam engine, absolutely FIRST CLASS!!
Reviewed on 20 February 2015 by Anonymous

Fabulous performance - LOVED IT!
The Railway Children play was utterly fantastic. It was so well put together, with the audience sitting on 'platforms' on the station and a fabulous train! Phyllis was hilarious and girl playing Bobbie was great
Reviewed on 16 February 2015 by Anonymous

Spellbinding
Didn't think it was 'my cup of tea' but how wrong can you be-absolutely brilliant! Never seen so many children engrossed in a performance.
Reviewed on 26 January 2015 by Anonymous

Great show for all the family
We all enjoyed this fast pace show. Fantastic set with real train.
Reviewed on 07 January 2015 by Anonymous

Running Out of Steam
I know you couldn't help thetechnical glitch but it did take the belief away for a bit. Also I saw it at Waterloo, and it had lost some of the effects from there - the whole suitcase wall collapsing and less use of the tunnel. Actors should be able to project - it is part of the training and mikes take something away. I enjoyed it but it has become a 'safe' show. You need to get back that risk factor.
Reviewed on 01 January 2015 by Anonymous
16

Jul
2015

Review of The Railway Children at King's Cross Theatre
by Phil Willmott | Thursday, July 16 2015, 16:51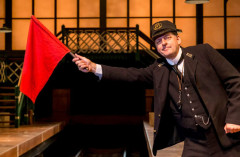 What a glorious thing this production is. It's taken me a few years to get round to see it, I always seemed to be busy each time it relaunched but I'm so pleased I caught this cast change in the show's especially created space just behind Kings Cross.
Review of The Railway Children at King's Cross Theatre