Aldwych Theatre
49 Aldwych, London, WC2B 4DF GB
Now showing at
the Aldwych Theatre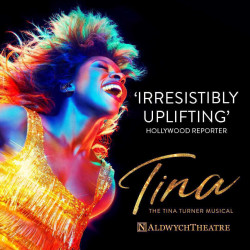 Tina - The Tina Turner Musical
Aldwych Theatre
4.8/5
-

based on

1943

reviews - (Read reviews)
4.8

1943

reviews
Tickets from £20.00
Couples (94%)
Theatregoers (95%)
i
Opening back in March 2018, TINA is a musical about Turner's transformation from humble beginnings in Nutbush, Tennessee to the global Queen of Rock 'n' Roll. Book those tickets now so you too can enjoy such classics as Proud Mary live on stage.
Booking until: Saturday, 14 September 2024
Running time: 2 hours 45 minutes
Tina - The Tina Turner Musical tickets
Aldwych Theatre Facilities
Air conditioned
Bar
Disabled toilets
Infrared hearing loop
Member of Q-Park scheme
Toilets
Wheelchair/scooter access
Aldwych Theatre Access Tickets
Disabled theatregoers and their carers can get discount tickets. Please phone the Aldwych Theatre access line on 0345 200 7981.
Aldwych Theatre Location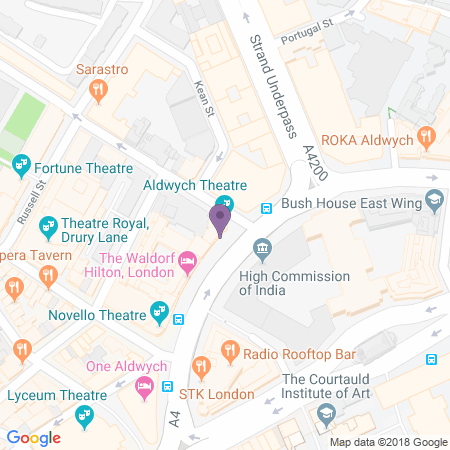 Directions
Travel Information
Nearest Tube station
Nearest Rail Station
Tube lines
Piccadilly
Circle
District
Day buses
(Aldwych) RV1, X68, 1, 6, 11, 13, 23, 59, 68, 87, 91, 139, 168, 171, 172, 188, 243; (Strand) 4, 9, 15, 26, 76, 176, 341
Night buses
(Aldwych) 6, 23, 139, 188, 243, N1, N11, N13, N26, N47, N68, N87, N89, N91, N155, N171, N551, N343; (Strand) 176, 341, N9, N15, N21, N44, N76
Aldwych Theatre history
From the outside
Opposite the Novello Theatre, The Aldwych Theatre is a particularly elegant Georgian-style confection of a building, slim and tall, embellished with intricate stone carving and made from lovely, pale Portland stone. With large trees growing a few yards away from the entrance, it presents an attractive picture as you approach the corner of the West End's historic Drury Lane. Inside the stunning sweep of the broad stage, splendid interior décor and comfortable seating make it the perfect venue for musicals and plays featuring large casts.
Aldwych Theatre architecture and history
A maze of terrible slums was demolished in the late 1800s to make way for the smart new streets of Aldwych and Kingsway, with four theatres demolished during the early stages of the work. The Aldwych was designed by W.G.R Sprague and first opened its doors in December 1906, several months after its twin, the Strand Theatre. The theatre's interior, an elegant combination of Georgian and French Baroque style, includes a huge sweeping staircase and dramatic, sparkling chandeliers.
Australian servicemen used the building as a club during the First World War, after which it won a reputation as the best place to see English farce and remained a hugely popular theatre destination until 1933, when things went quiet. Then came a few lean years, during which the theatre barely survived. It wasn't until 1942 that the Aldwych Theatre experienced a revival, when the popular anti-Nazi play Watch On The Rhine brought audiences back with a vengeance. Threatened by demolition in the late 1950s, it hasn't looked back since.
The Shakespeare Memorial Theatre Company, now the RSC, took on and restored the building in 1960, bringing the stage forward for a more intimate audience experience and making it their home until 1982. Since the RSC moved the theatre has hosted a number of West End successes. Owned by the American James Nederlander and managed by Michael Codron Plays Ltd, it's a well looked after building whose high decorative standards continue to be carefully maintained.
Hauntings at the Aldwych Theatre!
Like so many London theatres, the Aldwych is supposedly haunted, apparently by smells. Strong flower fragrances mix with the unmistakeable scent of cigar smoke to give visitors and staff the occasional frisson of pleasurable fear!
Past shows at the Aldwych Theatre
Past shows include the 1949 production of Streetcar Named Desire, which starred Vivien Leigh and was directed by Laurence Olivier. Blue Bell, Cool Hand Luke and the famous celebration of Motown's greatest hits, Dancing in the Streets, packed the Aldwych Theatre to the rafters. Joan Collins has appeared there, amongst countless other stars during more than a century of live performances… especially musicals. More recently Andrew Lloyd-Webber's Whistle Down the Wind and the dance hit Fame. And don't forget Dirty Dancing, which closed in 2011 after an impressive five year run.
Aldwych Theatre access
The wheelchair entrance to the Aldwych Theatre is via a set of double doors on Drury Lane.
Aldwych Theatre tickets
We're your first destination for a wide variety of seat types and prices, with excellent availability on the full range of Aldwych Theatre tickets.