Charing Cross Theatre
The Arches, Villiers Street, London, WC2N 6NL GB
Charing Cross Theatre Location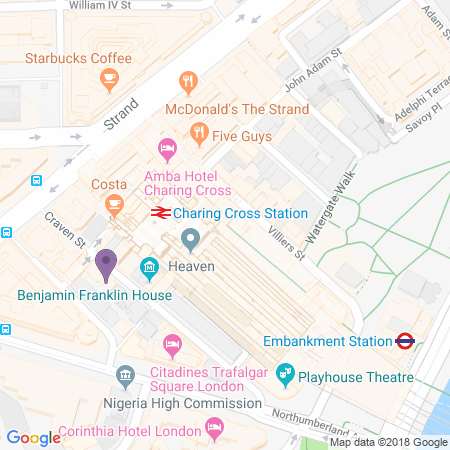 Directions
Travel Information
Nearest Tube station
Nearest Rail Station
Tube lines
Bakerloo
Northern
Circle
District
Day buses
(Strand) 6, 9, 11, 13, 15, 23, 87, 91, 139, 176
Night buses
(Strand) 6, 23, 139, 176, N9, N11, N13, N15, N21, N26, N44, N47, N87, N89, N91, N155, N343, N551
Charing Cross Theatre history
From the outside
Formerly known as the Players Theatre, the Charing Cross Theatre nestles neatly under the brick arches on Villiers Street near Charing Cross railway station. The graceful curved entrance leads to a space that's cosy and intimate, with a lovely original Victorian bar and stunning Victorian stained glass panelling.
Charing Cross Theatre architecture and history
The Charing Cross Theatre sits under The Arches at Charing Cross station, a venue famous for hosting a truly eclectic mix of comedy, drama, musicals, cabaret and Sunday Evening Music Hall. One of the smallest theatres in the West End, it is also home to an in-house restaurant with tasty modern British cuisine.
The site was originally a pub and music hall rolled into one called The Arches, run by the Gatti family in the late 1800s and early 1900s. The space was eventually converted into a cinema, The Forum, and played films for more than thirty years before the famous theatre troupe 'The Players' took it over, just after the Second World War.
They renamed it The Players' Theatre. Providing the inspiration for the TV series The Good Old Days, it also played host to the first ever showing of the The Boy Friend, which subsequently went on to become a massive 1950s West End and Broadway hit, shooting Julie Andrews to fame.
In the 1980s the theatre was bought by an accountancy firm, who still occupy part of the building to this day. Today the Charing Cross Theatre lives in a replica arch built just along the road.
In 2002 The Players left. The arch was eventually bought by the owners of the nightclub, Heaven, but The Players still hire the space occasionally to put on their shows.
Recently renovated, the Charing Cross Theatre is already a popular and well-known venue, loved by its audiences who enjoy a fantastic variety of top Off-Broadway-style entertainment.
The Charing Cross Theatre is one of the few West End theatre venues to serve alcohol.
Past shows at Charing Cross Theatre
There's an impressive list of past shows to relate, including The Exonerated, The Vaudevillians, Thrill Me, Recipe for A Perfect Wife and The Magic of the Magic Circle. Crowds have been thrilled by Confessions of a Mormon Boy, Up Close - Ardal O'Hanlon and Cabaret New Burlesque, Ghetto Klown and a variety of Comedy Up Close performances. It has hosted Patricia Routledge in the marvellous Facing the Music and Fascinating Aida's Cheap Flights, Pajama Men and more.
Charing Cross Theatre access
Guide dogs are welcome in the auditorium. There's a balcony at ground floor level with space for five wheelchair users. The stalls are down sixteen steps.
Charing Cross Theatre tickets
We're a trusted destination for a wide variety of seat types and prices, with excellent availability on the full range of Charing Cross Theatre tickets.