Quick Facts
Largest Ticket Inventory
in the West End
Real time
seat availability
Choose
your seats
Your booking is processed directly into the box office reservation system
This show is now closed.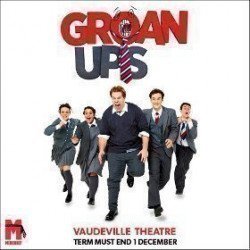 Groan Ups
Tickets
4.8/5
-

based on

18

reviews
About Groan Ups
Performance Times
Groan Ups description
Groan Ups – The hilarious tribulations of growing up
Thank you to the Mischief Theatre company for bringing us yet another hilarious, ridiculous comedy play. This one is predicted to have audiences rolling in the aisles as usual. It must be such fun working with them – imagine, making hundreds of people laugh themselves silly every day for months on end. It must feel fantastic!
This latest mini-masterpiece from the Mischief Theatre is written by Henry Lewis, Jonathan Sayer and Henry Shields, and is directed by Kirsty Patrick Ward. It's a fresh new comedy that examines the strange, weird and wonderful world of growing up.
Are you the same person at thirty years old that you were when you were thirteen? Did you ever grow out of that massive, painful school crush, the one that kept you up nights and made you idiotically speechless in your loved one's presence? And does life at school drive the future, leaving us somehow trapped in the past for the rest of our lives? They're important questions to ask, and you'll be amused to know that absolutely none of them are answered by this crazy-funny play.
This theatre company has been making us giggle since they formed in 2008. Groan Ups sees the actors portraying an unruly classroom of anarchic teenagers, taking us through childhood and onwards to a painfully funny adulthood. It's their first new play since 2016 and they're set to blast into the West End yet again, with all their comedy guns blazing. Term time kicks off on 20th September 2019. Your venue is the magnificent Vaudeville Theatre.
In fact the Vaudeville is going to be Mischief Theatre's home right up until August 2020, thanks to a series of three brand new plays, kicking of with Groan Ups. All about the awkward period between adolescence and adulthood, it's nothing if not inventive. In fact this Oscar-winner of a theatre company has pulled out all the stops this time, putting school and adulthood well and truly under the microscope.
The cast includes Bryony Corrigan, Dave Hearn, Henry Lewis, Charlie Russell, Jonathan Sayer, Henry Shields and Nancy Zamit. If you loved The Play That Goes Wrong and their other huge smash hit, The Comedy About A Bank Robbery, you'll love this. If you're simply dying for a brilliant comedy, this is it.
Who is this show for?
This play is perfect for people aged 13+.
Groan Ups reviews
4.8 out of 5
based on

18

reviews
What to expect:
Acting
Music
Costumes
Story
Lighting
Recommended for:
Anyone (56%)
Families (61%)
Teenagers (83%)
Couples (94%)
Theatregoers (78%)
Latest customer reviews

Absolutely brilliant
Another great show from mischief theatre. Extremely funny and poignant at times - I almost cried at the end.
Reviewed on 30 November 2019 by Naomi, St Neots, United Kingdom

Must see!
Reviewed on 24 November 2019 by Sally, High Wycombe, United Kingdom

Not in the same class as The Play that Goes wrong or A Comedy about a Bank Robbery.
Reviewed on 18 November 2019 by Mark, Kirton, United Kingdom

Very funny
Reviewed on 17 November 2019 by Alexa, Oswestry, United Kingdom

Fun. Lots of laughs
Reviewed on 15 November 2019 by Selina, Thames Ditton, United Kingdom

Funniest play I have ever seen
Reviewed on 11 November 2019 by Tejpal, Denham, United Kingdom

Brilliant!!!!!!
Very very funny. Laugh out loud show. Must see. As good as they're other shows.
Reviewed on 04 November 2019 by Sarah, Orpington, United Kingdom

Amazing show
The show was fabulous, it was funny and had a great story line. The actors were great and it really felt like they had put alot of effort into making it a great show. The staff at the theatre were very welcoming and friendly to.
Reviewed on 03 November 2019 by Anna, Fareham, United Kingdom

hilarious. mischief deliver again. you will not regret going
Loved the show, although my 9 yr old son did not get a lot of the jokes, he understood enough to still have a great time. It's very funny and the characters are relatable
Reviewed on 30 October 2019 by Ian, Basingstoke, United Kingdom

Amazing comedy
The show is hilarious, amazing and reflecting. We totally enjoyed it and laugh to tears! I would recommend it!
Reviewed on 29 October 2019 by Germana, Genova, Italy

Great show!
Reviewed on 21 October 2019 by Merle, London, United Kingdom

Very good, very comical, good show.
Reviewed on 20 October 2019 by Chloe, Hornchurch Essex, United Kingdom

Important for teenagers and parents
An excellent example of how an important idea can often best be delivered via comedy. We loved it, especially coming from a background in education.
Reviewed on 03 October 2019 by Andrew, Waubra, Australia

Fantastic
We thought the show was brilliant. We have seen a couple of other shows of theirs and this lives up to their standard. Great
Reviewed on 28 September 2019 by Robert, Croydon, United Kingdom