Quick Facts
Largest Ticket Inventory
in the West End
Real time
seat availability
Choose
your seats
Your booking is processed directly into the box office reservation system
This show is now closed.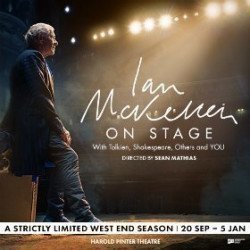 Ian McKellen on Stage: Tolkien, Shakespeare and You!
Tickets
4.9/5
-

based on

29

reviews
About Ian McKellen on Stage: Tolkien, Shakespeare and You!
Performance Times
Starring:
Ian McKellen
Ian McKellen on Stage: Tolkien, Shakespeare and You! description
Ian McKellen On Stage – One of Britain's best-loved actors
If you fancy seeing one of the nation's national treasures in action, the highly respected and much-loved Ian McKellen live and dangerous, on stage doing his remarkable thing, this is your chance. He's a wonderful man, highly entertaining, and this latest tour sees him taking a one-man show around the country, from the depths of the English countryside right up to Orkney in the far north.
The legendary actor has been busy taking this specially curated show to venues around the country to raise funds for regional UK theatres. As The Telegraph says, this is an event rich in "Warmth, wit and wizardry. Come one, come all and marvel". And they're not wrong. McKellen is celebrating his 80th birthday by touring this brand new solo show that kicks off with Gandalf and, in the actor's words, "will probably end with an invitation to act with me on stage". The event is billed as being packed with brilliant anecdotes and acting.
McKellen has more to say about the production: "Live theatre has always been thrilling to me, as an actor and in the audience. Growing up in Lancashire, I was grateful to those companies who toured beyond London and I've always enjoyed repaying that debt by touring up and down the country myself, with the National Theatre, Royal Shakespeare Company, Prospect Theatre, the Actors' Company, as well as with commercial productions. Sean Mathias, the director and I have worked together for stage and screen, many happy times."
Sir Ian McKellen's incredible career covers genres as diverse as Shakespeare and Science Fiction. He has won a total of six Olivier Awards, a Tony Award, a Golden Globe Award, a Screen Actors Guild Award, BIF Award, two Saturn Awards, four Drama Desk Awards, and two Critics' Choice Awards plus a load more nominations. He has sealed his reputation in stone with masterpiece roles like the King in 1995's awesome production of Richard III , as James Whale in Gods and Monsters, as Magneto in the X-Men and, most famously of all, as the wizard Gandalf in The Lord of the Rings and The Hobbit.
McKellen was awarded Commander of the Order of the British Empire in 1979, and was actually knighted in 1991 for services to the performing arts. He was made a Companion of Honour for services to drama and equality in 2008. He's a stalwart champion of the LGBTQ social movement and was given the Freedom of the City of London in 2014. If that doesn't make him a living theatre legend, we don't know what does!
The limited London run of McKellen's solo masterpiece takes place once the UK tour is complete, landing at the West End's Harold Pinter theatre in autumn 2019 for a strictly limited run tat takes us into January 2020.
Who is this show for?
This performance is suitable for those aged 6 or more.
Ian McKellen on Stage: Tolkien, Shakespeare and You! reviews
4.9 out of 5
based on

29

reviews
What to expect:
Acting
Music
Costumes
Story
Lighting
Recommended for:
Anyone (79%)
Families (79%)
Teenagers (83%)
Couples (90%)
Theatregoers (100%)
Latest customer reviews

Once in a lifetime stuff
Sir Ian McKellen outdid himself. The originality of the performance is unparalleled and a noble cause to boot. Must watch for theatre lovers.
Reviewed on 24 December 2019 by Hamza, Dubai, United Arab Emirates

Amazing show
Thoroughly enjoyed the entire show. Fantastic performance!
Reviewed on 23 December 2019 by Charlotte, Rochford, United Kingdom

A humble masterpiece
Reviewed on 13 December 2019 by Anita, Blagnac, France

2,5h of theatrical phenomenon from Sir Ian McKellen
An outstanding performance from a theatrical legend. A unique journey through the milestones of his career from his early years in Manchester till his recent role as Gandalf. A must see!
Reviewed on 11 December 2019 by Angeliki, Brussels, Belgium

EXCELLENT
Reviewed on 30 November 2019 by David, New York, United States Of America

Amazing!!!!!
The best show I have even seen.Ian McKellen is amazing. Can't believe that someone is so talented and educated as He is.
Reviewed on 17 November 2019 by Fani, Hove, United Kingdom

Genius
It's a privilege to witness McKellen's talent .... and in such historic surrounds.
Reviewed on 17 November 2019 by Rod, Cockermouth, United Kingdom

Hats off to one of the UK's greatest actors of all time!
Hats off to one of the UK's greatest actors of all time!
Reviewed on 12 November 2019 by Jose, San Francisco, United States Of America

Amazing Mckellen
The guy is a genius!
Reviewed on 11 November 2019 by Linda, Ilford, United Kingdom

Excellent
This was a fab show
Reviewed on 27 October 2019 by Patricia, Sutton, United Kingdom

Ian was his usual brilliance. X
Reviewed on 19 October 2019 by Eire, Dunleer, Ireland

Brilliant
Just brilliant! We loved it and Sir Ian McKellen was truly amazing.
Reviewed on 15 October 2019 by Chris, St Helens, United Kingdom

underwhelming
Sorry to say, Ian McKellen seemed very tired. Highlights of the show (for me) were his performance of part of a Gerald Manley Hopkins play and his recitation from TS Eliot's Cats. Inevitably a fair bit of time was given over to Lord of the Rings, but with more emphasis on the film rather than the book - though this probably was a good choice as it appealed to the younger members of the audience. Just not to my taste, I guess.
Reviewed on 10 October 2019 by Lisa, Newton Abbot, United Kingdom

Nice
As not native speaker and not a student of English litarature, I appreciate how, as a result of this show, an overview of Shakespeare plays was provided to me. In an interesting and funny way. I might look some up based on this show. It made me curious. Well done.
Reviewed on 08 October 2019 by Mario, Jaklovce, Slovakia

Fantastic evening
I feel ptiveliged to have been to this show. Was an amazing night. What a special person
Reviewed on 05 October 2019 by Maureen, 41 Conduit Road, Hong Kong

A Performance without the Plot to support it but nevertheless engaging ( well almost)
One does not question or write about Sir McKellen's acting abilities . They are superb and in full display. Even the casual conversation( most of it) appears to be extremely well prepared and well timed. Th revelation os what he can do and how much energy he has at 80. What the performance suffers from is a play. So a solo , even by Sir McKellen is a little jaded without the plot or the movement of a well knit play. What us remarkable is that it still does hold interest reasonably well. Close to two hours and if that can sustain ( even if reasonably) by the presence of just one actor, one admits that the show fulfilled its promise of treating you to an Ian McKellen presence.
Reviewed on 30 September 2019 by Arindam, Kolkata, India

Outstanding - McKellen shone like the star he is!
Reviewed on 30 September 2019 by Luise, London, United Kingdom

You don't want to miss this
Reviewed on 29 September 2019 by Tara, Barnet, United Kingdom

A Great Actor
No costumes needed to get completely immersed into the dialogue. Ian McKellen at his best.
Reviewed on 28 September 2019 by Rachel, Billingham, United Kingdom

Reviewed on 27 September 2019 by Kseniia, Saint-petersburg, Russian Federation

Just a delightful show from a delightful person
I have to say that you need to do a little bit of Shakespeare homework to get all the jokes, other than that. Memorable. Tip: old theatre, gets REALLY hot. Wear breezy clothes and bring a fan.
Reviewed on 25 September 2019 by Diana, London, United Kingdom

Brilliant showcase of McKellen's talents
Great show - well presented and performed. The Lord of the Rings performances were fantastic but the Shakespeare was the star of the show.
Reviewed on 25 September 2019 by Lauren, Wantage, United Kingdom

Unmissable evening
Reviewed on 23 September 2019 by Jeremy, London, United Kingdom

Beautiful and enchanting
Reviewed on 22 September 2019 by Helen, Huntley Gloucester, United Kingdom

Fabulous
Reviewed on 21 September 2019 by Brenda, Monkstown, Ireland