West Street, London, WC2H 9ND GB
Quick Facts
Largest Ticket Inventory
in the West End
Real time
seat availability
Choose
your seats
Your booking is processed directly into the box office reservation system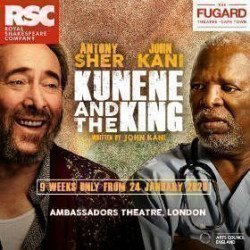 Kunene and the King
Tickets
Booking from: Friday, 24 January 2020
Booking until: Saturday, 28 March 2020
Running time: 1 Hour and 36 Minutes
Tickets from £25.00
Book tickets
Information
Cheap Tickets
About Kunene and the King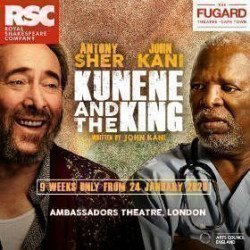 Performance Times
Booking from: Friday, 24 January 2020
Booking until: Saturday, 28 March 2020
Running time: 1 Hour and 36 Minutes
Kunene and the King description
Kunene and the King – Adult themes and upsetting scenes
Welcome to Kunene and the King. This play was written to explore the quarter of a century of change we've seen following South Africa's first post-apartheid democratic elections 25 years ago. The play's wider aim is to question whether racism has ended simply because the apartheid has gone, and you can probably already guess the answer: no, it hasn't.
The piece also explores difficult themes like terminal illness and alcoholism as the story follows the famous actor Jack Morris. He's about to play King Lear in a Cape Town production, but at the same time he is battling Stage Four liver cancer with his ageing carer and nurse, Lunga Kunene, by his side.
The year is 2019 and the two elderly men, who come from completely different walks of life, are thrown together to reflect on the changes the country has seen. The play's directed by Janice Honeyman and Jack Morris is played by Antony Sher, portraying a white South African classical actor who's loved for his excellent Shakespearian roles. Having been offered the tile role in King Lear he accepts, then discovers his illness. Refusing to remain in hospital he discharges himself. Lunga Kunene, a black South African carer played by the brilliant John Kani, accompanies him home.
Once there, the old men reflect on the politics of their nation in very different ways, according to their different experiences and cultures. And there are discussions about Shakespeare too, scenes where the men come closer to each other than at any other time. This really is a piece packed with contrast and conflict, which run through the entire play like a thread. At the start you'd be forgiven for thinking the men have nothing in common except their age. But their shared love for The Bard's work ignites what The Times calls a 'rich, raw and shattering head-to-head'.
This momentous piece of theatre comes from the pen of the South African actor, activist and playwright John Kani, whose work on Black Panther, The Island, and Sizwe Banzi is Dead have set an excellent reputation in stone. Despite all the angst and rawness this also happens to be a refreshingly funny play. It proved a smash hit at its premier at Stratford Upon Avon's Swan Theatre. And it's been described by The Guardian as a 'poignant two-hander that illuminates post-apartheid South Africa', adding that 'John Kani beautifully captures the complex divides of race, class and politics in a remarkable and moving new play'.
The venue? Head for the magnificent Ambassadors theatre.
Who is this show for?
This show uses strobe lighting. There's strong language, and some scenes that audiences may find upsetting. This isn't a play for young children. Kunene and the King is recommended for people aged 12 or more.
Next Performances for Kunene and the King at the Ambassadors Theatre
Friday
24th Jan 2020
7:30pm
Saturday
25th Jan 2020
7:30pm
Monday
27th Jan 2020
7:30pm
Tuesday
28th Jan 2020
7:30pm
Wednesday
29th Jan 2020
3:00pm
Wednesday
29th Jan 2020
7:30pm
Kunene and the King cheap tickets
We have a great selection of cheap Kunene and the King tickets. We can help you save up to 70% on Kunene and the King tickets! If you're looking for discount theatre tickets have a look below for our latest offers for Kunene and the King at the Ambassadors Theatre.
No Booking Fee
Valid on all performances from 24 Jan - 15 Feb 2020. Excludes 29 Jan 2020