Noel Coward Theatre
85-88 St Martin's Lane, London, WC2N 4AU GB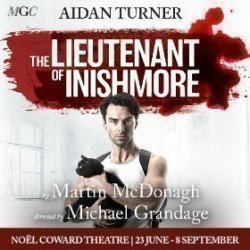 The Lieutenant of Inishmore
Tickets
Noel Coward Theatre
Starring: Aidan Turner
Running time: 1 hour 50 minutes including interval
Book

tickets
Show Closed
This show is now closed.
Where is Inishmore? Inishmore is an island off the west coast of Ireland. It's the largest of the three Aran Islands, which are also the subject of a trilogy of plays by Martin McDonagh. McDonagh's father is from County Galway, so he has a frame of reference when talking about the place.
So, who is The Lieutenant of Inishmore then? That's Mad Padraic. He belongs to the Irish National Liberation Army, a party set up by former members of the IRA who were opposed to peace talks with Great Britain. He's busy putting his skills for torture and interrogation to good use in Northern Ireland when he hears that Wee Thomas is unwell. So, he rushes back to his home on Inishmore to find that Wee Thomas has died. Convinced that he has been murdered, Mad Padriac goes on a rampage to avenge the death of his beloved cat…
No, who will play The Lieutenant of Inishmore? Ah, that will be star of TV & Film, Aidan Turner. Turner is best-known for his roles in Being Human, The Hobbit film trilogy and most recently as the star of beloved BBC show, Poldark. Turner has acted on stage before, mainly in his home country of Ireland, but hasn't been treading the boards for ten years, so it will be exciting to see him back in the theatre again!
And it's directed by Michael Grandage? He's a big-name theatre director! He is indeed! He was the Artistic Director of the Donmar Warehouse for ten years, leaving in 2012 to set up his own company (unsurprisingly called the Michael Grandage Company). He took over the Noel Coward for about 18 months and put on five plays for his first season, one of which was written by Martin McDonagh – the first in the Aran Island Trilogy, The Cripple of Inishmaan. That show starred Daniel Radcliffe – Grandage is pretty epic at getting big name stars to work with him!
What other big names has Grandage worked with? The Michael Grandage Company has worked with the likes of Ben Whishaw, Jude Law, Nicole Kidman and Dame Judi Dench. It makes sense since Grandage himself has won Olivier Awards, Tony Awards, Critics' Circle Awards, WhatsOnStage Awards and Evening Standard Awards for his work over the last 17 years. He's definitely one of the stalwarts of the theatrical scene.
The Lieutenant of Inishmore is only on for ten weeks though, with preview starting from 23 June 2018. Not long to catch this genius theatre company in action! Never fear though, another production by the Michael Grandage Company is running on the West End at the same time – Red at Wyndham's Theatre – so you have two chances to catch the master at work!
Customer Reviews
What to expect:
Acting
Music
Costumes
Story
Lighting
Recommended for:
Anyone
Families
Teenagers
Couples
Theatregoers
based on 29 reviews
Spectacular!!!
I thought Danny stole the show. Great performance from all cast members. Of course I love a good comedy and a big fan of Aidan Turner. Happy to see some of my hard earned money went to a good charity for future actors in theatre. Tried to get autograph at backstage door since I traveled so far, but some fans wont move back after they get autograph. Very selfish. I did have a great seat in second row B18. Had a great time !!
Julie London Box Office customer
Boring
To spend £175 per ticket for such a boring show is nothing short of a rip off.
Georges London Box Office customer
Funny play from start to finish!
Quite a bit of stage blood involved so not for the very young. Cannot recommend enough as we had a lovely evening, Thank you
Jacqui London Box Office customer
Terrific!
Great production. Great cast. All round enjoyable. For adults only.
Norman London Box Office customer
Very bloody funny........That's very bloody and very funny !!!
Considering the subject matter..... (A terrorist deemed too mad for the IRA and a dead cat)...it was a laugh a minute !!! Acting was superb & plot was halarious. Loved it .
Olha London Box Office customer
Excellent
Well cast, good story although grusum certainly not suitable for chindren. The casting of Aidan Turner was the attraction but would have enjoyed it with any other actor. The only female in cast had a very sweet singing voice . Dialect sometimes difficult to follow but did not spoil production.
GRACE London Box Office customer
Some elements were humorous
I should have checked out the storyline before I went! My bad....I left at half time because I really didn't care about the ending! All a bit silly and not very believable! The audience seemed to enjoy it though, so probably just not my kind of humour!
Julie London Box Office customer
Very different
Very humorous yet tragic. Fantastic play. Excellent acting. Thought is was great
Lesley London Box Office customer
Very funny
Brilliant Aidan Turner in this sometimes violent but very funny black comedy. Very well acted and cast. Would see again. Lots of comic references to the IRA.
Dianne London Box Office customer
Very funny show
paul London Box Office customer
Brilliant!
A hilarious black comedy - brilliantly acted and Aidan Turner stole the show. Blood/splatted but not offensive. A great show.
Gaynor London Box Office customer
Hilarious- a must see
Fantastic show from start to finish- humour, drama, history, patriotism!
Christine London Box Office customer
Shouted slapstick
Dreadful production of what could have been witty, if a little outdated, script. If you like your comedy delivered shouting style, this is for you. The cat had the best method- silent and understated. An ordeal from start to finish
Fiona London Box Office customer
Quirky / Darkly funny
Anne London Box Office customer
Hilarious.
Dark but very funny. We had seats in the Grand Circle and ended up standing in the very back due to the cramped quarters and tall people sitting in front of us (every time -- short people need their own section! Hahaha). Staff were lovely and ticket pickup went quickly. Really enjoyed the show and would highly recommend.
Amy London Box Office customer
Funny and dark!
Olivia London Box Office customer
Pathetic boring and very poorly organised
Neha London Box Office customer
Outrageous and hilarious - the 2nd act will give you sore cheeks from laughing
MacDonagh black humour delivered with excellent time AND with Auden Turner in a tight white singlet. The sighs when he comes on stage were audible!
Keith Ross London Box Office customer
Original dark himout
A well-crafted, pacy script delivered in fast Irish accents so you'd better keep up. Wouldn't suit the more sensitive soul. Hilarious, close to the bone comedy woven into a brilliant script.
Sarah London Box Office customer
Stunningly funny
Jane London Box Office customer
Use the search box at the top left of this page to search for The Lieutenant of Inishmore tickets availability.
Quick Facts
Largest Ticket Inventory in the West End
Real time seat availability
Your booking is processed directly into the box office reservation system
Collect your tickets from the theatre for free or get them posted to your address.

Theatre Address
Noel Coward Theatre
85-88 St Martin's Lane, London, WC2N 4AU GB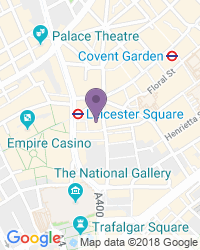 Facilities
Air conditioned
Bar
Disabled toilets
Infrared hearing loop
Member of Q-Park scheme
Toilets
Wheelchair/scooter access
Theatre Info
Capacity: 886
Year built: 1903