Quick Facts
Largest Ticket Inventory
in the West End
Real time
seat availability
Choose
your seats
Your booking is processed directly into the box office reservation system
This show is now closed.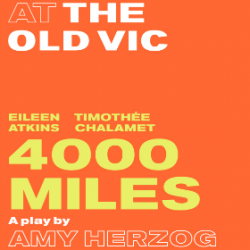 4000 Miles
Tickets
Starring: Eileen Atkins, Timothée Chalamet
About 4000 Miles
Performance Times
Starring:
Eileen Atkins, Timothée Chalamet
4000 Miles description
What is Timothée Chalamet doing? The incredibly popular young actor takes to the stage along with the veteran actress Eileen Atkins to present the Amy Herzog Pulitzer Prize-nominated dramatic comedy 4000 Miles. It's going to be incredible. Don't miss the chance to see two splendid actors creating a splash at one of the West End's best-loved theatres. Never say we don't give you lots of lovely theatrical treats!
Herzog's previous play, Mary Jane, was a big Off-Broadway hit in 2017 and won the New York Drama Critics' Circle Award for Best Play. Now she's back with something just as special. Wow, are London audiences in for a treat!
What's the story? When the rudderless 21 year old Leo Joseph-Connell suffers a major loss while on a disastrous cross-country bike ride, he's heartbroken. He seeks solace from his feisty grandma, Vera Joseph who lives in West Village and is a member of the Communist Party. The longer he stays, the more the themes of family, distance, age, death, and politics emerge.
Apparently the playwright used her grandmother's 'words, habits and history' to create the character of Vera Joseph, the same woman who starred in another Herzog play, After the Revolution. In fact 4000 Miles could almost be a sequel to After the Revolution, a captivating political family drama also starring Vera.
In 2012 the play won an Obie Award for Best New American Play, and Time Magazine called it their number one Play or Musical for the year. The play enjoyed its European premiere was at Bath Theatre Royal, directed by James Dacre with a cast starring Sara Kestleman as Vera. It has been staged across the USA numerous times and had its Australian premiere in 2013, starring Diana McLean, Stephen Multari, Eloise Snape and Aileen Huynh in a critically acclaimed production that won two Sydney Theatre Award nominations. A national tour of Australia finished in 2016.
What's next for this superb play? Head for the Old Vic Theatre, which is staging a revival for April 2020, starring Timothée Chalamet as Leo and Eileen Atkins as Vera. The fun is beautifully directed by Matthew Warchus. As Time magazine said, "Herzog unravels the details slowly, with uncommon narrative skill... Everything about 4000 Miles seems fresh, particularized, plausible... 4000 Miles is the family drama that really sticks with you, easily the best play of the season." If you love fresh new drama, walk this way!
Who is this show for? Because of the subject matter 4000 Miles is recommended for people aged 10 or more.
09

Dec
2019

4000 MILES: Julia Herzog's play to follow a tremendous run of shows at The Old Vic
by Josephine Balfour-Oatts | Monday, December 9 2019, 10:00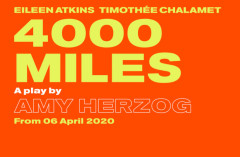 Julia Herzog's Pulitzer Prize nominated production 4000 Miles will be revived at London's Old Vic in April 2020, starring Timothée Chamalet and Eileen Atkins.
4000 MILES: Julia Herzog's play to follow a tremendous run of shows at The Old Vic