Old Vic Theatre
103 The Cut, London, SE1 8NB GB
Now showing at
the Old Vic Theatre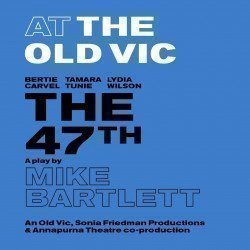 Now Open
The 47th
Old Vic Theatre
3.3/5
-

based on

3

reviews - (Read reviews)
3.3

3

reviews
Tickets from £24.00
'It's not a game for gentlemen we're playing, Political and civilized. This is Historic' 
Booking until: Saturday, 28 May 2022
The 47th tickets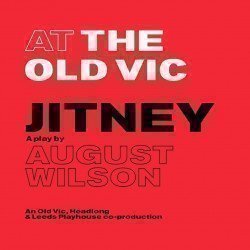 Opens 9 Jun 2022
Opens 9 June 2022
Jitney
Old Vic Theatre
Tickets from £24.00
Jim Becker and his unlicensed drivers take the people of Pittsburgh Hill District where regular taxi cabs won't – healing old wounds and tearing new ones as they pass the time in a condemned taxi rank between pick-ups.
Opens: Thursday, 9 June 2022
Booking until: Saturday, 9 July 2022
Running time: 2 hours 45 minutes (incl. interval)
Jitney tickets
Old Vic Theatre Facilities
Air conditioned
Bar
Disabled toilets
Infrared hearing loop
Toilets
Wheelchair/scooter access
Old Vic Theatre Location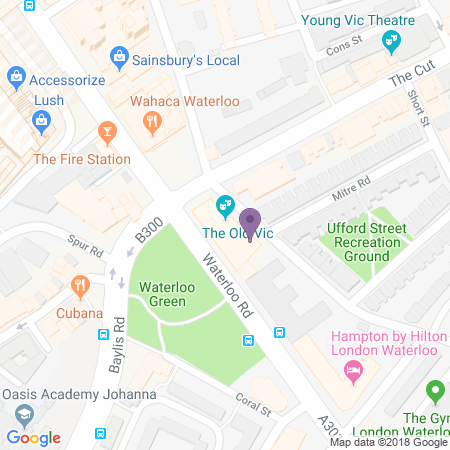 Directions
Travel Information
Nearest Tube station
Nearest Rail Station
Day buses
(Waterloo Road) 1, 4, 26, 59, 68, 139, 168, 171, 172, 176, 188, 521, X68; (Mepham Street) 211, 243, 507
Night buses
(Waterloo Road) 139, 176, 188, N1, N68, N171; (Mepham Street) 243
Old Vic Theatre history
From the outside
A lovely, symmetrical traditional theatre frontage gives way to London brick sides with graceful arches and circular windows. Inside, the auditorium is created in a traditional horseshoe shape with beautiful cream and gold seating and a stunning crystal chandelier above.
Old Vic Theatre architecture and history
Designed by Rudolph Cabanel, The Old Vic was built specifically to entertain the nobility and gentry, opening way back in 1818 with a fine assortment of period melodrama, ballet and dance. It was originally nick named the The Royal Coburg Theatre because of the cash donated by the Saxe Coburg Gotha royal family.
The theatre changed its name an impressive yet confusing four times over the next seventy years, closing down in between each name change. In 1884, then called the Royal Victoria Hall and Coffee Tavern, it finally began to win respect as a theatre, with a series of highly popular Shakespeare plays.
Like many London theatres the building suffered serious bomb damage in the Second World War, which saw it empty until 1950 when it was finally rebuilt. But in 1963 the National Theatre Company was formed, taking the Old Vic as their home and bringing success in its wake.
The NTC moved to their new premises at the new National Theatre complex in 1976 and, at this point, things became very uncertain with rumours about the building's fate running rife. It was threatened with replacement by a pub and even a lap-dancing venue, but the Old Vic Theatre Trust took on the challenge and the venue was eventually saved, coming back to vibrant life. Hollywood star Kevin Spacey took on the role of artistic director and quickly raised the theatre's profile to dazzling heights, starring in numerous Old Vic theatre productions ever since.
Past shows at the Old Vic Theatre
Over the decades, throughout its initially troubled history, the Old Vic theatre has hosted Gaslight and Cinderella, Speed The Plow and Pygmalion, Table Manners and Living Together. Audiences have been thrilled by Round and Round the Garden and Complicit, Dancing at Lughnasa and the classic The Cherry Orchard. A Winter's Tale has taken its place alongside Inherit the Wind, Six Degrees of Separation and The Real Thing. Shakespeare's As You Like It and The Tempest have played to packed Old Vic houses, as have Design For Living, A Flea in her Ear, Cause Celebre, Richard III and The Playboy Of The Western World.
Old Vic Theatre access
The Old Vic is almost two centuries old and, as such, access is restricted in some areas simply because of its age and layout. There's no step-free access to the foyer, box office or bars but the theatre staff are always happy to help with accessibility issues.
Old Vic Theatre tickets
We're a trusted destination for a wide variety of seat types and prices, with excellent availability on the full range of Old Vic Theatre tickets.