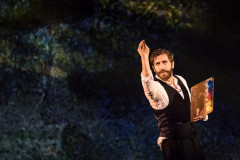 Jake Gyllenhaal and Annaleigh Ashford are set to storm London's Savoy Theatre next summer as part of the critically-acclaimed Sunday In The Park With George. Why should it have pride of place in your 2020 calendar? Read on to find out more.
In June 2020, Jake Gyllenhaal and Annaleigh Ashford are set to star in Stephen Sondheim and James Lapine's musical Sunday In The Park With George. First seen at the New York City Center in 2016, and again on Broadway the following the year, the production will grace the stage of London's Savoy Theatre for a strictly limited season.
Joined by a stellar British company, Gyllenhaal plays the French post-impressionist artist, Georges Seurat (1859-1891), in the throes of completing his revered large-scale work A Sunday Afternoon on the Island of La Grande Jatte (1884-1886). Widely regarded as a figurehead of late 19th-century painting, the work in question is Seurat's most renowned masterpiece.
The artist is also noted as a significant catalyst in the development of Neo-impressionism – the father, or founder of the art movement that saw its followers using Pointillist (application of dots as opposed to blocks of colour) and Divisionist (application of individual brushstrokes using contrasting colours) techniques as a means of exploring the threshold separating science and art. Both the interpretation of lines and use of colour work to manipulate the geography of urban scenes, landscapes and seashores on the canvas.
Here, Sondheim and Lapine give focus to Seurat in the months prior to the completion of this most famous painting. Together, they concentrate particularly on his relationship with the French bourgeoisie (whom he alienates), his artistic contemporaries (whom he rejects), and his lover Dot (played by Ashford), whom he proceeds to neglect. Consumed and incensed by his desire to finish his project, he remains blissfully ignorant of the repercussions of his behaviour – consequences enough to stretch into the next 100 years.
Additionally, the plot sees Seurat's narrative intertwine with that of his great-grandson (also named George), an artist characterised by his cynicism and disagreeable nature. Heralded by critics, the production has proved to be one of Broadway's fastest selling musicals. With a catalogue of prizes under its belt – the 1985 Pulitzer Prize for Drama and Olivier awards for Best New Musical and Outstanding Musical among them – this revival is set to be one of the most coveted theatrical events of 2020.