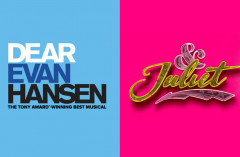 Two major musicals opened last week DEAR EVAN HANSEN and & JULIET. There couldn't be two more different shows and it really does prove there's a West End musical for you, whatever your mood.
Looking for something meaningful and poignant?
EVAN HANSEN is the show for you. With music and lyrics by Benj Pasek and Justin Paul – who also wrote the score for movies LA LA LAND and THE GREATEST SHOWMAN it's a topical story which proves musicals can say serious things about contemporary life. It concerns a lonely teenager trapped into commemorating the death of a bully and the unwanted attention that brings in our age of social media. It's great about the agonies of growing up misunderstood, and unexpressed familial love.
In the mood for camp frivolity and a bop?
Head for & JULIET. It has a throw away story that imagines Shakespeare's wife concieving a different ending to the play ROMEO AND JULIET in which Juliet doesn't die but goes to Paris and gets all empowered with her friends, the nurse and the non-binary, May. But the big news is that it features the amazingly feel good back catalogue of Swedish song writer Max Martin. The irresistible hits keep coming, who can resist musical numbers like Baby One More Time, Everybody (Backstreet's Back), Love Me Like You Do and Can't Feel My Face?
Feeling nostalgic for childhood?
You'll relish London's spectacular revival of the classic Disney musical MARY POPPINS. If you didn't love it as a child you will now. Set in Edwardian London the chaotic Banks family is visited by the nanny of the title who takes the children on a series of magical adventures. The set, which includes, what feels like, a full size mansion house, is eye popping and it's a joy to hear the much loved songs again such as Feed the Birds, A Spoonfull of Sugar & Supercalifragilisticexpialidocious.
Feeling Christmasy and old school?
The classic musical WHITE CHRISTMAS is waiting for you. It's a 1954 tale of WW2 veterans running a hotel. It was a hit film in the years after the war but I'm not sure it would have lasted if it hadn't contained the title song. This is new production that blows the cobwebs off a little and you also get other Irving Berlin hits like Blue Skies & Sisters.
Want to feel a little wicked?
Well there's the show WICKED itself of course, the long running show in Victoria that tells the back story of the witches from THE WIZARD OF OZ with a glorious contemporary musical theatre score. But I was thinking of Wicked in terms of naughty & irreverent. If this is you tonight then grab a ticket to THE BOOK OF MORMON. As you'd expect from the writers of SOUTH PARK it's hilarious and jaw-droppingly outrageous as it tells the story of two Mormon missionaries screwing up in an AIDS ravaged African country, completely de-bunking the Mormon religion in the process.
Hip and street?
Of course your obvious musical theatre destination is HAMILTON, also on in Victoria, in which Lin-Manuel Miranda tells the story of one of America's founding fathers using a predominantly rap score. It's so popular tickets can be hard to get but plenty of people successfully queue for returned tickets outside the box office. A true masterpiece it's changed the face of modern musicals and it also happens to be very entertaining.
Nothing grabbed you yet?
There's plenty more musicals to choose from including WAITRESS. But you'll have to hurry, the sweet story from a small town American Diner will be closing soon. COME FROM AWAY is an extremely intelligent, musical about a group of New Yorkers marooned in Newfoundland when their planes are diverted there following 9/11 (it's way more entertaining and heart-warming than that sounds!) There's also the British TV spin-off, ONLY FOOLS AND HORSES.
And there's always long runners like MAMMA MIA, LES MIS, PHANTOM OF THE OPERA etc. It's fun to revisit proven shows that you already know and love.