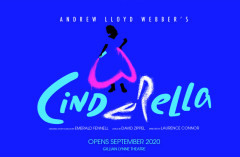 Andrew Lloyd Webber has announced his next West End musical, it's called CINDERELLA and will replace his production of SCHOOL OF ROCK at the Gillian Lynn theatre.
I must confess my first reaction was – really? Do we need yet another version?
The Cinderella story is of course massively popular, it's the pantomime title that every venue chooses when they need a guaranteed box-office hit. There are hundreds of productions every year right across the UK.
Then there's the Rodgers and Hammerstein version which was first performed on TV in the 1950's starring Julie Andrews, the score was then used by Disney as the basis for a movie version. This was then turned into a successful Broadway show.
In recent years we've also seen the popularity of SOHO CINDERS, the cheeky Styles and Drew, Elliot Davies musical that sets the story on Old Compton Street. That's currently enjoying an extended run to much critical acclaim at the Charing Cross Theatre.
There's also been a filthy adult version performed by drag queens around the corner at Leicester Square and a compact modern spin on the fairy tale set in a pub at the Vaults.
But the story structure is also ubiquitous in musical theatre. The poor girl who hooks a rich husband is the basis of everything from THE SOUND OF MUSIC to PRETTY WOMAN (about to transfer from Broadway to the West End)
Of course this new show will initially be popular when it opens because we'll all be wondering what his Lordship has come up with this time. But long term will the PR team be able to differentiate it from all the other Cinderellas at Christmas time or persuade people they want to see a Cinders outside of the holiday season?
I think it's going to be a tough sell.