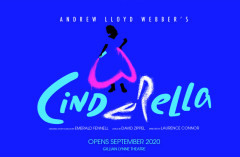 News just in - Andrew Lloyd Webber has delayed the opening of his new musical, a radical adaptation of Cinderella.
The stated reason is "the current global circumstances " but I think we can intemperate that as meaning concern that the on-going coronavirus health crisis could close down theatreland (a highly unlikely worst case scenario - it's only flu) but it may prove to be a deterrent to cautious or ill informed people travelling into the West End.
We just don't know how this will pan out so we can't really blame his Lordship for being cautious.
Reassuringly we're told that tickets will still go on sale as planned and that the principal actors go into rehearsals soon.
Other then that details are sketchy. Here's the few facts we have, courtesy of the show's PR.
Cinderella will now open at The Gillian Lynne Theatre ‪on‬ ‪Wednesday 28 October,‬ with previews ‪from‬ ‪Friday 9 October.‬
Tickets will go on General Sale ‪on Friday 20 March‬.
Full scale pre-rehearsals of Cinderella will take place with the leading actors throughout this month.
‪Carrie Hope Fletcher will play Cinderella. ‬She has starred in Heathers (Theatre Royal Haymarket), The Addams Family (UK Tour), Chitty Chitty Bang Bang (UK Tour), ‪Mary Poppins‬ (Prince Edward Theatre), and is currently playing Fantine in ‪Les Miserables‬ at the newly named Sondheim Theatre.
The production, a complete reinvention of the classic fairytale, is based on an original idea by Emerald Fennell, the Emmy Award nominated lead scriptwriter of the second season of international smash hit Killing Eve.
The show will feature a brand new score from the legendary composer and lyrics by David Zippel, a multi-award winner for Broadway productions including City of Angels, The Goodbye Girl, The Woman in White and Liza at the Palace, as well as for work on film including Disney's Hercules and Mulan, both of which received Oscar nominations.
Cinderella will be directed by Laurence Connor, with choreography from JoAnn Hunter, who previously partnered on ‪School of Rock‬ and the recent, sold out production of Joseph & the Amazing Technicolor Dreamcoat at The London Palladium.
Ahead of Cinderella's arrival at the Gillian Lynne Theatre, owners LW Theatres will carry out internal upgrade work to the building including the addition of more toilets, refurbishment to areas of the auditorium and Front of House.
More news as we get it.