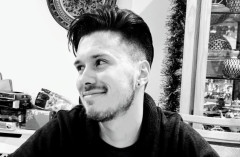 This week, West End Editor Josephine Balfour-Oatts explores London hand-in-hand with Alex Mincks. Together, they journey above and below ground, only to land amid the hustle and bustle of Soho.
Alex Mincks is a graduate of The University of Bristol, where he read Drama. Now a Production Coordinator at The Walt Disney Company, Alex has recently made the leap from theatre to film, with a view to expand into research-based work, or casting.
Do you have a favourite theatre in the West End? If so, why?
In all honesty, there aren't many theatres that I like in the West End - I much prefer London's fringe scene. However, Trafalgar Studios would probably be my top pick, or Soho Theatre. They both seem to have a history of staging plays that are so rarely seen on main stages. I'm very much that cliché of an ex-theatre student who loves a political story, or controversial tales belonging to unspoken voices in the world. In that sense, both buildings always have something for everyone.
Which are your preferred spots for a pre-show meal?
A good question. I can't say I know many, mostly because I'm usually running late. Although, if you want suggestions for a pre-show drink, Bar American in Piccadilly Circus is probably the best spot. Nothing like a pre-show cocktail! Also, its attached to a wonderful restaurant, Brasserie Zidel. Bob Bob Ricard does great food too, and service includes a button that you can press for champagne. What more could you want?
Where is your post-show drinks haunt?
Honestly? Anywhere in Soho, any bar will do. As long as I can sit, discuss and digest – if the theatre has an in-house bar, you'll find me there.
Which of Theatreland's upcoming/ current productions are you most looking forward to?
I've been a little out of the loop lately, but I'd really like to see Emilia Clarke in The Seagull, directed by Jamie Lloyd at the Playhouse Theatre. Also, I'm still dying to see SIX.
Top show to see right now?
Everybody's Talking About Jamie. The best introduction to DRAG you will ever get, especially if you've no prior knowledge of it. Absolutely love this show, its a must-see.
Expenses aside, what would be your ideal day out in London?
Wow, that is quite the question. It would have to be a long day to get through everything, and very weather dependant! I do love a stroll, so a walk along Southbank is non-negotiable. Then, afternoon drinks and food courtesy of some of Soho's finest gay bars, maybe a spot of shopping around Mayfair. To end, I'd splash out on an evening performance of either Wicked or The Lion King.
In your opinion, what is London's best-kept secret?
I'm the biggest nerd when it comes to knowledge of London's underground transport, and the amount of secret shortcuts you can find are incredible! If you memorise the tube map well enough, you can get around this city twice as fast. Also, I know a bar in Soho that you can only access via a particular bookcase. My lips are sealed!
On your days off, where are you most likely to be found?
Usually exploring London, you can never really know it all. Whether it's a pop-up market or even a street, I like going to new areas. There is just so much life in every corner of this city. I also like playing a fun game called 'Find My Way Back', which never tends to end well!
What is your fondest memory of the London theatre scene?
I have two: firstly, spending the entire day watching part 1 and 2 of The Inheritance last year at the Young Vic. It was the biggest emotional rollercoaster - 6 hours of theatre, after which I emerged feeling overwhelmed, but invigorated. I've yet to have another experience like it, and I suspect it will be a long time before I do.
And the second would be when I was 12 years-old. I came to London on a school trip to watch The Woman In Black, thanks to which I'm now permanently scarred. I had no idea theatre could be so scary and I will never step back into the Fortune Theatre ever again.
Where in London are you most happy?
It would have to be Soho. I love its hustle and bustle, and the openly queer cohesion too of course. Relaxing in Soho square on a Saturday is just lovely, I wouldn't want to be anywhere else.
What's next on your agenda?
To continue with my work as Production Manager of The Walt Disney Company, assisting on marketing, film and digital campaigns, in addition to creative partnerships (such as with Disney +). While I've no immediate plans regarding the theatre, I'm always picking up work here in the industry. Happily, my skillset means I can move between both the screen and stage - a return to the latter being a future goal of mine.