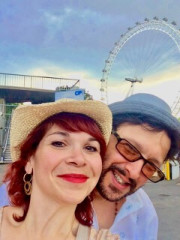 This week, West End Editor Josephine Balfour-Oatts talks to husband and wife duo, Debbie Chazen and Michael Korel. Together, they pen a love letter to London and its extraordinary theatre scene.
A British actor and singer, Chazen has had a colourful career, working both nationally and internationally across the stage and screen to critical acclaim. Similarly, Korel's professional life is a rich and varied tapestry. Currently training as a psychotherapist, he also works as a bookseller and psychic, with roots in performance.
Do you have a favourite theatre in the West End? If so, why?
It would have to be The Palladium for both of us. I remember being taken to see Danny La Rue in panto there when I was a kid, firmly cementing my already burning desire to become an actress. For Michael, it epitomises the glamour of the London stage.
Which are your preferred spots for a pre-show meal?
You can't beat Joe Allen's for a bit of showbiz pizazz and atmosphere. Also, the ribs are beyond!
Where is your post-show drinks haunt?
The Phoenix is always great value, with fantastic late night entertainment. Also, Le Bar Américain at Zedels is timelessly classy.
Which of Theatreland's upcoming/ current productions are you most looking forward to?
We're hoping to see Death of a Salesman at the Piccadilly Theatre before it closes, and we have tickets to Caryl Churchill's Far Away at the Donmar. I'm a huge fan of hers, having worked on her genius/bonkers play Love and Information a couple of years ago. It's so nice to have friends in plays, as we shall have the perfect excuse (not that any is needed) to go see Tom Edden who is appearing alongside James McAvoy in Cyrano de Bergerac and Paterson Joseph as Scrooge in A Christmas Carol which we are very excited to be seeing on Christmas Eve.
Top show to see right now?
A Taste of Honey at the Trafalgar Studios.
Expenses aside, what would be your ideal day out in London?
Breakfast at the Wolseley, followed by a morning spent taking in the art at the Royal Academy. Then a long stroll around town. Michael and I are great fans of London Walks. We've done pretty much every one they have! It's basically a two and a half hour tour of the sights of London based on a specific theme, full of anecdotes and hidden histories. You learn so much about our wonderful city. After that, a cocktail and maybe a cheeky basket of crab and samphire dumplings at Opium in Chinatown. That would tide us over before we hunker down to watch something brilliant in the West End (or even off it). A post-show visit to Joe Allen's would finish our perfect day off, well, perfectly. So – food, art, walk, history, more food, alcohol, entertainment and more food.
In your opinion, what is London's best-kept secret?
There is a little café inside the ENO that is open all day. It is relatively quiet and has an awesome operatic soundtrack.
On your days off, where are you most likely to be found?
When we have days off together, we will always find something to do around London, whether that be a museum, art gallery, gig, movie, guided walk etc. We try to find unusual things off the beaten track, for instance, recently we went to hear storyteller Giles Abbot tell tales about witches in a rooftop tepee in East London. He was fantastic. Our friends always comment on what fun lives we lead, and we do!
What is your fondest memory of the London theatre scene?
Michael and I are very lucky in that both sets of parents took us to the theatre regularly when we were young. I still remember the thrill of seeing Dame Judi Dench and her husband Michael Williams in spy thriller Pack of Lies in the early 80's. I would cry throughout most shows I went to see, because I so wanted to be up on that stage myself. Still can't believe I made it behind the footlights after all. Michael says his fondest memory is seeing me in Calendar Girls at The Noel Coward theatre - but he's my husband, so he has to say that!
Where in London are you most happy?
The Southbank has it all: theatre, art, food, culture, the river, spectacular views and an unbeatable buzz. There is always a sense that anything could happen. And it invariably does.
What's next on your agenda?
I am currently in rehearsals for Rags, a musical which will be playing at the Park Theatre from the 9th of January to the 8th of February 2020. It's a beautiful show about the early immigrant experience in New York, which has a definite resonance with our modern political and social climate. Michael is working on a plan to create a theatre-focused bookshop in London, but it's still a work in progress.