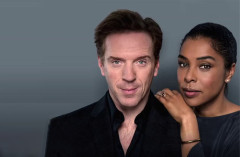 If you enjoy catching celebrities in West End shows you'll no doubt be excited to hear that Damian Lewis (Star of TVs HOMELAND and BILLIONS) will be appearing at the Theatre Royal Haymarket in THE GOAT OR WHO IS SYLVIA. You may have read in the Evening Standard that Eddie Redmayne will be appearing with him. That's a misunderstanding on their part, he was in the last West End production of the play, not the forthcoming one.
Pity the poor marketing folk in charge of promoting things because (and they're being very coy about this on the Haymarket's website) it's about beastiality.
The site says Lewis's character "embarks upon an improbable and impossible love affair from which there is no return, he must face the dizzying, explosive consequences"
What they don't tell you is that the affair is with a goat!
If the prospect of Lewis fretting about the pros and cons of this intrigues you then you'll be delighted to learn that this isn't some silly comedy. It's a drama by one of the most celebrated Twentieth Century American playwrights, Edward Albee, who died last year.
There's a more conventional play of his coming up at the Comedy Theatre where national treasure Imelda Staunton stars opposite Conleth Hill (Lord Varris from GAME OF THRONES) in a revival of Albee's undisputed masterpiece of marital conflict, WHO'S AFRAID OF VIRGINIA WOOLF.
An easy sell that one but will non-Damian Lewis fans be attracted to a play with such a distasteful theme around the corner at the Haymarket?
I'm sure the producers will be hoping he'll do the rounds of the chat shows but will he be allowed to reveal the big secret about who his character falls in love with?
Despite the lurid central plot it is actually a very interesting play about societies taboos and the nature of love. Jonathan Pryce started in the premiere with Redmayne and the production certainly had a respectability. But those producers were completely up front about the man-goat romance.
I think the current team may regret being more obtuse. I'm sure the actors would rather play to an audience who knew what they were getting rather than people who are shocked by the revelation and either tittering or heading to the exit.
Having read this you'll be amongst the few in the know! Be brave and book a ticket. By the end of the performance you may find yourself more sympathetic towards inter-species love than you had ever imagined.