Quick Facts
Largest Ticket Inventory
in the West End
Real time
seat availability
Choose
your seats
Your booking is processed directly into the box office reservation system
This show is now closed.
The Goat or Who Is Sylvia?
Tickets
4.1/5
-

based on

16

reviews
About The Goat or Who Is Sylvia?
Performance Times
Starring:
Damian Lewis
The Goat or Who Is Sylvia? description
The Goat won a 2002 Drama Desk Award for Outstanding New Play and the 2002 Tony Award for Best Play. It has also been nominated for several coveted awards. In 2002 it received a Tony nomination for Best Actress in a Play, a Drama Desk Award for Outstanding Actor in a Play, and a Drama Desk Award for Outstanding Actress in a Play. In 2003 it was nominated for the Pulitzer Prize for Drama, and in 2006 the Helpmann Award for Best Play. Now it's back in the West End for March 2017.
Edward Albee is best known for Who's Afraid of Virginia Woolf?, which is also due to be revived in 2017 with Imelda Staunton starring. He died recently aged 88.
Star of the show Damian Lewis was last in London's West End in 2015, playing alongside John Goodman in David Mamet's brilliant American Buffalo. He caused a stir playing the young King Henry 8th in Wolf Hall. Now he's taken on Albee's thrillingly dark comedy about the collapse of family relationships.
The play premièred on Broadway at the John Golden Theatre in 2002. It was directed by David Esbjornson and starred Bill Pullman as Martin, and Mercedes Ruehl as Stevie. The European première was at the English Theatre in Vienna, directed by Pam MacKinnon. The play kicked off in the UK at Islington's Almeida Theatre then transferred to the West End's Apollo Theatre, directed by Anthony Page.
It made its way to New South Wales in Australia, playing in Sydney during 2006 and directed by Marion Potts. And it also proved a hit in Canada, produced in Ottawa and directed by Lorne Pardy. This latest production opens at the Theatre Royal Haymarket in London's West End, with previews from 24th March 2017.
The Goat – The story
This is the quirky story of a middle aged architect Martin, his wife Stevie, and their son Billy. When Martin falls deeply in love with a goat, the family starts to disintegrate. By focusing on the limits of liberal society and revealing the family in crisis, the playwright challenges the audience to question their own morals and the meaning of social taboos.
The play is rich in creative language and plays with grammatical arguments throughout, even during catastrophic events and existential arguments. You'll revel in the madness that overtakes the characters: Stevie Gray, the wife of Martin who, until the goat came along, was his dearest love. Martin Gray himself, the fifty-year-old architect who falls in love with the goat. Billy Gray, the couple's sensitive seventeen-year-old gay son, and Ross Tuttle, family friend and TV show host.
The Goat tickets – Exploring uniquely odd human relationships
Want premium, full price or discount The Goat tickets? We always have great availability and you'll enjoy excellent value for money on the complete range of ticket types and seats, from low cost to the finest seats in the house.
The Goat or Who Is Sylvia? reviews
4.1 out of 5
based on

16

reviews
What to expect:
Acting
Music
Costumes
Story
Lighting
Recommended for:
Anyone (31%)
Families (31%)
Teenagers (38%)
Couples (75%)
Theatregoers (75%)
Latest customer reviews

unusual
I enjoyed the jokes in the play, but due to being an unusual story and uncomfortable seats it was long, needed an interval, especially as a lady near to us had an attack so the ushers would not let us go to the toilets, I had to wait up to 2 hours! Not recommended to someone with a small bladder. Not my best experience in a theatre.
Reviewed on 27 June 2017 by Deborah, Scunthorpe, United Kingdom

Engaging, intriguing
Reviewed on 23 June 2017 by Grazina, Toseland, United Kingdom

Famous actors but strange story
Reviewed on 24 May 2017 by Matthew, Kingston Upon Thames, United Kingdom

Thought provoking, disturbing.
Still confused, not sure if loved it or hated it. Liked how many emotions it got out of me and how thought provoking the show was, however, it was so disturbing and almost slightly traumatizing as it is something that you don't get to hear about on a regular basis and honestly, don't even wanna know about it. Ever. Nor to believe that these things are happening. Excellent performance by Damien Lewis and the rest of the cast. BUT, Damien, why this play?
Reviewed on 15 May 2017 by Gabriele, London, United Kingdom

Strong language at times, with dark humour and powerful drama.
Reviewed on 15 May 2017 by Russ, Witney, United Kingdom

Not for the faint hearted
Reviewed on 13 May 2017 by Na, London, United Kingdom

Deep and disturbing
Amazing story, so deep yet presented with a pinch of salt. Great acting. Was looking forward to seeing Damian Lewis, who ubfortunately was taken ill, but the actor replacing him was brilliant nonetheless.
Reviewed on 30 April 2017 by Celina, London, United Kingdom

If you see anything this year, see The Goat or Who is Sylvia?
A must see...Lewis is able to transport the audience into a realm most likely unknown to 99% of human beings; and he does so gracefully, horrifically, hilariously and heart-breakingly. Albee's words are brought to life by a four-person cast that is simply sublime.
Reviewed on 29 April 2017 by Nicholas, Thursley, United Kingdom

No one
The staff at the theatre were very helpful. The show however was awful, puerile rubbish - one to miss!!!
Reviewed on 22 April 2017 by Sarah, London, United Kingdom

All the Feels
Fantastic Show. I've been wanting to see a production of The Goat for many years, so glad this is the first production of this show I got to see. It goes through every emotion. The laughter is perfectly timed to break the discomfort everyone is going though. I would highly recommend it. Its not for the conservative or anyone squeamish about sexuality.
Reviewed on 16 April 2017 by Ren, Madison, United States

Bizarre... And not in a good way
Baffled why such great actors would want to put their names to this inane and more than slightly disturbing story. If there was a hidden message, which might explain it, we missed it.
Reviewed on 14 April 2017 by Lisa, London, United Kingdom

Creative
Reviewed on 12 April 2017 by Charalampos, London, United Kingdom

Amazing!!
Reviewed on 25 March 2017 by Sabrina, Dover, United States
07

Feb
2017

For the Love of Goat!
by Phil Willmott | Tuesday, February 7 2017, 11:19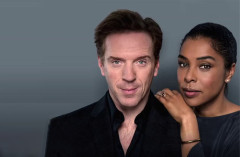 If you enjoy catching celebrities in West End shows you'll no doubt be excited to hear that Damian Lewis (Star of TVs HOMELAND and BILLIONS) will be appearing at the Theatre Royal Haymarket in THE GOAT OR WHO IS SYLVIA. You may have read in the Evening Standard that Eddie Redmayne will be appearing with him. That's a misunderstanding on their part, he was in the last West End production of the play, not the forthcoming one.
For the Love of Goat!