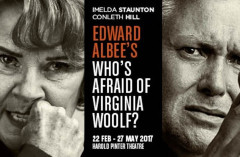 Talk about dream casting! Imelda Staunton, who cemented her reputation as West End goddess and national treasure recently with her performances in musicals GYPSY and SWEENEY TODD will play Martha in the drama WHO'S AFRAID OF VIRGINIA WOOLF?.
When people debate the greatest plays ever written this one is regularly in top 10s and rightly so, when acted well it is one of the most devastating evenings of theatre you can encounter.
On paper it doesn't sound much, a second rate academic and his wife have invited a younger, handsome, new member of the university faculty and his timid wife over for late night drinks. The new couple then get caught up in the midst of a domestic battle to end all domestic battles. Host, George and his wife, Martha, infused with booze begin to verbally rip into each other with breathtaking psychological cruelty. Their entire, ghastly, unfulfilled marriage slowly unravels before your eyes in such a horrible, utterly engrossing way that you'll stagger out of the theatre valuing anyone who loves you, shaken and stirred.
It's the work of Edward Albee, a celebrated American playwright who died recently. Albee produced other acclaimed work but nothing to match this seminal work from the 1960's. A troubled gay man, he poured all his personal demons and bitterness into the savagery of this marital drama.
Like most people, I'm a huge Imelda Staunton fan. I first saw her playing a one line role in the National Theatre production of GUYS AND DOLLS, despite the small part she stole every scene she was in and later went on to take over the lead role of Miss Adelaide which she was understudying. Apart from her amazing performance in GYPSY and SWEENEY TODD my favourite Staunton performances are in Mike Leigh's film VERA DRAKE in which she played a backstreet abortionist, helping girls illegally before the change in the law allowed for the procedure. Her motivation was so clearly the welfare of the women that when this maternal figure was imprisoned it was heartbreaking. A few years later she appeared in a west end revival of Joe Orton's ENTERTAINING MR SLOANE in which she played a flirtatious middle aged woman still believing she had sexual allure. It was extraordinary how she was able to have us roar with laughter one moment and break our heart the next.
This skill will be particularly useful in her forthcoming role as there are plenty of laughs in the play too and some great one liners.
She'll be partnered by Conleth Hill as her husband, George. These days he's best known for playing the eunuch, Lord Varris in TV's GAME OF THRONES and he's great in the role, alternating warmth with creepiness, but he's also a scintillating stage actor too with extraordinary presence, capable of brilliant comedy and moments of pathos which bring tears to the eyes. Again, exactly what's needed for playing Martha's emotionally battered husband, George, who can share her jokes but also round on her with devastating cruelty as he disintegrates.
Do not on any account miss this; it'll be the production of the year. Maybe even the decade.