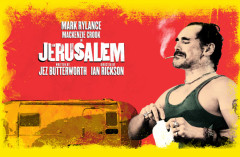 Update for Jez Butterworth's Jerusalem at the Apollo Theatre
Sonia Friedman Productions and the Royal Court Theatre are excited to reveal the long-awaited return of Ian Rickson's production of Jez Butterworth's Jerusalem. It's in town, in London's West End, for a strictly limited 16 week run from 16th April 2022. The full cast will be announced at a later date. Like the producers, we're delighted to be able to confirm that this brilliant piece of theatrical drama is back on stage.
Who's involved in Jerusalem?
Jez Butterworth's award-winning play premiered at the Royal Court Theatre in 2009, enjoying remarkable sold-out runs there and at the Apollo Theatre in 2009, 2010 and 2011. It also sold out at Broadway's Music Box Theater in 2011. The scene is St George's Day, the county fair is about to kick off and Johnny Byron is a wanted man. Will he take his son to the fair, will he suffer Troy Whitworth's revenge, will he provide his mates with the drugs and alcohol they're demanding? Come and see.
The amazing Mark Rylance returns as Johnny 'Rooster' Byron
Mackenzie Crook reprises his celebrated role of Ginger
The designer is Ultz
The lighting designer is Mimi Jordan Sherin
The composer is Stephen Warbeck
Sound design comes from Ian Dickinson for Autograph
The casting director is Amy Ball CDG.
Buy Jerusalem Tickets
Book your Jerusalem tickets online with us and choose the best seats using our popular Apollo Theatre seating plan. We'll send your E-tickets to your email address – simply present them at the door on the day of the performance and you're in!
About the Apollo Theatre
The Apollo Theatre is one of several on Shaftesbury Avenue in the City of Westminster. The venue was specially designed to host musical theatre, aptly named after the Greek god of the arts and the leader of the muses. And the third tier balcony is probably London's steepest, adding to the drama of the experience. Past shows at the Apollo Theatre include Peter Pan Goes Wrong, Travesties, Cat on a Hot Tin Roof and Everybody's Talking About Jamie.