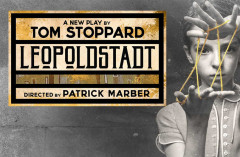 Update for Leopoldstadt at Wyndham's Theatre
Leopoldstadt premiered in early 2020, just before the pandemic hit. The original 20 week run was extended until mid June the same year thanks to the play's remarkable popularity, but the final pre-lockdown performance actually took place mid-March 2020.
Now Tom Stoppard's brilliant Leopoldstadt, directed by Patrick Marber and produced by Sonia Friedman Productions, is due at Wyndham's Theatre from 7 August to 30 October 2021. A warm welcome back to a thought provoking and moving play that'll capture your heart and mind.
This is an extraordinary play. As Patrick Marber himself explained, "Tom and I visited the Leopoldstadt area of Vienna in October 2019. We started rehearsals a month later in London. The play opened in February 2020 and then had to close in March. When we gather to re-rehearse in July 2021 it will be an incredible moment for all involved. It has been a long journey. We were all thrilled by the reception this production received first time round and we're so excited to be able to share this mighty and beautiful play with audiences again. I'm so grateful to Sonia and Cameron for this opportunity and so proud to be working with these amazing and loyal actors on such a powerful, moving and painfully relevant play. I've admired Tom's work since boyhood, he influenced me enormously as a fledgling playwright and now it's my great honour and joy to be his collaborator once more."
At the beginning of the 20th Century, Leopoldstadt was the old, crowded Jewish quarter of Vienna. But Hermann Merz, a manufacturer and baptised Jew married to Catholic Gretl, has moved up in the world. Gathered in the Merz apartment in a fashionable part of the city, Hermann's extended family are at the heart of Tom Stoppard's epic yet intimate drama. By the time we have taken leave of them, Austria has passed through the convulsions of war, revolution, impoverishment, annexation by Nazi Germany and – for Austrian Jews – the Holocaust in which 65,000 of them were murdered. It is for the survivors to pass on a story which hasn't ended yet.
Who's involved in Leopoldstadt?
Leopoldstadt is the sixth dazzling collaboration between SFP and Tom Stoppard. It's being co-produced with Gavin Kalin Productions, Tulchin Bartner Productions, Scott M. Delman/Patrick Gracey in association with Rupert Gavin, 1001 Nights Productions, Nica Burns, Burnt Umber Productions, Bradford W. Edgerton, Eilene Davidson Productions, and Richard Winkler.
The set design is by Richard Hudson
The costume design is by Brigitte Reiffenstuel
The lighting comes from Neil Austin
The sound and the original music are both by Adam Cork
Movement comes from EJ Boyle
Casting is by Amy Ball CDG
Children's casting is by Verity Naughton
The cast itself will be announced soon
Buy Leopoldstadt Tickets
Book your Leopoldstadt tickets online and choose the perfect seats using our handy Wyndham's Theatre seating plan. We'll send your E-tickets direct to you via email for you to present on the date of the performance.
About Wyndham's Theatre
Past shows at Wyndham's Theatre include The Starry Messenger, The Catherine Tate Show Live, The Price, Fleabag, The Man In The White Suit, and Curtains.