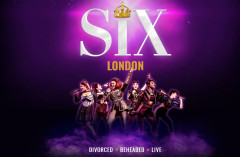 How a little show becaume West End Royalty. To my mind, with the exception of Hamilton, there's been very little that's innovative in musical theatre recently, SIX is the exception. The success of this smart and sassy much loved show is due to the genius of three people.
To my mind, with the exception of Hamilton, there's been very little that's innovative in musical theatre recently, SIX is the exception. The success of this smart and sassy much loved show is due to the genius of three people.
The first two are the writers, Toby Moss and Lucy Marlowe who came up with the idea during their final term at Cambridge whilst also cramming for exams. As is the case with most brainwaves it's a concept so brilliantly simple it's a wonder no one's thought of it before.
Basically this is a song cycle in which the six wives of Henry VIII each perform a number, competing to decide who has been treated worse. The winner will become the lead singer of their girl-band.
It's a loose plot, if one can even call it that, but hey it's also the narrative shape of CATS in which felines compete to see who goes to kitty heaven, and that's worked out pretty well for Andrew Lloyd Webber. It's also just enough of a narrative to keep us engaged for 90 minutes whilst not distracting from the brilliant, witty and characterful songs with which each queen reflects on their fate, fortunes and matrimonial infidelities.
The third genius in the SIX equation is the producer Kenny Wax who saw the student production at the Edinburgh Festival and recognised its potential to be a commercial hit.
This was by no means an obvious conclusion to draw as, besides the narrative structure's similarity to CATS, it's unlike any other musical you may have seen. For a producer it's proved to be a dream come true. It's a hit musical that's performed using a concert format, doesn't require any fancy scenery, there is a relatively small cast of unknowns to pay and it can be picked up and performed anywhere as demonstrated by Wax when he made a valiant attempt to beat the Covid virus by staging the piece in various innovative potentially infection-free ways, including as a drive-in concert.
What's the plot of SIX?
As noted above there is very little story in SIX. As I've mentioned it shares its competitive song contest formula with CATS and also, if we're going to be intellectual about it, it has its roots in Geoffrey Chaucer's mediaeval hit THE CANTERBURY TALES which also has a group of like-minded individuals gathering together to share stories in competition with each other.
Expect to hear of Kathryn of Aragon's preference to stay out of the nunnery in which Henry VIII wishes to confine her, and of Anne Boleyn's frustration that freedom from monogamy seems to only apply to her gluttonous husband. Jane Seymour sings of the pressure to produce a male heir, Anne of Cleves reveals the ignominy of being chosen from a painting, Catherine Howard recounts an earlier, happier love life and Catherine Par draws everyone's attention to the inevitable conclusion the women must reach.
Are there any well known songs in SIX?
No chart hits, yet, but including remixes encores and play-offs the show has 14 musical numbers each one with a contemporary pop style.
One of the brilliant things about this musical is how Marlow and Morris have tied the fortunes (and costumes) of each character to six modern female pop stars. During the course of the evening you'll hear musical references to recording artists such as Rhianna, Adele, Céline Dion, Britney Spears, Alicia Keys and Ariana Grande.
Virtually everything is belted out at top volume and if you long for the energy and the dynamism of a pop concert in your musical theatre this is the show for you.
Who are the stars of SIX?
You won't see celebrities in SIX, just some of the carefully selected, very finest, young female performers around.
The show doesn't require star names to sell it because, and this is another clever thing, almost all young women who are into musical theatre already know the score from having downloaded the soundtrack. So, the fame of the six queens in history gives the show name recognition, they're listed above the title in some publicity, and it's also fair to say that the songs and soundtrack are the stars.
This is a rather old-fashioned idea that harks back to the way mega musicals, like Chess and Evita used to be launched, starting with the successful release of a concept album. It means that when the public see that tickets are available they rush to book them, safe in the knowledge that they already love the music.
These days it's not as simple as it seems, promoting an album amidst the competing clamour of social media but brilliant people have continually pushed the soundtrack of this terrific show to the forefront of the relevant people's minds. It helps of course that every song in this short piece is unusually memorable.
They're also the kind of songs that young women seem to love to perform. Even when the dust has settled years from now, and the show has completed runs in West End on tour and has conquered America and the Far East, the piece is likely to remain a massive cash cow for the creative minds involved because pretty much every female-heavy musical theatre course and drama society around the world will be producing the show to showcase their brilliant young women.
What do LONDON BOX OFFICE customers say about SIX?
"Superb! better than I expected", "A breathtaking spectacle", "Not to be missed, loved every minute of it", "I was in awe from start to finish" are just a few of our customers reviews for SIX.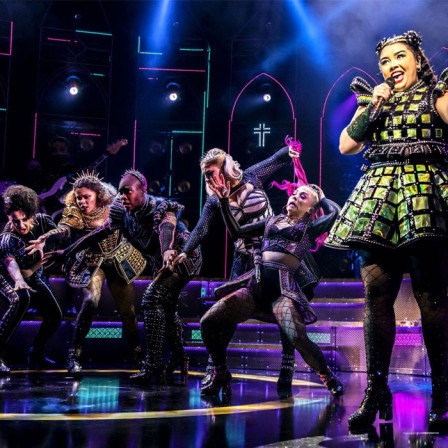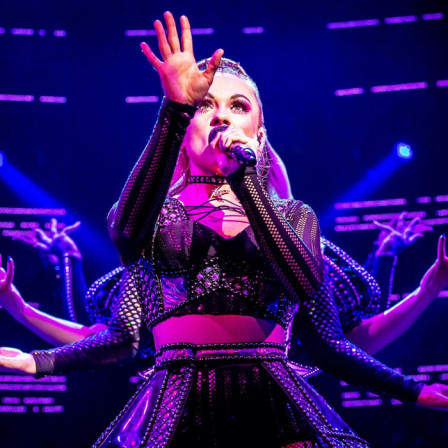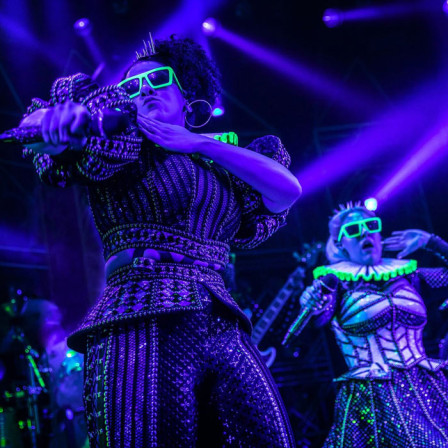 Frequently Asked Questions about SIX
Where and when can I see SIX?
SIX will play at the Lyric Theatre from 16th May and will then return to the unassuming, relatively small Arts Theatre, from 24th August. You'll find it just around the corner from the Leicester Square tube station and the square itself.
Who is SIX for?
This musical will delight anyone who enjoys high-energy pop concerts.
Is there a dress code?
No, dress comfortably and as you would for any public space.
Fun fact about SIX
The show's journey to Broadway could almost make a musical in itself. Maybe one day it will, but for now we don't know the end of that story because SIX was due to open in new York on the very same night it was announced that the city's theatre was to close down in response to the covid pandemic. So at present the show rests in a sort of Broadway limbo waiting for a time where it can prove itself to the American press and, no doubt, establish its Tony Award winning potential.