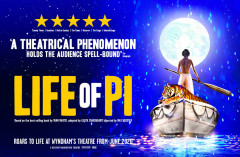 Life of Pi has scored high from the start. It's a real West End phenomenon. Now, having won 5 five Olivier Awards including Best New Play, public booking has extended to 30th October 2022, giving you more opportunites to see this magical production for yourself. Extraordinary doesn't cover it. The puppetry, the scenery, and of course the exceptional performers have all contributed to what's fast becoming a theatre legend.
Who's involved in Life of Pi?
Life of Pi's five Olivier Awards also include Hiran Abeysekera, who won Best Actor for his central performance as Pi. And, unusually, the seven performers who play 'Richard Parker', the puppet tiger, were together awarded Best Actor in a Supporting Role. Huge congratulations to the talented team: Fred Davis, Daisy Franks, Romina Hytten, Tom Larkin, Habib Nasib Nader, Tom Stacy and Scarlet Wilderink. You're amazing!
Life of Pi also gained awards for set design – well done to Tim Hatley, Nick Barnes and Finn Caldwell
The production won the award for lighting design too – congratulations to Tim Lutkin and Andrzej Goulding
Hiran Abeysekera plays Pi
Mina Anwar is Ma, Nicholas Khan is Father, Payal Mistry is Rani, Tom Espiner is Father Martin and Commander Grant-Jones, Raj Ghatak is Mamaji and Pandit-Ji, Syreeta Kumar is Mrs Biology Kumar and Zaida Khan, David K.S. Tse is Mr Okamoto, Kirsten Foster is Lulu Chen, and Habib Nasib Nader is both Cook and Voice of Tiger
Nuwan Hugh Pererais Pi alternate
The understudies are Alex Chang, Omar Khan and Deeivya Meir
The production is directed by Max Webster, Set and Costume designer is Tim Hatley, the Puppet and Movement Director is Finn Caldwell, the Puppet Designers are Nick Barnes and Finn Caldwell, the Video Designer is Andrzej Goulding, the Lighting Designer is Tim Lutkin, the Sound Designer is Carolyn Downing, the Composer is Andrew T Mackay, Dramaturgy is by Jack Bradley, the Casting Director is Polly Jerrold, the Associate Director is Leigh Toney, the Associate Set Designer is Ross Edwards, the Associate Puppet Designer is Caroline Bowman, the Costume Supervisor is Sabrina Cuniberto and the Props Supervisor is Ryan O'Conner
Life of Pi is produced by Simon Friend in association with Playing Field and Tulchin/Bartner
Buy Life of Pi Tickets
Buy cheap Life of Pi tickets online via our site and pick great seats with our Wyndhams Theatre seating plan. Relax, get the best service in town from a West End ticket seller you can trust, and show your e-tickets at the theatre door on the day.
About Wyndhams Theatre
Wyndhams Theatre is known for presenting some of the world's best-loved productions. Past shows at Wyndhams Theatre also include, way back in the 1970s, the musical Godspell, which ran for two and a half years. It was home to the awesome National Theatre production of Alan Bennett's The History Boys in 2006, and presented Much Ado About Nothing starring David Tennant and Catherine Tate, as well as Quatermaine's Terms starring the comic hero and creator of Mr Bean, Rowan Atkinson.