The Theatre Royal Haymarket is thrilled to announce the first post-lockdown play of the year. Welcome to A. R. Gurney's delightful Love Letters, a heart-warming show starring two of the country's best-loved National Treasures. These are the first photos released of the production, which previewed at Theatre Royal in Windsor as one of its five week, five-day, five-play season.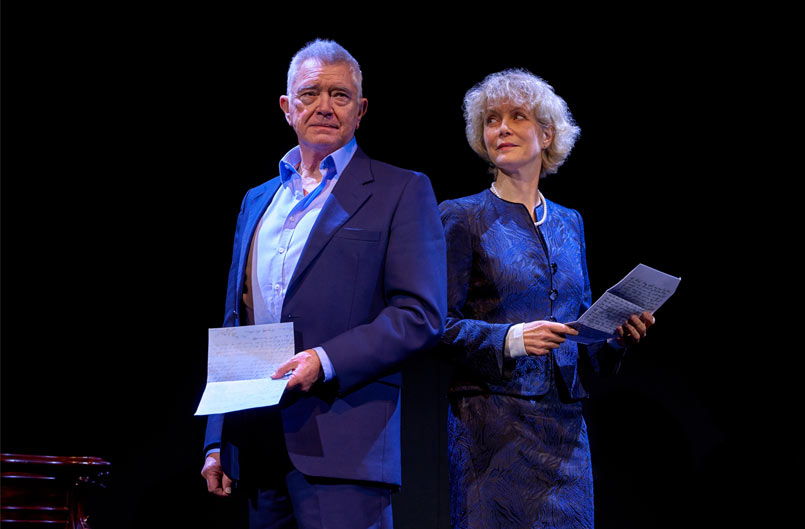 Jenny Seagrove and Martin Shaw in Love Letters - Photo by Paul Coltas
Now Love Letters is in the capital and it's set to be a monster hit. This is a wonderfully sweet comic tragedy of a show revealing themes of shared nostalgia, missed opportunities, and the complicated romantic closeness that can develop between two lifelong friends. It's perfect for our Covid world, tapping into many of the personal issues we're all facing right now.
Who's playing in Love Letters?
The show is directed by Roy Marsden and stars Martin Shaw and Jenny Seagrove. Bill Kenwright is the producer.
William Kenwright, CBE, is a hugely popular and respected West End theatre producer and film producer, as well as the Chairman of Everton Football Club. His stage hits include Heathers the Musical, Cilla the Musical, and The Cat and the Canary.
The director Roy Marsden started life as an actor. As artistic director of the Mermaid Theatre he was responsible for Vivat! Vivat! Regina!, The Hobbit, Mary Westmacott's A Daughter's a Daughter, and Noël Coward's Volcano.
Martin Shaw starred in A Streetcar Named Desire, playing Stanley Kowalski opposite Claire Bloom. He has wowed audiences in countless stage, film and TV productions, including The Country Girl. He played Elvis Presley in Are You Lonesome Tonight, Sir Thomas More in A Man for all Seasons, and Lord Goring in Oscar Wilde's An Ideal Husband, an Olivier-nominated performance.
Jenny Seagrove has delighted us with leading roles in The Exorcist, How The Other Half Loves, Volcano, Bedroom Farce, A Daughter's A Daughter, Absurd Person Singular, The Letter, Night Of The Iguana and many more. She has also acted in many TV shows and films.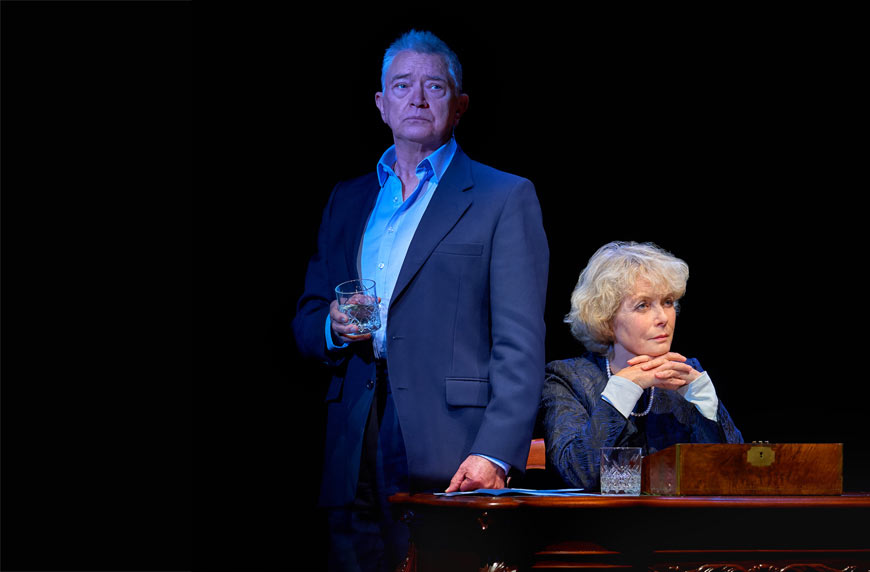 Martin Shaw and Jenny Seagrove in Love Letters - Photo by Paul Coltas
Buy Love Letters Tickets
Love Letters opened on 6th December 2020 and must close on 7 February 2021. Book your Love Letters tickets online and choose the perfect seats thanks to our Theatre Royal Haymarket seating plan. We'll send your E-tickets to your email address, so you can present them on the day of the performance.
About the Theatre Royal Haymarket
The Theatre Royal Haymarket is conveniently located in the centre of the capital. This is one of the first West End theatres to re-open since the national closure for Covid 19. Past shows at the Haymarket include The RSC's Queen Anne, Venus in Fur, Frozen by Bryony Lavery, Heathers The Musical, and Only Fools and Horses The Musical.