Quick Facts
Largest Ticket Inventory
in the West End
Real time
seat availability
Choose
your seats
Your booking is processed directly into the box office reservation system
This show is now closed.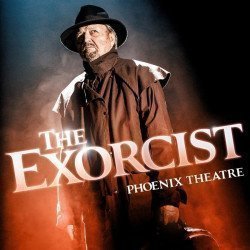 The Exorcist
Tickets
4.4/5
-

based on

29

reviews
Information
Cheap Tickets
Reviews
News
About The Exorcist
Performance Times
The Exorcist description
"I'm telling you that 'thing' upstairs isn't my daughter…"
Winner of two Academy Awards, and widely considered the scariest movie of all time, the film adaptation of The Exorcist sparked unprecedented worldwide controversy when it was released in cinemas in 1973.
Forty-six years after William Peter Blatty's best-selling novel terrified an entire generation, The Exorcist is unleashed onto the West End stage for the very first time in a uniquely theatrical experience directed by award-winning film and theatre Director Sean Mathias (Bent, No Man's Land).
Voicing the demon will be Olivier Award-winner Ian McKellen. 
"Oh please, Mother, make it stop! It's hurting."
When multiple medical professionals fail to provide answers to young Regan's strange symptoms, her desperate mother Chris turns to a local priest for help. But, before Father Damien can tackle what's before him, he must overcome his own shaken beliefs, as this fight is for more than just one girl's soul…
Inspired by true events.
The Exorcist cheap tickets
We have a great selection of cheap The Exorcist tickets. We can help you save up to 70% on The Exorcist tickets! If you're looking for discount theatre tickets have a look below for our latest offers for The Exorcist at the Phoenix Theatre.
-57%
Was £35.00
Now £15.00
Valid on all performances until 10 Mar 2018. Excluded on 17 Feb,24 Feb,3 Mar & 10 Mar 2018.
-44%
Was £45.00
Now £25.00
Valid on all performances until 10 Mar 2018. Excluded on 17 Feb,24 Feb,3 Mar & 10 Mar 2018.
-36%
Was £55.00
Now £35.00
Valid on all performances until 10 Mar 2018. Excluded on 17 Feb,24 Feb,3 Mar & 10 Mar 2018.
The Exorcist reviews
4.4 out of 5
based on

29

reviews
What to expect:
Acting
Music
Costumes
Story
Lighting
Recommended for:
Anyone (38%)
Families (48%)
Teenagers (48%)
Couples (66%)
Theatregoers (69%)
Latest customer reviews

A scary theatre original
The Phoenix Theatre is stunning, easy to find and impressive, friendly staff directing people efficiently. Seats are easy to access (we were in the stalls). Bar area and snack stall not too crowded, plenty of staff, prices for drinks and snacks though quite rediculously high. Programme was good and priced at a reasonable £4. The show itself was fantastic, super lighting and music, actors were all amazing, especially Regan. I did find the theatre rather cold so had to put my coat back on half way through. Overall, loved the Phoenix and the show itself was outstanding.
Reviewed on 04 March 2018 by Karen, Poynton, United Kingdom

Amazing
Reviewed on 03 March 2018 by Flavia Gisela, Buenos Aires, Argentina

Brilliant
Fantastic. Jumped outta my seat. Loved it.
Reviewed on 11 February 2018 by Tracy, Northwood, United Kingdom

Fun for the whole family
Reviewed on 09 February 2018 by Tom, Eccleshall, United Kingdom

One to watch
I recommended this show for theatregoers as there is not an option for adults only. This is an adult show and not one to watch if you do not like explicit language. We loved the show, the scene changes were seamless and I was quite amazed at how it was done. All of the parts were well acted however Clare Lousie Connolly is absoutely fantastic as Regan. I loved the jumpy parts, my only disappointment was tubular bells was only played for a very short time. I would have liked this to have featured for a bit longer. This is my first play, having seen many musicals and I have to say I am hooked. I cannot wait to choose what I see next.
Reviewed on 04 February 2018 by Jenna, Lowestoft, United Kingdom

scary
Do not purchase tickets to either side of the stage as you will be ripped off. we had row A but could only see part of the show. two of our tickets stated restricted view but what they meant is that you only get to see the actors when they are on the left of the stage. you can't see anything else
Reviewed on 04 February 2018 by Karen, Ilford, United Kingdom

Absolutely brilliant from start to finish
This was my husbands first time at the theatre and as he does not like musicals, this was perfect. The stage settings were fantastically done and kept our attention throughout. The effects and the acting were wonderful. I jumped quite a few times! It is a smaller theatre so very atmospheric. We had booked stalls row R but were upgraded to row G. I would definitely recommend this show.
Reviewed on 30 January 2018 by Cheryl, Southend On Sea, United Kingdom

Awesome!
This show was awesome. A fantastic change from normal theatre productions in its own unique way. Well worth going to see. Wish it was scheduled for other parts of the country too so that everyone can enjoy it. The atmosphere was amazing, the storyline was true to the film and the acting was fantastic - every character and voice! The special effects were brilliant. A true 5* rating! Well done to all involved.
Reviewed on 20 January 2018 by Lance, Rossendale, United Kingdom

Left me speechless
This show was tryely amazing! Had me captivated throughout. The theatre and staff also made the whole experience wonderful I would highly recommmend you see this show.
Reviewed on 14 January 2018 by Avi, Uxbridge, United Kingdom

Great show
Show was really good and entertaining . There was some scary moments when I jumped and heard others screaming. Good acting. Good ticket price. It was Christmas present for my husband and he really enjoyed it. Brownie point to me
Reviewed on 31 December 2017 by Simona, London, United Kingdom

Very Different But Very Good.
It's very different to what i would normally go and see in the theatre BUT it was very good you didn't lose the story line and the acting was 1010... defo go and see it its a experience to see something like that.
Reviewed on 30 November 2017 by Rebecca, Hayes, United Kingdom

Wonderfully scary
I enjoyed the play very much. It was well acted and wonderfully scary. Glad the head spinning scene was there and the classic scene of the priest outside looking up at the house. Enjoyed the bang and all the lights going out at the start. Very good.
Reviewed on 26 November 2017 by Paul, Grimsby, United Kingdom

Very disappointing
Reviewed on 25 November 2017 by Kathleen, Penge, United Kingdom

Excellent
Absolutely fantastic - jumpy and music sets the scene from the on-set
Reviewed on 21 November 2017 by Debbie, Caerphilly, United Kingdom

when devil kills both fathers
Reviewed on 19 November 2017 by Mohammad, London, United Kingdom

Amazing show
This show was just fantastic. The cast where faultless.... The set was brilliant, and they even had different smells etc to make it atmospheric. We are going to watch the show again it was that good. Really lovely theatre, when we went to pick up our tickets we were told our seats had been upgraded free of charge, Really great show.
Reviewed on 18 November 2017 by Yolanda, London, United Kingdom

Scary
Reviewed on 10 November 2017 by Kristine, Burnley, United Kingdom

Unpossessed
Difficult to nod off during a rendition of The Exorcist but I managed to so. About as scary as a panda at a safe distance. Peter Bowles looked, at times, as though he was unsure what he was doing here. The much lauded effects were, I'm afraid, of the Heath- Robinson school (without the charm). I could go on....and sorry, but you did ask.
Reviewed on 06 November 2017 by Ronan, Drogheda, Ireland

Scarily Brilliant
This is a fantastic adaptation of a cult horror with enough new twists and turns to keep you in the edge of your seat.
Reviewed on 03 November 2017 by Richard, Brentwood, United Kingdom

Powerful
Reviewed on 01 November 2017 by Danny, Essex, United Kingdom

Well put together horror
Enjoyable and the staging is top notch. As scary as a theatre productuon can be. Enjoyable and recommended
Reviewed on 29 October 2017 by Andrew, Hitchin, United Kingdom

Brilliant!
Not for the light hearted... a good adaptation of the film. The special effects gave us a good scare! Definitely worth a watch.
Reviewed on 29 October 2017 by Madeeha, Luton, United Kingdom

Stick with the movie.
Ok, lets face it, if you've seen the iconic movie, nothing is going to measure up. Much as they tried, this production can't give you the tension needed to make this scary. Take away that and you're left with a plot that is basic at best. The cast are good, solid actors but only Clare Louise Connolly as Regan shines. Seagrove was terrible; one dimensional throughout and her plumby American accent was indecipherable at times. The repeated flash/blackouts became tedious although other stage special effects were good. The real problem here was the audience. Clearly enticed by the movie, groups of twenty somethings giggled and commented on 'famous' scenes while countless people left the auditorium throughout the production (which only lasts for 1 hour 40.... seriously, you can't wait that long for another drink?) On the whole, if I'd paid £20 in a provincial theatre I would have been entertained and put up with the rest. £70 tickets in the west end? Both the production team and the theatre management should do better.
Reviewed on 25 October 2017 by Phil, Batley, United Kingdom
06

Nov
2017

Review: THE EXORCIST at the Phoenix Theatre
by Nicola Wright | Monday, November 6 2017, 10:08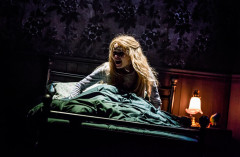 Regarded by many as one of the most iconic, and disturbing horror films ever made, The Exorcist was released in 1973. Banned by some cinemas the audience were desperate to see if this multi award winning film would live up to the word of mouth hype. Written originally as a book by William Peter Blatty and two years later as the film, this stage version which began at Birmingham Rep, has been adapted by John Pielmeier and remains as faithful to the book as the confines of a stage production will allow.
Review: THE EXORCIST at the Phoenix Theatre