8 Haymarket, London, SW1Y 4HT GB
Quick Facts
Largest Ticket Inventory
in the West End
Real time
seat availability
Choose
your seats
Your booking is processed directly into the box office reservation system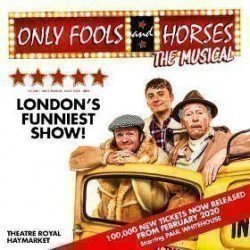 Only Fools and Horses the Musical
Tickets
4.7/5
-

based on

94

reviews
Booking until: Saturday, 25 April 2020
Running time: 2 hours 30 minutes
Starring: Paul Whitehouse, Ryan Hutton, Tom Bennett
Tickets from £23.75
Book tickets
About Only Fools and Horses the Musical
Important Information
Paul Whitehouse appears from 6 January 2020.
Performance Times
Booking until: Saturday, 25 April 2020
Running time: 2 hours 30 minutes
Starring:
Paul Whitehouse, Ryan Hutton, Tom Bennett
Only Fools and Horses the Musical description
Only Fools and Horses The Musical – Cushty!
Trigger's dodgy briefcases. Del Boy and Rodney break the chandelier. The broom gag. Batman and Robin costumes... oh, the memories. TV's Only Fools and Horses delighted several generations and still rates as one of Britain's funniest ever, best-loved, most often quoted sitcoms. Now it's due in theatreland and the anticipation is mounting fast. Don't miss this hilariously silly, delightfully fun show.
Add the brilliant Paul Whitehouse, who wrote The Fast Show (suits you, Sir!) and is apparently Jonny Depp's favourite ever comedian, to the mix and you're in for even more of a treat. He's the co-writer along with Jim Sullivan, the son of the sitcom's original creator John Sullivan. And the show takes place at a stunningly lovely venue, the magnificent Theatre Royal Haymarket, from February 2019.
The show features 20 dazzlingly silly new tunes and the late Chas Hodges, from the Cockney duo Chas and Dave, played a part in composing them. John Sullivan died in 2011, while working on the show, but it has been wholeheartedly, fully endorsed by his Estate.
The original TV characters were played by Sir David Jason, Nicholas Lyndhurst and Lennard Pearce. For the musical Paul Whitehouse plays the part of Grandad, and you can bet your bottom dollar that'll be a giggle. Tom Bennett plays Del Boy and Ryan Hutton plays Rodney.
The musical combines classic scenes from the original TV show with new material and new gags. It also stars old favourites Boycie, Trigger, Marlene and Denzil. Set in the year 1989 the plot sees Del and Rodney in love with Raquel and Cassandra against a Peckham landscape that's changing fast. The writers have been as faithful as possible to the feel of the series, but have also crowbarred in some contemporary issues in a seriously clever way.
The dazzling legacy of Only Fools and Horses is being admirably carried on thanks to this heart-warming and extremely funny show. It's packed with favourite moments from the TV show, including the infamous chandelier scene. Laugh? You'll laugh yourself silly. What a great British treat.
Who is this show for?
This show is recommended for people aged 12 and above.
Next Performances for Only Fools and Horses the Musical at the Theatre Royal Haymarket
today
18th Jan 2020
7:30pm
Monday
20th Jan 2020
7:30pm
Tuesday
21st Jan 2020
7:30pm
Wednesday
22nd Jan 2020
2:30pm
Wednesday
22nd Jan 2020
7:30pm
Thursday
23rd Jan 2020
7:30pm
Only Fools and Horses the Musical reviews
4.7 out of 5
based on

94

reviews
What to expect:
Acting
Music
Costumes
Story
Lighting
Recommended for:
Anyone (79%)
Families (83%)
Teenagers (80%)
Couples (88%)
Theatregoers (91%)
Latest customer reviews

Fabulous!
Reviewed on 08 January 2020 by Ann, Broxbourne, United Kingdom

Fantastic theatre and fabulous entertainment
Reviewed on 29 December 2019 by Carole, Manchester, United Kingdom

Cushty!
This was brilliant! Can't recommend it enough, great show, laugh out loud entertainment.
Reviewed on 28 December 2019 by Lorraine, Reading, United Kingdom

Cushty!!
Was great seeing the timeless show live at the theatre. Great performance by all
Reviewed on 28 December 2019 by Luke, Kent, United Kingdom

Fantastic
We couldn't believe how close to the original tv show this was. The voices, the looks, the stage setting. Everything was very well thought out and the 4 of us loved the storyline.
Reviewed on 27 December 2019 by Sonia, Newbury, United Kingdom

An excellent night out
Reviewed on 22 December 2019 by Sharon, Beckenham, United Kingdom

A very creative tribute to the life and times of Derek Duvall Trotter.
Just go and see it. Sit back and enjoy; look forward to real belly laughs and terrific musical numbers. Kushty!
Reviewed on 20 December 2019 by Simon, Ashby De La Zouch, United Kingdom

Totally entertaining
Didn't know what to expect but totally blown away by the acting Little bit sad that Paul Whitehouse wasn't playing grandad but understudy brilliant
Reviewed on 14 December 2019 by Christiane, Kent, United Kingdom

Good show. Good seats but so so warm I couldn't keep awake and couldn't wait to leave whixh is a shame because the tickets aren't cheap.
Reviewed on 29 November 2019 by Paul, London, United Kingdom

Fun brilliant feel good factor
Reviewed on 20 November 2019 by Diane, York, United Kingdom

Brilliant. Just brilliant.
I bought tickets for the show as a birthday present for me other half. Am I glad I did!!!! We had the most fantastic evening. The show was out of this world. The acting, the songs, everything was superb.
Reviewed on 12 November 2019 by Frank, Southport, United Kingdom

amazing and great fun...
Reviewed on 30 October 2019 by Michael, Headley, United Kingdom

Special evening
Legends of the television brought to life on stage, after just a few moments you could believe you were actually watching the TV show.
Reviewed on 26 October 2019 by David, Scunthorpe, United Kingdom

PUCKER SHOW
Fab show. Characters were believable. Great storyline with all the best bits! A "got to see" show for all OF&H lovers!
Reviewed on 23 October 2019 by Susan, Haslingfield, United Kingdom

Pukka
Reviewed on 15 October 2019 by Jeannette, Greenwich, United Kingdom

Ok
Ok but not great if your a only fools and horses fan
Reviewed on 13 October 2019 by Barrie, Trowbridge, United Kingdom

Success because of reputation
It was well acted there's no doubt but the story line was predictable uninspiring and boring In fact there was no story line. I sat in the Gallery and the view was fine but along way from the stage, the seating is uncomfortable though. Disappointed overall considering reviews are so good in comparison The man in the white suit was terrific and yet has received poor reviews. I can't understand it.
Reviewed on 13 October 2019 by Ruth, Derby, United Kingdom

must go
yes a great show well worth going
Reviewed on 24 September 2019 by Paul, Mablethorpe, United Kingdom

Enjoyable nostalgia for OFAH fans
A very enjoyable night out full of OFAH fun, the acting is excellent, songs clever and well sung, only negatives is the sketchy storyline incorporating as many of the famous shows e.g chandelier,bar,meeting raquel,etc, and the trigger ball sequence 9the special sound effects ruined it, not understanding a word that was sung.a minor moan so book up and enjoy.
Reviewed on 16 September 2019 by Alexander, Gravesend, United Kingdom

Hilarious
Reviewed on 10 September 2019 by Alexia, Dartford, United Kingdom

Disappointed
Reviewed on 29 August 2019 by Amanda, Stockton On Tees, United Kingdom

A must see
Reviewed on 28 August 2019 by Antony, Harwich, United Kingdom

Brilliant acting & extremely funny. Loved the old songs. Really entertaining
Reviewed on 27 August 2019 by Irene, Bishop's Stortford, United Kingdom

A must see by everyone.
Amazing show, technical issue during show which meant it did not flow in the first half.
Reviewed on 17 August 2019 by Sarah, Havant, United Kingdom

Weekend Away
Great show made our weekend start of so well this show is must to be seen and hope there is a sequel
Reviewed on 17 August 2019 by Michael, Near Buxton, United Kingdom

Fabulous show, especially if you love the tv programme!
Reviewed on 10 August 2019 by Nina, Erith, United Kingdom

Fabulous... as a fan 5 stars xxxx
Amazing.... Del would love it .... his mum proud.... Rodney xxx Denzil , Trigg loved it xxxx well done
Reviewed on 09 August 2019 by Sandra, Newport, United Kingdom

Great show
Reviewed on 07 August 2019 by Barry, Napier, New Zealand

Just WOW !
The actors are unbelievably talented and have taken on the characters to a tee. It's hard to believe after a while that it's not actually them! It's a really funny feel good show and you leave feeling really happy !
Reviewed on 07 August 2019 by Jill, Plymouth, United Kingdom

Fantastic Show
Reviewed on 06 August 2019 by Iain, Wallsend, United Kingdom

Amazing show
Really good fun
Reviewed on 06 August 2019 by Catriona, Bicester, United Kingdom

Excellent show
Reviewed on 21 July 2019 by Jennifer, Broxbourne, United Kingdom

Must see
The advice I can give is go and see it , the acting was good and singing was brilliant, if you liked the tv show you will love this .
Reviewed on 10 July 2019 by Tina, Ely, United Kingdom

Brilliant must seen fans of the hit tv series
The show was outstanding. Every member studied their character really well. In order to appreciate the story / one liners etc you must have seen the tv series. If I could I would go again...well done to the show
Reviewed on 28 June 2019 by Nicole, Tonbridge, Kent, United Kingdom

Great show
Reviewed on 25 June 2019 by Andrew, Ipswich, United Kingdom

Slow first half excellent second half
Reviewed on 25 June 2019 by Sandra, Doncaster, United Kingdom

Only fools and horses the musical
Fantastic show. Very funny and songs brilliant. Would go watch again so worth it. Theatre is lovely as well was absolutely brilliant
Reviewed on 23 June 2019 by Rachel, Attleborough, United Kingdom

Cacophony of classic moments
Cacophony of classic moments. Some seemingly awkward pauses. But on the whole very enjoyable
Reviewed on 21 June 2019 by Simon, Abu Dhabi, United Arab Emirates

Awesome
Fantastic show and so funny
Reviewed on 21 June 2019 by Robert, Aberdeenshire, United Kingdom

funny must go see
Reviewed on 21 June 2019 by Michael, Bromley, United Kingdom

Fantastic
I have grown up with this show, so I went to see the show with an element of trepidation. I had nothing to worry about. I started laughing from the first line and never stopped, just like the tv programme I think we will.need to see again because you miss parts because you are laughing so much. Well done to everyone for pitting this together a fitting finale to a truly wonderful tv series.
Reviewed on 19 June 2019 by Martin, Crawley, United Kingdom

Lively, funny musical
You would have to appreciate British humour to enjoy the show. Lively music with excellent singing. Great costumes, stage sets and lighting. Fabulous acting.
Reviewed on 06 June 2019 by Naimisha, Pinner, United Kingdom

A good show but awful seats - seated in the gallery but no one said you have to sit on hard benches!!
These tickets were a Christmas present from the family. The show was excellent but because of the seating it was so far away you could not see much. Uncomfortable seats not even proper seats - where does it say that in my booking. Disgraceful!! We will attempt to go back again and have better seats next time but the show is v popular so may not get a chance again
Reviewed on 02 June 2019 by Rachel, Southfleet, United Kingdom

Go and see
Seats not bad but it was a great show
Reviewed on 31 May 2019 by Jason, London, United Kingdom

Just brilliant
Apart from the uncomfortable seats, this show was absolutely brilliant! All the OFAH comedy classics were in there. All the actors were fantastic, but Del boy was particularly incredible! We loved every minute.
Reviewed on 29 May 2019 by Joanne, Wokingham, United Kingdom

best show in west end
Reviewed on 28 May 2019 by John, Luton, United Kingdom

Bonnay Da Doosh
Scenery and actors are hilarious Good old English comedy for family entertainment
Reviewed on 23 May 2019 by Edel, Gravesend, United Kingdom

Must See
Really enjoyed this show and would certainly recommend it to friends and family. Cast were extremely realistic and they managed to incorporate all the highlights of the original show with a twist or two.
Reviewed on 16 May 2019 by Anne, Uxbridge, United Kingdom

A must see show
A must see show particularly for those who know and watched the TV series.
Reviewed on 14 May 2019 by Sally, Lydd, United Kingdom

Very Well Presented
Like many thousands of others I am a great fan of Only Fools, therefore I had to see this show. I wasn't disappointed and there were a lot of laughter from start to finish. The cast was very life like, however, I did feel that the oldest Driscoll brother was too much like Roy Slater and this spoilt it for me. Del Boy was very good, but resembled Harry Enfield. For me the star of the show was Rodney. Was nice to see the three wheeler and the chandelier.
Reviewed on 04 May 2019 by Angela, Ipswich, United Kingdom

Lovely jubbly
The show is fantastic from start to finish. It will make you laugh out loud. The story is very relatable to the series. I will be back to see it again soon.
Reviewed on 03 May 2019 by Tracie, Chester, United Kingdom

Casting could not have been any closer to the series loved it
Ryan Hutton was outstanding as Rodney So much going on the whole stage was used to its full potential and the memories of the series The ensembles were all brilliant , Oscar Colon-Morrey was energetic watch out for him
Reviewed on 03 May 2019 by John, Hampshire, United Kingdom

A must if you enjoy Only Fools & Horses
Would definitely recommend this show for fans of this iconic tv sit com, might be hard to follow for viewers from overseas who do not understand the British comedy.
Reviewed on 30 April 2019 by Denise, Loughborough, United Kingdom

I didn't understand everything since there was a lot of dialect in it and I didn't know the TV-Show. But apart from that it seemed a jolly good show.
Reviewed on 26 April 2019 by Alexander, Winterthur, Switzerland

A HILARIOUS sketch which pays such wonderful tribute to the iconic programme.
Reviewed on 17 April 2019 by Chloe, Newark, United Kingdom

Great fun!
The show was great. Paul Whitehouse was amazing. All the characters had mastered the voices and looks. Would recommend it. However was seated in the gallery and it was very uncomfortable and hot. Otherwise a great show.
Reviewed on 12 April 2019 by Elizabeth, London, United Kingdom

A good tribute show
If you are a fan of the tv series definitely your going to enjoy the trip down memory lane however that's all it is and the theatre was terribly cramped and so uncomfortable to really enjoy the experience, overpriced unfortunately
Reviewed on 09 April 2019 by Adrian, Barnstaple, United Kingdom

OK but much less than expectation
The theatre venue is excellent and being small gave excellent viewing. The story line is an exciting compilation of scenes from old TV series. My main issue was that the humour was tame, few funny parts and zero raucous applause. We were in the stalls row E and for £140 per matinee ticket we felt value for money was not great. Show is overal OK but not special and lacked depth of quality hence our disappointment as it was nowhere near as sharp and special as the old TV episodes. Would score 6/10
Reviewed on 04 April 2019 by Alistair, Hayling Island, United Kingdom

A truly brilliant homage to the best TV comedy ever!
This is one of the best and most enjoyable productions I have seen. It was true to the original TV comedy and was brilliantly, laugh-out-loud throughout. The actors played their parts to perfection and really brought alive the original characters from the much loved TV show. Superbly acted with brilliant dialogue delivery throughout, I would willingly go and see it again and I highly recommend the show to everyone whether An Only Fools aficionado or not. This is entertainment at its very best.
Reviewed on 28 March 2019 by Claire, Bracknell, United Kingdom

A must see
This is a must see for all fans of the tv series. Absolutely spot-on cast
Reviewed on 27 March 2019 by Judith, Wisbech, United Kingdom

Fun filled show
An excellent show. Haven't laughed so much for ages. Well worth seeing if you've watched the TV programme.
Reviewed on 27 March 2019 by Dorothy, Chelmsford, United Kingdom

Lovely Jubbly
Absolutely brilliant show. Music and choreography were top notch. The characters were played brilliantly and the show had great references to the tv series. I would definitely recommend this to anyone whether a seasoned Only Fools and Horses fan or someone who has only seen the odd episode.
Reviewed on 26 March 2019 by Nichola, Grays, United Kingdom

Must see
Fantastic show. Well written and performed. Highly recommend to all Only Fools fans.
Reviewed on 19 March 2019 by Julie, Newdigate, United Kingdom

This was a fantastic show and tom Bennett was outstanding as del boy
Reviewed on 19 March 2019 by Matthew, Studley, United Kingdom

A brilliant adaptation!
Well worth a visit, good musical and great entertainment for all
Reviewed on 17 March 2019 by Teresa, Grays, United Kingdom

Fantastic true to every aspect required to make a truly wonderful show congratulations
Reviewed on 14 March 2019 by Eric, Nailsea Bristol, United Kingdom

Brilliant
From start to finish the show was great, kept you interested and intrigued
Reviewed on 13 March 2019 by Emma, Lincolnshire, United Kingdom

Amazing
It was really funny people sounded so like the orginal characters didn't won't it to end
Reviewed on 08 March 2019 by Sarah, Mansfield, United Kingdom

The show was missing new material. Most of the jokes are classic lines from the series and it was disappointing to hear them re used
Reviewed on 03 March 2019 by Marcello, Market Harborough, United Kingdom

Reviewed on 24 February 2019 by John, Kenton, United Kingdom

Cushty
Very cleverly written show incorporating lots of the well known events, sayings etc. It was so good that I forgot it was a musical (which I'm not keen on)
Reviewed on 23 February 2019 by Raymond, Alzingen, Luxembourg

Only Fools & Horses Must See Musical!
Reviewed on 23 February 2019 by Androulla, London, United Kingdom

Very funny, just like the original!!
Actors impersonated Del Boy, Rodney etc perfectly! Didn't stop laughing. Storyline great getting in some iconic Only Fools and Horses moments. Fantastic scenery and so clever how they changed it. I want to see it again!!
Reviewed on 22 February 2019 by Claire, Great Yarmouth, United Kingdom

A fantastic show, therefore a fantastic evening. Great cast, great production. The perfect surprise gift for my wife's 60th. Congratulations to the whole team and a well deserved standing ovation. Thankyou.
Reviewed on 09 February 2019 by Leslie, Wallington, United Kingdom
21

Feb
2019

Review: ONLY FOOLS AND HORSES at The Theatre Royal, Haymarket
by Phil Willmott | Thursday, February 21 2019, 20:07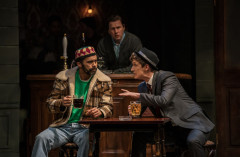 They seem an odd match, the opulent, elegant Theatre Royal, Haymarket and the BBC TV comedy Only Fools and Horses which dominated the television schedules in the late 1980s.
Review: ONLY FOOLS AND HORSES at The Theatre Royal, Haymarket