Quick Facts
Largest Ticket Inventory
in the West End
Real time
seat availability
Choose
your seats
Your booking is processed directly into the box office reservation system
This show is now closed.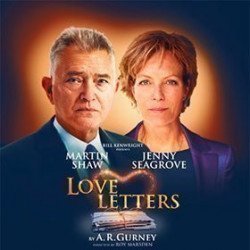 Love Letters
Tickets
5/5
-

based on

4

reviews
Starring: Jenny Seagrove, Martin Shaw
About Love Letters
Performance Times
Starring:
Jenny Seagrove, Martin Shaw
Love Letters description
Love Letters – A worldwide smash hit of a romance.
Your venue? It's the beautiful Theatre Royal Haymarket. The play? It's Love Letters, and it's stirring stuff. This wonderful play first opened in New York City during 1989. It's well known for its success as a finalist for the 1990 Pulitzer Prize for Drama. It fast became a huge hit and has been on stage more or less non-stop since then, somewhere in the world. It's a classic that keeps on giving - don't miss the romance!
Back in 1989, in New York city, a new play made history. It was called Love Letters, and it was a finalist for the 1990 Pulitzer Prize for Drama. Since then it has cropped up hundreds of times across the world, crossing cultural boundaries with ease. Wherever you're from, whatever you do or think or believe, we all love a good romance. A play with a long tradition of casting real life and on-screen couples as the protagonists, this time around it stars Martin Shaw and Jenny Seagrove.
This imaginative piece of theatre, as its author says, "needs no theatre, no lengthy rehearsal, no special set, no memorization of lines, and no commitment from its two actors beyond the night of performance." Made up of the letters the pair exchanged over a lifetime, read out loud, it's an unusually evocative, touching, funny and revealing character study. In this play, like no other, the things that are implied are just as eye-opening as the things that are written down in the actual letters. Clever stuff!
What's the plot?
Love letters is both tragic and comic, a tender imagining of the shared nostalgia, missed opportunities, and deep friendship that develops between two lifelong friends who have complex pasts. Interestingly it's the perfect play for our times, with the theme of a physical separation between two people people who are actually brought closer together over the years thanks to honest communications, shared confessions and brave confidences in the letters they exchange.
When young Andrew Makepeace Ladd III accepts an invitation to Melissa Gardner's birthday party, she sends him a note to say thanks. And that one small, simple act opens up a friendship that develops into a lovely, warm romance nurtured by mail for almost five decades. A.R. Gurney's Love Letters explores their shared nostalgia, staged simply, with two actors behind desks or sitting in comfy chairs, letting their words describe an entire universe of emotion.
Who's on the creative team?
Just as clever as it is gorgeous, this fine piece of classic theatre is directed by the wonderful Roy Marsden. Martin Shaw has recently starred in TV's Judge John Deed, plus A Man For All Seasons and An Ideal Husband at the Haymarket. Jenny Seagrove last performed at the Haymarket in How The Other Half Loves. Welcome back!
Who is this show for?
This is a subtle play about romance between two adults, so probably isn't suitable for children. There isn't an age restriction yet, but we'll let you know if one is imposed.
Love Letters reviews
5 out of 5
based on

4

reviews
What to expect:
Acting
Music
Costumes
Story
Lighting
Recommended for:
Anyone (25%)
Families (25%)
Teenagers (25%)
Couples (50%)
Theatregoers (100%)
Latest customer reviews

Funny, sad, unexpected
Loved it. I didn't know what to expect, but Martin Shaw and Jenny Seagrove were perfect
Reviewed on 14 June 2021 by Nancy, Farnham, United Kingdom

Life experience
Reviewed on 11 June 2021 by Judith, London, United Kingdom

Poignant
Very well acted and a clever storyline
Reviewed on 27 May 2021 by John, Northallerton, United Kingdom
30

Mar
2021

All About LOVE LETTERS
by Phil Willmott | Tuesday, March 30 2021, 21:16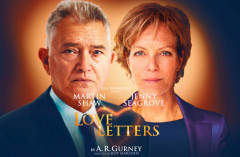 It's just been announced that the slender but artfully crafted play LOVE LETTERS will be returning to Theatre Royal Haymarket from Wednesday 19th May for 32 performances only, starring Martin Shaw and Jenny Seagrove.
All About LOVE LETTERS
10

Dec
2020

Love Letters - Production images released!
by London Box Office | Thursday, December 10 2020, 10:51
The Theatre Royal Haymarket is thrilled to announce the first post-lockdown play of the year. Welcome to A. R. Gurney's delightful Love Letters, a heart-warming show starring two of the country's best-loved National Treasures. These are the first photos released of the production, which previewed at Theatre Royal in Windsor as one of its five week, five-day, five-play season.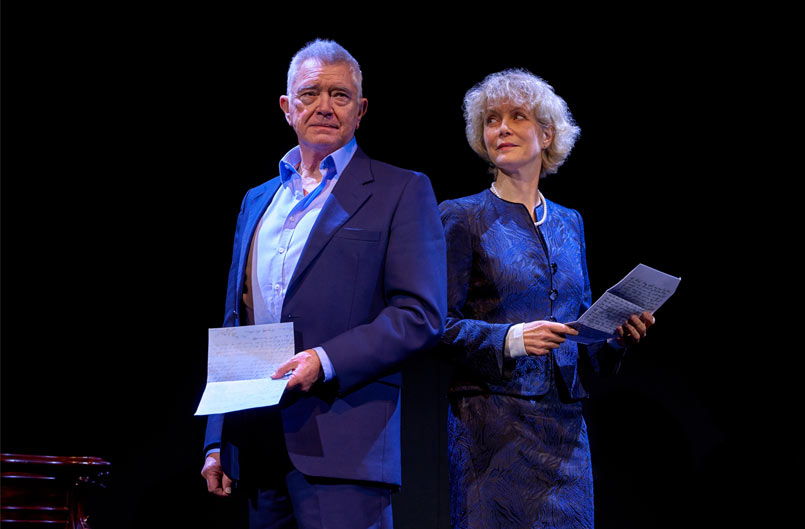 Jenny Seagrove and Martin Shaw in Love Letters - Photo by Paul Coltas
Love Letters - Production images released!