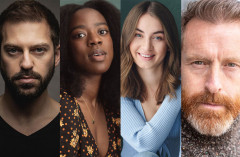 There's going to be some new and familiar faces performing at THE PHANTOM OF THE OPERA over the coming months.
Jon Robyns, Paige Blankson, Earl Carpenter and Holly-Anne Hull will join the cast from 3 April 2023. Killian Donnelly, who is currently playing the Phantom, will leave the show on the 4 February.
Between 13 February - 1 April, Earl Carpenter returns to the production to reprise his role of the Phantom, with Jon Robyns (currently playing Jean Valjean in Les Miserables) taking over from 3 April. Holly-Anne Hull is taking on the role of Christine full time from 23 January. The alternate Christine from 13 February will be Paige Blankson, who recently played Cosette in the Les Miserables tour.
They join the following cast at Her Majesty's Theatre:
Matt Blaker as Raoul
Kelly Glyptis as Carlotta
Matt Harrop as Monsieur Firmin
Adam Linstead as Monsieur André
Greg Castiglioni as Ubaldo Piangi
Francesca Ellis as Madame Giry
Ellie Young as Meg Giry
The cast is completed by Hollie Aires, Connor Carson, Corina Clark, Michelle Cornelius, Edward Court, Lily De-La-Haye, Hywel Dowsell, Serina Faull, James Gant, Eilish Harmon-Beglan, Emma Harris, Yukina Hasebe, Thomas Holdsworth, Olivia Holland-Rose, Jacob Hughes, Grace Hume, James Hume, Tim Morgan, Michael Robert-Lowe, Eve Shanu-Wilson, Tim Southgate, Anouk Van Laake, Jasmine Wallis, Ralph Watts, Skye Weiss, Simon Whitaker, Lizzie Wofford and Andrew York.
With music by Andrew Lloyd Webber, and lyrics by Charles Hart, and Richard Stilgoe, The Phantom of the Opera is based on the best-selling novel by Gaston Leroux. One of the most popular Lloyd Webber productions, over 145 million people across 41 countries have seen the production worldwide.
Booking until the 30 September 2023, book your tickets today to witness this haunting love story for yourself.