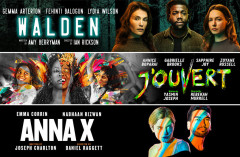 Are you ready for a treat of a trilogy made up of three sizzling debut plays? We're thrilled to announce the new Sonia Friedman Productions series of plays called RE:EMERGE. All three shows are on stage from May 2021 at the Harold Pinter Theatre, and each one stars awesome big-name talent. Welcome to Walden, J'Ouvert and Anna X, each different, each unique, and each a vibrant tour de force of fresh theatrical entertainment.
Who's involved in Re:Emerge?
You'll love Walden. After returning from a year-long mission to the moon the NASA botanist Cassie meets her estranged sister Stella, an ex-NASA architect, in a remote woodland cabin where she lives with the climate activist Bryan. As the sisters try to mend the breach that tore them apart, old wounds surface.
J'Ouvert is magical. The scene is Notting Hill, and it's the day of the Carnival. This is Jade and Nadines' world, and this play is a joyful, fearless story of the two best friends, who fight to preserve tradition in a society where women's bodies are rarely safe.
Anna X is extraordinary. Anna and Ariel are immersed in the world of fashion shows, private views, and endless parties, but can they keep up with the frenzy? Exactly how far will two outsiders go to create their dream identities, and what's the price?
WALDEN is a debut play by Amy Berryman, directed by Ian Rickson and starring Gemma Arterton, Fehinti Balogun, and Lydia Wilson.

J'OUVERT is a debut play by James Tait Black Award-winner Yasmin Joseph, as well as the directorial debut of Rebekah Murrell. It stars Annice Boparai, Gabrielle Brooks, Sapphire Joy and DJ Zuyane Russell.

ANNA X is another debut, a new play by Joseph Charlton. It stars the Golden Globe Award-winner Emma Corrin and Royal Television Society's 2019 Breakthrough star Nabhaan Rizwan.
Buy Re:Emerge Tickets
Book your Re:Emerge tickets online with us and choose the perfect seats thanks to our handy Harold Pinter Theatre seating plan. We'll send your E-tickets via email for you to present on the day of the performance.
About the Harold Pinter Theatre
The glittering Harold Pinter Theatre dates back to 1881, originally called the Royal Comedy Theatre then the Comedy Theatre. In 2011 it became the Harold Pinter in honour of one of the UK's best-loved playwrights. Loved for its Pinter At The Pinter seasons, past shows at the Harold Pinter Theatre include The Watsons, Uncle Vanya, Consent and The Birthday Party.