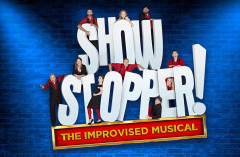 On this site, a year or so ago I got very effusive about SHOWSTOPPERS, the group who improvised a different full length new musical at every single performance based on suggestions of subject, style and content from the audience.
I've watched them grow from a late night occasional happening in some pretty divey venues to selling out and getting raves reviews in a proper mainstream West End theatre.
That size of venue is pretty hard to fill night after night with out a star name to attract the crowds, or even being able to describe what the ticket buyer will actually see, as nothing's planned in advance (although they did rather well with sales during their limited run) Since then however someone's had a brilliant idea.
They're still in the West End but these days they only perform once every three weeks, on Monday nights, at the Lyric Theatre. This is a perfect solution which means the audience can share the fun with a packed auditorium whilst the performers ride along on the wave of energy that provides. This is far better than seeing it with a thin audience at performances spread through out the week.
Tonight I was invited to their 800th performance which means I saw the 800th musical they've devised. I've often enjoyed their work over the years, something of course you can do an unlimited number of times with this show because it's completely different every single night.
Tonight shout outs from the audience inspired a romantic comedy set on a singles cruise with songs in the style of Cabaret, Dirty Dancing, Gypsy, Blood Brothers and Hamilton. Once the MC had established this the 6 improvisers fearlessly dived in, established characters on the spot, then a conflict, a few plot detours for comic effect and then a feel good resolution all peppered with singing and choreography made up there and then as the MD vamped a bass line in the style of the musicals suggested.
The appeal is three fold, you admire the bravery, you admire the skill and it's a bit like watching a high wire act. You're on the edge of your seat in case it goes wrong.
Of course the performers, all incredible singers, improvisers and comedians are well drilled in the techniques required so it never does. Even so it never fails to be impressive and never fails to be extremely funny. They even manage moments of real poignancy although not admittedly tonight which was all about the comedy.
So the next time you're looking for something to do on a Monday night check out the SHOWSTOPPERS website and if you're lucky it'll be one of the weeks when they're performing at the Lyric Theatre where the Michael Jackson tribute show plays the rest of the week.