Quick Facts
Largest Ticket Inventory
in the West End
Real time
seat availability
Choose
your seats
Your booking is processed directly into the box office reservation system
This show is now closed.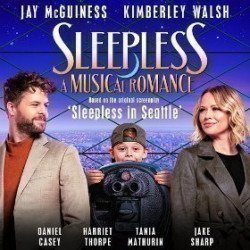 Sleepless: A Musical Romance
Tickets
Starring: Jay McGuiness, Kimberley Walsh
Information
Cheap Tickets
News
About Sleepless: A Musical Romance
Performance Times
Starring:
Jay McGuiness, Kimberley Walsh
Sleepless: A Musical Romance description
Were you one of the many millions of people who fell in love with the smashing comedy-romance Sleepless in Seattle, the one with Tom Hanks and Meg Ryan? If so you're going to adore this, the brand new musical theatre version of the hugely popular film.
What's the plot?
Sleepless the musical weaves the tale of broken-hearted Sam, who moves with Johan, his eight year old son, to Seattle after his wife dies. One day Jonah phones into a radio show, and Sam finds himself reluctantly talking about his broken heart and sleepless nights on air. The story spreads and Sam soon discovers he has become one of the most desirable bachelors in the entire USA.
All this proves an irresistible news story for the tough journalist Annie, who is based on the other side of the USA. Jonah decides the pair would make an excellent couple and does everything he can to bring his dad and Annie together. Does he make it? Come and see. You'll adore the 'fresh and lively book' and the sparkling new score, both of which magically bring this timeless classic of a romcom to dazzling life.
Who stars, and who's on the team?
The show stars The Wanted's Jay McGuiness, Kimberley Walsh from Girls Aloud, and Daniel Casey - DS Gavin Troy in the first six seasons of TV's murder mystery series Midsomer Murders - as Sam, Annie and Walter respectively. The show's based on the film's original screenplay Sleepless in Seattle. Harriet Thorpe plays Eleanor, Tania Mathurin plays Becky, and Jake Sharp is Rob.
Morgan Young directs, loved for his work on the hilarious Elf, and the smash hit Big. The set design comes from Morgan Large and the costume design from Sue Simmerling. The lighting comes from Ken Billington, the video design is by Ian William Galloway, and the orchestrations and arrangements by Larry Blank. Stuart Morley does musical supervision, the musical direction is by Chris Walker, and the wig and hair design by Richard Mawbey. The casting is by Sarah Bird CDG and Michael Donovan CSA. Theo Collis, Mikey Colville and Jack Reynolds share Jonah's role.
This fabulous new world premiere of Sleepless is presented by Michael Rose, Encore Theatre Productions Ltd, and David Shor in association with Marc Toberoff.
Who is this show for?
Sleepless The Musical is recommended for people aged five upwards.
Sleepless: A Musical Romance cheap tickets
We have a great selection of cheap Sleepless: A Musical Romance tickets. We can help you save up to 70% on Sleepless: A Musical Romance tickets! If you're looking for discount theatre tickets have a look below for our latest offers for Sleepless: A Musical Romance at the Troubadour Theatre - Wembley.
-20%
Was £25.00
Now £20.00
Valid Tue-Fri from 9-25 Sep 2020.
-33%
Was £45.00
Now £30.00
Valid Tue-Fri from 9-25 Sep 2020.
29

Jun
2020

New Musical SLEEPLESS IN SEATTLE to open in September. (Or will It?)
by Phil Willmott | Monday, June 29 2020, 10:23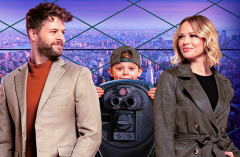 Producer Michael Rose's last show in the West End, BIG at the Dominion Theatre, turned out to be a massive flop but it seems we need not have feared for his future.
New Musical SLEEPLESS IN SEATTLE to open in September. (Or will It?)
18

Feb
2020

SLEEPLESS: A MUSICAL ROMANCE Comes to The Troubadour Theatre Next Month
by Josephine Balfour-Oatts | Tuesday, February 18 2020, 14:05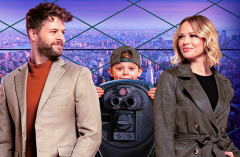 Shut-eye feels nigh on impossible when such exciting shows as Sleepless: A Musical Romance are coming to the London stage. Is this a dream? Someone pinch us, quick.
SLEEPLESS: A MUSICAL ROMANCE Comes to The Troubadour Theatre Next Month