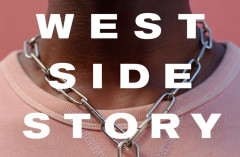 That playwright is of course William Shakespeare and the three shows are inspired by his life, plots and characters - UPSTART CROW and & JULIET in the West End and Ivo Van Hove's new staging of WEST SIDE STORY on Broadway.
The term "Upstart Crow" was once used to insult Shakespeare by a rival playwright, Robert Greene, and has been adopted as the title of a TV sitcom by Ben Elton starring comedian and panel show regular David Mitchell as Shakespeare with Lisa Tarbuck as his wife. Elton and Mitchell (minus Tarbuck) now bring it to the West End stage.
The action is set a decade after events in the TV show and the plot incorporates elements of many of the Bard's later plays, the joke being that it's these events that inspired plays like TWELFTH NIGHT, WINTER'S TALE and KING LEAR. It's even funnier if you know these works but plenty of people who don't are also finding it hilarious, presented, as it is with lashings of brilliantly executed slapstick and visual jokes.
The author Ben Elton and director Sean Foley are masters of comedy but have faced a bit of a backlash lately so I'm glad this is a success for them. And David Mitchell recreates his slightly bemused on-screen persona at the centre of it all. If you're a fan of his and/or the TV original you'll have a great time. In fact the Evening Standard's theatre critic's only complaint was that it was too relentlessly funny!
Another guaranteed, Shakespeare related, great-night-out in the West End is the jukebox musical & JULIET which is based on the premise that Juliet doesn't die at the end of his R&J but goes on to become a strong independent young woman; all to a soundtrack of hit songs like LOVE ME LIKE YOU DO & HIT ME BABY ONE MORE TIME from the back catalogue of songwriter Max Martin. I've yet to meet anyone under 40 who hasn't loved it.
But the big theatre news this week has been reviews of a new Broadway production of WEST SIDE STORY which of course sets the plot of Shakespeare's ROMEO & JULIET amidst 1950's gang rivalry. It's a notable production because for the first time ever a director, Ivan Van Hove and a choreographer, Anne Teresa De Keersmaeker, have been allowed to update the beloved original staging by Broadway legend Jerome Robbins.
Responses have been mixed. There's been plenty of rave reviews but the all important New York Times critique was pretty damning. Their critic Ben Brantley had little patience with Van Hove's trademark use of huge projections of the performers appearing around them throughout. The comments from New Yorkers beneath the article also make interesting reading with most audience members agreeing the extra imagery contributes nothing and is distracting. Some even claim all the whirling projections make them feel sea sick!
I suspect this high-profile negative coverage will prevent this new WEST SIDE STORY being a long running Broadway hit and will mean it's unlikely to transfer to London.
Still, 2 hits out of 3 isn't bad going for Old Will.