Quick Facts
Largest Ticket Inventory
in the West End
Real time
seat availability
Choose
your seats
Your booking is processed directly into the box office reservation system
This show is now closed.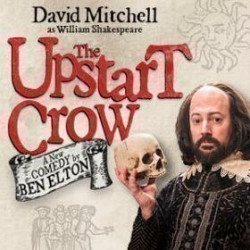 Upstart Crow
Tickets
4.8/5
-

based on

27

reviews
About Upstart Crow
Performance Times
Upstart Crow description
Upstart Crow – Wonderful Shakespearian silliness
If William Shakespeare knew his name had been taken in vain for a comedy show four hundred-ish years after his death, what would he think about it? The man had a great sense of humour so he'd probably fall about laughing at the antics of David Mitchell, who plays The Bard himself. Would Shakespeare come and see it? You bet he would. It's brilliant.
Ben Elton is bringing his dazzlingly good, critically acclaimed and much loved BBC sitcom to the stage, presenting a brand new comedy play set to delight West End audiences. The show is famous for re-imagining the life of Shakespeare, revealing a complicated and not always enjoyable muddle that constantly beleaguers the great man. Or not so great, as it turns out, since he isn't always the one who dreams up the plots for his plays.
Comedian and TV presenter David Mitchell reprises his TV role on stage, playing the lead role in what is his West End theatre debut. Gemma Whelan plays Kate, the clever daughter of Shakespeare's landlord. By all accounts Mitchell is thrilled to be able to bring history's most famous balding dramatist to London, to play a starring role in a comedy that's rich in Shakespearean ambience.
Ben Elton has set the play in 1605, at a time when The Bard is desperately hunting for a decent plot for his next master-work but is thwarted at every turn – as usual – by the kind of ridiculous family problems that see him engaging in a riot of mad metaphor. There's endless confusion provided by identical twins, and an escaped dancing bear called Mrs Whiskers also plays a starring role.
The fun is directed by Sean Foley, and the show opens at the magnificent Gielgud theatre in early February 2020. Ben Elton has long been one of our brightest and funniest stand-up, theatre, TV and literary stars, whose books are known and loved for their laugh-out-loud hilarity. He's responsible for classics like The Young Ones and Blackadder, the hit musical We Will Rock You, the hit musical Love Never Dies and a whole lot more.
The original Upstart Crow TV series was created to help mark the 400th anniversary of Shakespeare's death. The stage show takes us back to 1605, when the only plays he'd come up with were All's Well That Ends Well and Measure for Measure. As the show's publicity material says: How the futtock can a Bard be expected to find a plot for a play whilst his daughters run amok and his house is used as refuge for any old waif and stray. As time runs out, can Will hold on to his dream of being recognised now and for all time, as indisputably the greatest writer that ever lived, or will family woes thwart Will's chances of producing his master-work?
Come along and see!
Who is this show for?
Upstart Crow contains lots of references to Shakespeare's plays plus some 'moderate' bad language, so it isn't really suitable for young children. Over 14s should appreciate the fun.
Upstart Crow reviews
4.8 out of 5
based on

27

reviews
What to expect:
Acting
Music
Costumes
Story
Lighting
Recommended for:
Anyone (63%)
Families (67%)
Teenagers (78%)
Couples (89%)
Theatregoers (100%)
Latest customer reviews

Hilarious and highly enjoyable
Reviewed on 16 March 2020 by Donna, Rochester, United Kingdom

Was really good, very funny. Should watch it
Reviewed on 13 March 2020 by Zoe, London, United Kingdom

Brilliant, laugh out loud, Ben Elton genius at work
Reviewed on 11 March 2020 by Colin, London, United Kingdom

Lively, witty, entertaining
An excellent evening, especially if you know shakespeare
Reviewed on 09 March 2020 by Gwynne, London, United Kingdom

enjoyable
Reviewed on 04 March 2020 by Anthony, Croydon, United Kingdom

Best £90 I've spent in a long while.
Reviewed on 04 March 2020 by Lyndon, Sandwich, United Kingdom

An evening of merriment with Will and the gang.
Being a fan of the TV version of The Upstart Crow I wasn't sure what to expect but, as with the rest of the audience, I had a thoroughly good time. Full of jokes and Shakespeare-related gags, the whole of the evening was pure joy.
Reviewed on 29 February 2020 by John, Hetton-le-hole, United Kingdom

A great night out
If you love Shakespeare and the theatre you must see this joyful romp. So many great one liners I want to see it again as soon as possible.
Reviewed on 28 February 2020 by Christina, Redhill, United Kingdom

A very enjoyable evening of theatre.
Reviewed on 27 February 2020 by Howard, Santa Cruz, United States Of America

Even better than expected !
Witty and cerebral. Not too long. Great acting from all the cast.
Reviewed on 26 February 2020 by Karen, Peterborough, United Kingdom

Upright Crow
Reviewed on 26 February 2020 by Liz, Peterborough, United Kingdom

Well worth 2 hrs of time
Reviewed on 24 February 2020 by Tim, Hull, United Kingdom

All good
Go see it, even better than on tv
Reviewed on 23 February 2020 by Nazmeen, London, United Kingdom

Reviewed on 22 February 2020 by Jane, Leatherhead, United Kingdom

Do not miss this fabulous show.
Shakespeare would love this. Brilliant acting.
Reviewed on 22 February 2020 by Ann, Dorking, United Kingdom

Really intelligent and daring
The Shakespearean allusions, the modern obsessions, the pc/non-pc elements were all given a good outing. But the bravest thing was daring to put in the real Shakespeare in the Othello scene - it could have gone spectacularly wrong, but the audience cooled in an instant and we were all aware of what a genius the real Shakespeare was. And the curtain call was a blast!
Reviewed on 18 February 2020 by Ann, Newport, United Kingdom

A futtocking fantastic must-see performance
Reviewed on 16 February 2020 by Benjamin, Redditch, United Kingdom

Laugh out loud funny!
If you love Shakespeare and want a laugh, check this out. I finding the references to Shakespeare plays. Recognizing lines and laughing at the the silly ideas of: twins not recognizing each other....
Reviewed on 16 February 2020 by Priscilla, Oceanside, United States Of America

Transferred well to the stage from TV. Full house and standing ovation at the end. Brilliant!
Reviewed on 16 February 2020 by Pamela, Fortrose, United Kingdom

Trying to be too clever!
My review is marred by the fact I had a very uncomfortable seat (Dress circle A32) and struggled to see much of the stage as I was pushed into a corner. However, I found the play tried to be too clever (which I think is probably down to Ben Elton's style of writing). Whilst the acting was good and the costumes fantastic, the play is too wordy with endless repetition of the same verbal jokes and a preposterous story line which left me bored, and the very PC comments jarred throughout. I never found the TV programme this tedious but frankly wished I hadn't bothered. I loved the dancing bear though-the best thing about it!
Reviewed on 14 February 2020 by Karen, St Helier, Jersey

Great Entertainment
The show lived up to our expectations and beyond. Thoroughly recommend it to anyone with a sense of humour, others forget it and stay home to watch TV!!!!
Reviewed on 11 February 2020 by Peter, Lightwater, United Kingdom

Brilliant fun!
The show is just like the sitcom but live! All the actors were amazing and the script is so hilariously funny I would love to read it. I wondered how they would come up with a story to follow the TV series and they came up with a great one. Not only do we get Ben Elton's fab comedy but we also see some proper Shakespeare which is such a treat. Go and see it - so worth the ticket price!
Reviewed on 09 February 2020 by Emmanuel, Marlborough, United Kingdom
24

Feb
2020

The 456 Year Old Playwright with New Shows in London and New York
by Phil Willmott | Monday, February 24 2020, 10:16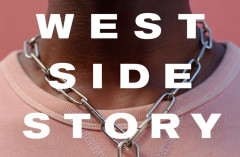 That playwright is of course William Shakespeare and the three shows are inspired by his life, plots and characters - UPSTART CROW and & JULIET in the West End and Ivo Van Hove's new staging of WEST SIDE STORY on Broadway.
The 456 Year Old Playwright with New Shows in London and New York