Quick Facts
Largest Ticket Inventory
in the West End
Real time
seat availability
Choose
your seats
Your booking is processed directly into the box office reservation system
This show is now closed.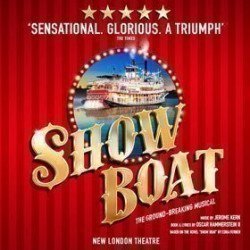 Show Boat
Tickets
4.6/5
-

based on

36

reviews
About Show Boat
Performance Times
Show Boat description
When the latest version of the classic musical Show Boat hit Sheffield, it sold out. Now it's on the way to the West End in a transfer that's very well deserved indeed. This version of the musical was originally produced by Goodspeed Musicals, adapted and directed by Rob Ruggiero, and it remains faithful to the original, ever-popular show.
A superbly lavish new production, it's directed by the brilliant Daniel Evans and features the classic tunes most of us know well, whether or not we realise they're from the musical. Think Make Believe, Can't Help Lovin' Dat Man, and the slow, leisurely soul sound of Ol' Man River, and you get the picture. It's great to see it on stage again.
Show Boat the Musical – The story
This is a truly epic musical, covering the lives and loves of three generations of a showboat family on the mighty Mississippi River. The Deep South is the location, and the story starts unfolding from the early 1900s onwards. Covering four pivotal decades in America's fascinating history, it has been long billed as one of the most romantic musicals of all time.
This is a story that just keeps on giving, with a timeless appeal. The designs come from Lez Brotherston and the choreography – a total delight – is by Alistair David. The musical supervision and direction comes from David White, and the lighting is created by David Hersey. The sound comes from Paul Groothuis and Tim Reid takes care of video design.
Daniel Evans says this is the 'mother of all musicals', and it looks like audiences and critics alike rate the new production highly. It was a complete sell-out at Sheffield's Crucible theatre in December 2015 and is predicted to have a long life ahead of it, as people from all over the world come to London to see a legendary show brought back to sparkling life.
We love it. You'll love it. Don't miss it! Welcome aboard the Cotton Blossom.
Show Boat tickets – One of the world's best loved musicals... resurrected
Want premium, full price or discount Show Boat tickets? We always have great availability and you'll enjoy excellent value for money on the complete range of ticket types and seats, cheap to best in the house.
Show Boat reviews
4.6 out of 5
based on

36

reviews
What to expect:
Acting
Music
Costumes
Story
Lighting
Recommended for:
Anyone (64%)
Families (72%)
Teenagers (67%)
Couples (75%)
Theatregoers (92%)
Latest customer reviews

Catch it while u can
Reviewed on 27 August 2016 by Willie, London, United Kingdom

Emotional
My dad (84) loved the show had seen before but loved theatre and stage layout. I found the storyline bit uncomfortable ,a love story but the historical segregation difficult .
Reviewed on 19 August 2016 by Kay, Bristol, United Kingdom

Not often played- MUST SEE OPPORTUNITY
Reviewed on 04 August 2016 by Nigel, Childswickham,, United Kingdom

Came out smiling.
One of the best musicals I have seen. Superb cast.
Reviewed on 28 July 2016 by Ann, Surbiton, United Kingdom

A must see
Loved the music and knew all the songs
Reviewed on 07 July 2016 by Lynn, Stanmore, United Kingdom

We enjoyed the show but thought the story line was a little disjointed and some confusion by actors playing different roles but not being clearly defined as being different. The music and singing were excellent, as was the acting. The storyline suffered by being abbreviated.
Reviewed on 06 July 2016 by Stephen, Seaforth, Australia

Pleasantly surprised
Amazing voices , thoroughly enjoyed the show after being weary about seeing the show. Well worth seeing
Reviewed on 03 July 2016 by Gail, Llanelli, United Kingdom

Enjoyable
Visually excellent. Loved the music.
Reviewed on 24 June 2016 by Anne, Stanford-le-hope, United Kingdom

Outstanding. No gimmicks, no distractions, just superb performances from every single cast member, both vocally and in characterisation. The music and storyline are very strong anyway, but this cast raised it to another level. Always my favourite show, this has to be one of the very best performances I've seen.
Reviewed on 21 June 2016 by Elisabeth, Gourock, United Kingdom

SHOW BOAT - VIBRANT AND CAPTIVATING
Right from the start we were drawn in to the personalities of the characters - and the story - told beautifully and movingly through the songs and acting, interspersed with humour. The show cleverly runs the gamut of emotions in its coverage of the story of the three generations - and very clever to include live footage of events at the time. We would hate to pick out one performance as everyone was faultless - but Emmanuel Kojo's rendition of 'Ol Man River really tugged at the heart and you had to be hard hearted to leave dry-eyed after the finale.
Reviewed on 16 June 2016 by Pamela, Plymouth, United Kingdom

don't go.
Like a high school production. I left at interval. Lead female singer excellent. A very dated musical but zero emotional content.
Reviewed on 08 June 2016 by Gail, London, United Kingdom

colourful and happy
some excellent dancing
Reviewed on 29 May 2016 by Esme, Fareham, United Kingdom

Fantastic
Reviewed on 23 May 2016 by Gillian, London, United Kingdom

Enjoyable
Reviewed on 22 May 2016 by Maria, Newark, United Kingdom

Colourful, creative, a must see!!
Reviewed on 22 May 2016 by Janet, Weston Super Mare, United Kingdom

Feel good show
I was a bit disappointed with the seats. I didn't realise I had booked the side. The opening was a little weak & I had difficulty in hearing what was being said, even though I was in Row D. As the show went on it improved greatly, & It was the "Showboat" I remember. I would recommend the show, but choose seats that face the front of the stage.
Reviewed on 22 May 2016 by Martina, Russell Square, United Kingdom

Colourful, great voice and music and interaction with the audience
Reviewed on 19 May 2016 by Claudia, London, United Kingdom

An excellent show with wonderful singing and definitely 100% given by all of the cast. We would highly recommend all to see this show. We were also pleased that the show ended as the original did
Reviewed on 15 May 2016 by Thomas, Coventry, United Kingdom

Wonderful, energetic faithful and joyous Show Boat
This is one of my favourite musicals and one I know well. From the start this was a very well balanced and emotionally rewarding performance. With so many great numbers there is a danger of getting lost in the singing of these at the expense of the characters and story; but this production had the perfect balance with consistently high quality performances. The rendering of the songs, the inter play and by play of the ensemble and the brilliant set, lighting and costumes makes this an outstanding production. Great music, acting and dancing. MUST SEE
Reviewed on 06 May 2016 by Ashley, Rugby, United Kingdom

Great musical .
A fantastic show. Would highly recommend.
Reviewed on 01 May 2016 by Caroline, Loughton, United Kingdom

A history lesson
This story relates in a not too flattering way the history of America but is presented well with fantastic music and ensemble dancing.
Reviewed on 22 April 2016 by David, Fulham, United Kingdom

Fantastic singing and acting in a charming story
Reviewed on 18 April 2016 by Lucy, Royston, United Kingdom

Excellent entertainment
Reviewed on 17 April 2016 by Adrian, Bishops Stortford, United Kingdom

A must for all musical lovers
I would say this show is a must' especially for lovers of the film version. The singing is excellent, in particular the main characters. I would say some of the best singers in the whole of theatre land, and I've seen most shows. A truly great show but having said that.. it maybe could of ended with a big thunderous number.
Reviewed on 17 April 2016 by Linda, Rochester, United Kingdom
05

Aug
2016

Review: SHOW BOAT at the New London Theatre
by Phil Willmott | Friday, August 5 2016, 10:04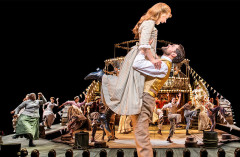 There's just a few weeks left to catch director Daniel Evan's beautiful production of classic musical SHOW BOAT at the New London Theatre.
Despite amazing reviews it's struggled to find an audience and will close at the end of the month earlier than anticipated. Perhaps it's not a well known enough classic but a classic it most definitely is, combining beautiful songs with comedy drama and romance.
Review: SHOW BOAT at the New London Theatre