Quick Facts
Largest Ticket Inventory
in the West End
Real time
seat availability
Choose
your seats
Your booking is processed directly into the box office reservation system
This show is now closed.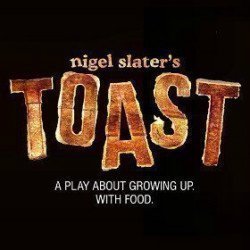 TOAST
Tickets
4.6/5
-

based on

11

reviews
About TOAST
Performance Times
TOAST description
Toast – Nigel Slater's masterpiece transfers to The Other Palace
When Nigel Slater wrote his memoirs in the form of the best-selling book Toast, he probably didn't expect it to be such a big hit, or for it to be made into a TV drama. He probably didn't expect it to end up on stage either, but that's what's happened. Introducing Toast, an emotional tour de force revealed via food.
The world premiere of Toast took place at The Lowry threater in Salford during spring 2018. It sold out in no time at the Traverse Festival 2018, part of the Edinburgh Festival Fringe. Now it has been awarded a London transfer, and the production opens at The Other Palace in 2019.
Based on the British Book Awards Biography of the Year, Toast vividly recreates suburban England in the 1960s, the landscape of the writer's childhood. Nigel's story is told through the tastes and smells he grew up with, and actual samples of food are sent around the audience during the show.
Nigel recalls his mum's perpetually burned toast and her surprisingly good rice pudding. He reveals his dad's brave foray into spaghetti, something that only arrived in the UK during the '60s and was, at first, viewed with suspicion as extraordinarily exotic. The dreaded Boxing Day stew, Arctic Roll and even Grilled Grapefruit feature in this vividly-recreated slice of suburban '60s England.
Slater's moving and deliciously evocative portrait of childhood is revealed alongside these vintage culinary delights – his dislike for his stepmother, his rocky adolescence, his eventual sexual awakening. The result is warm, intimate and thoroughly, magically British. Call it a full-frontal exposure of Nigel Slater's early life and you wouldn't be exaggerating.
Toast is not an autobiography as such. It examines mid-childhood to mid-adolescence without any real chronological order. People and events unfold at random, or so it seems, through a series of short scenes. The play begins with burnt toast and ends with profiteroles and hot chocolate sauce, sandwiching between them a universe of Terry's All Gold, Bisto, crab sandwiches and meatballs in gravy. If you were born in the late 50s or early '60s, it'll deliver all sorts of lovely, warm, intimate food-related memories.
This play, though, isn't at all sentimental. It's funny, sometimes cruel, always angry and lonely. It doesn't dwell on his mum's death and he family's emotions and motives are not explored. Slater simply shows you, rather than tells you, how it was. He isn't kind about his family. He jokes at his dad's funeral. And he doesn't bother to present himself in a good light, either. This is deeply honest, compelling, totally delightful stuff.
Who is this show for?
This show is recommended for people aged 10 or more.
TOAST reviews
4.6 out of 5
based on

11

reviews
What to expect:
Acting
Music
Costumes
Story
Lighting
Recommended for:
Anyone (64%)
Families (64%)
Teenagers (73%)
Couples (82%)
Theatregoers (91%)
Latest customer reviews

Not just for foodies!
The cast put on an excellent performance of both humour and pathos in this autobiographical production. The music & choreography certainly hit the right note & set it apart from other plays of this genre.
Reviewed on 27 July 2019 by Elizabeth, Pickering, United Kingdom

Don't bother
Reviewed on 13 July 2019 by Peter, Auckland, New Zealand

Tasty
We had a great time and the actors were amazing. Little treats given throughout the show
Reviewed on 22 June 2019 by Kamal, Crawley, United Kingdom

Quirky and entertaining
Reviewed on 07 June 2019 by Anne, Oakland, United States Of America

Wholesome and incredibly heartwarming! A must see.
Reviewed on 19 May 2019 by Megan, Bristol, United Kingdom

Great show!
Reviewed on 15 May 2019 by Ella, London, United Kingdom

Well acted and true !
Really enjoyed the whole evening - good acting, vibrant,honest,clever interchange of roles.And delicious surprise to be handed ,lemon tarts,walnut whirls and sweeties. Never experienced this before !
Reviewed on 05 May 2019 by Kay, Campbells Bay, New Zealand

Loved it!
Reviewed on 22 April 2019 by Katie, Glen Vine, United Kingdom

Thoroughly enjoyable!
Dad but amusing. Makes one love Nigel Slater... he should be s national treasure!
Reviewed on 04 April 2019 by Kirsten, London, United Kingdom
15

Apr
2019

Review: TOAST at the Other Palace
by Tim Winter | Monday, April 15 2019, 17:02
Once dubbed 'the Alan Bennett' of cooking, Nigel Slater has become, over the past few years, a similarly un-pretentious, endearing National Treasure. Warm and down to earth, talented, hard-working but humble, he has charmed his way into our lives and kitchens with his cookery books, TV shows and autobiographies.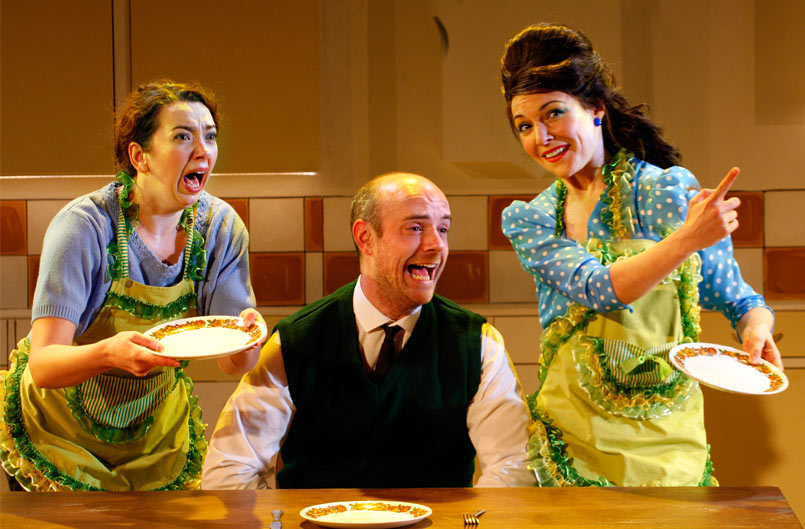 Lizzy Muncey as Mum, Jake Ferretti as Josh, Marie Lawrence as Joan (c) Simon Annand
Review: TOAST at the Other Palace