Quick Facts
Largest Ticket Inventory
in the West End
Real time
seat availability
Choose
your seats
Your booking is processed directly into the box office reservation system
This show is now closed.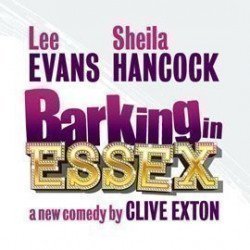 Barking In Essex
Tickets
3.5/5
-

based on

17

reviews
About Barking In Essex
Performance Times
Barking In Essex description
Barking in Essex – The best in fresh British comedy
Get your laughing gear in good order… it's silly, hilariously funny and extremely entertaining, a comedy classic in the making fresh from the pen of the well-loved and respected funny man screenwriter, Clive Exton.
Barking in Essex - The story
Algie Parker is a gangster. He enjoys notoriety across Essex and beyond, a frightening man with a violent past. After a long seven year stint locked up in prison, he's finally about to be freed. And he's coming back home to collect his ill-gained fortune, a huge stash amounting to a cool £3,672,000 in untraceable banknotes.
So far, so good. But Algie's family have omitted to tell him something very important and there's big trouble on the horizon.
The Packers are charmingly but terrifyingly dysfunctional, an Essex family with a big difference. There's the hapless Darnley, widely known as the village idiot of the seamy criminal underworld. And Algie' wife Emmie, the matriarch, is about as approachable as a Rottweiler stung by a particularly angry wasp. Together with the rest of the family, all of whom are outstandingly nutty, they are desperate to conceal their secret before Algie rumbles them.
What happens next? You're going to absolutely love it. Now that's what we call something to look forward to...
Perfect for people aged 16 plus
There's some rich and bracingly strong language in this marvellously funny production, so it's restricted to people aged 16 or more. Take your late teens along for the West End comedy experience of a lifetime!
Barking in Essex theatre tickets – Splendidly funny!
We're trusted by theatre lovers everywhere to deliver a wide variety of tickets and an excellent choice of seat options, offering premium and full price tickets as well as great value discount Barking in Essex tickets.
Barking In Essex reviews
3.5 out of 5
based on

17

reviews
What to expect:
Acting
Music
Costumes
Story
Lighting
Recommended for:
Anyone (6%)
Families (12%)
Teenagers (18%)
Couples (71%)
Theatregoers (29%)
Latest customer reviews

Barking Mad!
It was a good show! disappointing ending, but maybe its due to a sequel!
Reviewed on 28 December 2013 by Anonymous

Too much swearing
unecessary swearing, although in parts the show was funny, not a good ending
Reviewed on 27 December 2013 by Anonymous

Expect more for west end show
Too much unnecessary use of the c word, Sue Hancock is better than this and Lee Evans is better as a stand up than actor
Reviewed on 15 December 2013 by Anonymous

my thoughts
Good show, characters believesble
Reviewed on 01 December 2013 by Anonymous

Great acting, dodgy script.
While the acting was superb, I felt the story line was a little weak. The main criticism was there was far too much use of swear words especially in the first act. This did not spoil my enjoyment of the play, but I thought the use of certain words did not enhance the script.
Reviewed on 29 November 2013 by Anonymous

ok for a laugh but little else!
bought tickets to cheer up my husband who had recently been ill. Yes it did give him a laugh but it was a bit of an expensive laugh. Could have got the same from watching Lee Evans on TV! Just ok, first half was the better part, but plot was abysmal!!! If you want a laugh, don't mind very strong language and also are a fan of Lee Evans or Sheila Hancock, then go and enjoy.
Reviewed on 25 November 2013 by Anonymous

If swearing is not your thing ................
Very funny in places but if you're easily offended keep well away, within the first 5 minutes there were numerous uses of the 4 letter 'c' word. Biggest attraction of this show is Lee Evans, his facial expressions and body language are a joy to behold. A good story with laughs to be had all the way through.
Reviewed on 15 November 2013 by Anonymous

A Suffolk Couple
At first we were shocked by the language (and I work on construction sites). As the play went on we got used to it. Still not sure if it needed to be as bad as it was?
Reviewed on 08 November 2013 by Anonymous

really funny had a brill time
Reviewed on 03 November 2013 by Anonymous

Not as funny as expected
The only bits I thought were funny were Lee Evans doing his usual faces and dancing. Didn't find all the swearing as hilarious as some did.
Reviewed on 31 October 2013 by Anonymous

Lee Evans and Sheila Hancock are suporb
Not for the faint hearted as the play does seem to have a competition going for how many times the C U Next Tuesday word can be said, but is funny none the less. Lee Evans and Shaila Hancock are well worth the money to see along with a supporting cast that are great too. Please dont hang too much on the poor story line, but please go and revel in the comedy genius of this cast. Sheila Hancocks timing and delivery of lines is as good as her serious more traditional roles and when pitched against Lee Evans then there is a definite contest on their hands. Top and bottom? Poor story line, but more than makes up for it in these comedy talents. Go and see it but dont be easily offended.
Reviewed on 31 October 2013 by Anonymous

side splitting
Strong language, but funny, not offensive.
Reviewed on 30 September 2013 by Anonymous

rubbish
too much swearing,was there any need to use the c word so many times,is was just not funny.
Reviewed on 23 September 2013 by Anonymous

Biggest waste of money ever .
Throw your money out of the window rather than waste it on this show , not funny , too much bad language and no story line at all . Only saving grace was Lee Evans .
Reviewed on 11 September 2013 by Anonymous