Quick Facts
Largest Ticket Inventory
in the West End
Real time
seat availability
Choose
your seats
Your booking is processed directly into the box office reservation system
This show is now closed.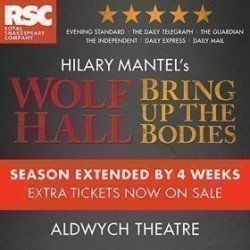 Bring Up The Bodies
Tickets
4.9/5
-

based on

12

reviews
About Bring Up The Bodies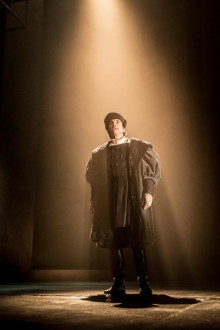 Performance Times
Bring Up The Bodies description
Bring Up The Bodies – Kings, queens, violence and volatility
The author of the two novels the plays are based on, Hilary Mantel, won the first ever two consecutive Man Booker Prizes and by all accounts played an enthusiastic part in this fine production's evolution. The plays run from 1st May to 6th September at the Aldwych Theatre, a two-in-one treat for lovers of historical drama.
The year is 1527 and the setting is England. Henry 8th can't seem to sire a male heir, and it's making him furious. Already a terrifyingly volatile man, his temper is getting worse and his moods more unpredictable by the day. But Thomas Cromwell is on a mission. In his opinion reform is way overdue, and he's determined to succeed.
The marvellous Ben Miles plays Thomas Cromwell, well known and loved for his remarkable stage work in Hand in Hand to the Promised Land, The Cherry Orchard and The London Cuckolds. TV's Lucy Briers, famous for her role in the BBC's Pride and Prejudice and Ashes to Ashes, takes to the stage as the ill-fated Katherine of Aragon. Paul Jesson plays Cardinal Wolsey and Nathaniel Parker bravely takes on the role of Henry himself, making a superb job of an extremely complex and imposing character.
Mike Poulton's excellent adaptation sits at the heart of the matter, no surprise from a man whose previous accolades include Schiller's Don Carlos and Luise Miller at the Donmar, both directed by the theatre giant Michael Grandage. And Jeremy Herrin directs, with a host of successes behind him including This House, David Hare's South Downs and Will Shakespeare's The Tempest.
Wolf Hall & Bring Up The Bodies - The story
King Henry 8th is badgering Cardinal Wolsey in the hope he'll agree to persuade the Pope to grant an annulment. But progress is painfully slow.
Cromwell is an ex-mercenary, gifted politician, talented lawyer and devoted dad, and he's wise enough to realise that if he makes the king happy, he has a better chance of achieving his ambitions. He sets out to get the king the divorce he wants, at the same time working quietly in his typically methodical and ruthless way in pursuit of his own ends.
Bring Up The Bodies theatre tickets – A tense story based on history
Want premium, full price or discount Bring Up The Bodies tickets? It's a classic in the making, so hurry. We provide excellent availability on every seat and ticket type. Click this way to snag yourself a real theatreland bargain!
Bring Up The Bodies reviews
4.9 out of 5
based on

12

reviews
What to expect:
Acting
Music
Costumes
Story
Lighting
Recommended for:
Anyone (50%)
Families (50%)
Teenagers (50%)
Couples (67%)
Theatregoers (100%)
Latest customer reviews

Superb
Excellent transition form Hilary Mantel's novel to stage
Reviewed on 25 September 2014 by Anonymous

Cromwell's history
Fantastic show - we loved every minute!
Reviewed on 31 August 2014 by Anonymous

Captivating drama
Outstanding adaptation of the novel with brilliant performances and a very hard-working cast. Minimalist staging highlights the drama of the performances.
Reviewed on 25 August 2014 by Anonymous

The play was somewhat spoiled for me by the seating in the stalls not being raised enough to see through the head of the person in front, and the low ceiling of the circle muffling the sound somewhat. Acting was excellent. expected a new aspect of the story which I felt was not there.
Reviewed on 04 August 2014 by Anonymous

Go to this play
Reviewed on 03 August 2014 by Anonymous

Looking forward for teh Wolf Hallnow
The show was absolutely brilliant! My plane landed just hours before the show and with time difference being plus 3 hours I was a bit concerned that I will be too tired to enjoy the show. Was NOT the case at all! Almost 3 hours went like 10 minutes as actors were totally grabbing the attention. Great balance of humor and drama combined with talented acting made the show unforgettable. Worth spending a bit extra and buying central sits, some advanced booking will be needed for this show. Can't wait to see the Wolf Hall now!
Reviewed on 23 July 2014 by Anonymous

Totally gripping
Reviewed on 22 July 2014 by Anonymous

Fantastic show
Reviewed on 29 June 2014 by Anonymous

Brilliant
Brilliant show. Pity tickets appear to be very hard to find, hence ridiculous high prices. Only to find theatre half empty!
Reviewed on 23 June 2014 by Anonymous