Quick Facts
Largest Ticket Inventory
in the West End
Real time
seat availability
Choose
your seats
Your booking is processed directly into the box office reservation system
This show is now closed.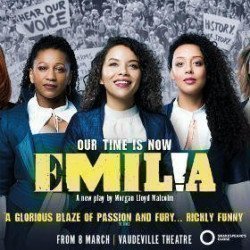 Emilia
Tickets
4.9/5
-

based on

19

reviews
About Emilia
Performance Times
Emilia description
Emilia – A dazzling new feminist play
Welcome to Emilia. This is a new play, a grand speculative exploration of the woman who may have stolen Will Shakespeare's heart, who might have inspired his sonnets. Her name was Emilia Bassano, she lived from 1569-1645, and her father was an Italian court musician. She was a poet, mother, teacher and a feminist, but that's about all the information we have.
Playwright Morgan Lloyd Malcolm has taken the few facts we know about Emilia and invented a plot that turns her into a symbol of all women, of all the females who have been stamped on, shouted down and not allowed a voice for century after century. If you're a woman you'll already know that Emilia's story remains our own. True equality still hasn't arrived almost four hundred years after her death. We are still struggling to make our voices heard.
Lloyd Malcolm paints a boisterous picture of Emilia, a girl who isn't interested in the stately courtship games played by her fellow aristocrats. She wants to write, and it's a burning desire. The playwright casts her as Shakespeare's actual lover, a woman whose words the Bard freely borrowed and used as his own.
In real life, Emilia was the mistress of the Lord Chamberlain. So she might have met Shakespeare, or might not. This speculative history is angry and passionate, furiously so. The final blazing address to the audience is so powerful it feels like a genuine call to arms, a demand for action, a clarion call for rebellion.
Nicole Charles directs and the all-female cast includes Leah Harvey, Vinette Robinson and Clare Perkins, all sharing the title role. Shakespeare is revealed as unusually arrogant. Carolyn Pickles' portrayal of Lord Henry Carey, Emilia's past lover, is made with plausible skill, and Amanda Wilkin makes an extraordinarily good job of playing Emilia's uncaring husband, Alphonso Lanier.
The story?
It's 1609 and Emilia is livid with rage. As a writer, wife, lover, mother and muse she remains unheard, uneducated and unequal, with little opportunity and almost no respect. She wants a choice, and a voice. Roll forward time to 2018 and all women are Emilia, her story is still our story, she reaches across time to touch our lives with passion, anger, laughter and song.
Times are changing... but not fast enough. Let Emilia inspire and unite us. We are all Emilia. Let's stand alongside her and be counted.
Who is this show for?
This show is about feminism. As such it isn't suitable for very young children, but OK for people aged 12 or more.
Emilia reviews
4.9 out of 5
based on

19

reviews
What to expect:
Acting
Music
Costumes
Story
Lighting
Recommended for:
Anyone (89%)
Families (89%)
Teenagers (95%)
Couples (89%)
Theatregoers (95%)
Latest customer reviews

A Historical Revalation
This was an amazing production of a historical and literary event which many were unaware. The struggles for women has been well documented through time, and it just shows that many events au have a female brain behind successes throughout history. It was funny and amusing but resonated the need for women to be heard. The acting was phenomenal throughout the show... BRAVO!!!!!
Reviewed on 08 June 2019 by Maureen, Rotherham, United Kingdom

Moving
I went into this play knowing little about it. I thought the whole thing was great. I laughed and I cried with a standing ovation at the end.
Reviewed on 02 June 2019 by Leisa, London, United Kingdom

A powerhouse performance and production. Unforgettable
I was captivated from the get go. Remarkable script, wonderful casting, compelling story line and clever staging. Clare Perkins is formidable - power and presence personified . . . As I grow, I must shrink . . .
Reviewed on 02 June 2019 by Lorraine, Thatcham, United Kingdom

Amazing. Progressive. Creative
The show was excellent. Great to have all women cast and live musicians. Well directed and actingredients was superb. Great for teenage girls and young women in particular to see with their female elders
Reviewed on 29 May 2019 by Masana, London, United Kingdom

Pure brilliance
A glorious powerful show, I laughed, cried and was roused to stand up and be counted. The writing, staging, music and acting all quite brilliant. This was a return visit and I would happily come again. This is a must see for all.
Reviewed on 27 May 2019 by Catrin, London, United Kingdom

Amazingly empowering
Reviewed on 24 May 2019 by Emily, Billingshurst, United Kingdom

An absolute must see!
Possibly the best show I have ever seen on the west end.
Reviewed on 17 May 2019 by Chelsie, Amesbury, United Kingdom

Thoroughly recommended
Inspirational, motivating, insightful and emotional are just a few of the many words to describe Emilia. From 12 to 112, it will have an impact on you.
Reviewed on 21 April 2019 by Lucy, Aldershot, United Kingdom

A moving, memorable and relevant must see!
Reviewed on 17 April 2019 by Jessica, Bath, United Kingdom

Brilliant, comical and heart-wrenching
Go see this show. Its clever, funny and hits home a strong message. Guys, do not think Im not going to see a feminist show, you will love it.
Reviewed on 17 April 2019 by Julia, Bedfordshire, United Kingdom

Best play I've seen since The Inheritance
Reviewed on 10 April 2019 by Carolyn, London, United Kingdom

Emilia
Well presented and thoroughly enjoyable show.
Reviewed on 24 March 2019 by Wendy, London, United Kingdom